Holocaust survivors George Elbaum (left) and Peter Metzelaar (right) will be our featured speakers on Wednesday, March 25 (10:00-11:30 a.m. & 1:30-3:00 p.m.). Wahoo Public Schools hosts this annual event in recognition of the Week of Understanding, sponsored by the Institute for Holocaust Education in Omaha. Both sessions are open to the public. (photo of George Elbaum courtesy Elle Brough, junior at Carlmont High School in Belmont, CA)
Holocaust Survivors share their stories March 25 at WPS
Wahoo hosts George Elbaum & Peter Metzelaar for 10th-annual 'Week of Understanding' assemblies
PLEASE NOTE: THIS YEAR'S HOLOCAUST SURVIVOR ASSEMBLIES HAVE BEEN CANCELED DUE TO COVID-19 CONCERNS. SINCE OUR SURVIVORS TRAVEL TO NEBRASKA VIA PLANE, THE INSTITUTE FOR HOLOCAUST EDUCATION DETERMINED THAT THEY DID NOT WANT TO RISK CORONAVIRUS EXPOSURE DURING FLIGHTS.
"To forget a Holocaust is to kill twice." --Holocaust Survivor and American author Elie Wiesel.
On Wednesday, March 25, Wahoo Middle and High School students, along with 6-12 students across Nebraska, will have the opportunity to personally meet and hear the life stories of a Holocaust Survivors George Elbaum and Peter Metzelaar during a Week of Understanding event co-sponsored by the Institute for Holocaust Education (Omaha) and Nebraska Educational Service Unit 2.
Survivors will be speaking live from the Wahoo Public Schools Performance-Learning Center. WMS/WHS students, along with students from other schools in the region, will attend these assemblies on site, and students from schools across the state will connect live from remote sites, via the school's Striv channel.
This year two speakers will share their personal stories and respond to audience questions.
Holocaust Survivor George Elbaum will share his story during a morning presentation from 10:00 to 11:30 a.m.
Holocaust Survivor Peter Metzelaar

will share his story during an afternoon presentation from 1:30 to 3:00 p.m.


(60 minutes of Survivor testimony will be followed by 30 minutes during which our speakers will respond to audience questions.
Wahoo High School students will attend the morning assembly, and Wahoo Middle School students will attend the afternoon presentation. Community members are openly invited to attend these events as well, either in person, or via the Striv live-stream (link: https://striv.tv/channel/wahoo/).
ALL SCHOOLS that would like to participate in either or both of these events, on site or remotely: please click HERE to register.
Now in its 10th year, this important IHE program began as an effort to bring first-hand Holocaust survivor and U.S. liberator testimony to schools across the metro, giving students the opportunity to hear this testimony while survivors and liberators are still here to tell their stories.
ESU 2 became involved with the Week of Understanding back in 2012, the program's second year. Since then, the geographic reach has expanded beyond metropolitan Nebraska schools to include not only live student audiences traveling to Wahoo, but also school audiences totaling thousands of students connected via video conferencing technologies from the rural east, central and panhandle regions of Nebraska.
"It is my hope that the primary, human experience of meeting and listening to Survivors will give our young adults an understanding and an appreciation that cannot be gleaned from secondary source materials," said ESU 2 spokesperson Diane Wolfe. "More powerful, more compelling than photos, text or video is the face-to-face personal opportunity to visit with those individuals. Additionally, it is our hope that this encounter will underscore the importance of taking action to prevent social injustice long before it becomes a holocaust-scale mass human disaster."
"As time takes us away from the Holocaust, it is even more critical to listen to the words of the witnesses," said Liz Feldstern, former IHE executive director. "Their personal stories add a face and a name to a distant and somewhat incomprehensible event. Not all survivors can speak about their experiences. Some want only to remember their memories silently, but for [some], there is a need to speak out. These individuals, and others like them, are the last to bear witness to the Holocaust. It has never been more important to listen to the words of this generation."
--------------------------------------------------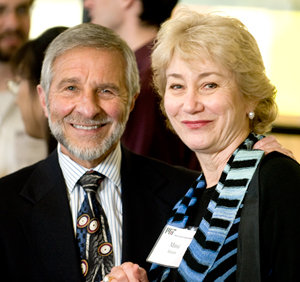 George Elbaum
"I recognize that we who survived the Holocaust have a responsibility to tell our stories to give hope to the slogan 'Never Again.'"
– George Elbaum
George Elbaum was born in Warsaw, Poland on August 20, 1938, one year before Hitler invaded Poland and spurred the outbreak of World War II. Within weeks, George's father was called to serve in the army and never returned. Acutely aware of the danger she and her son were in, George's mom dyed her hair blonde and purchased the identification documents of a Catholic woman who had died. In 1942, she smuggled George out of the Warsaw Ghetto before paying various Polish Catholic families to hide and raise him. In 1945, George was reunited with his mother, the only other surviving member of his family. They immigrated to America in 1949.
For 60 years, George was reluctant to share his story with anyone. He worked towards an engineering career, earning an undergraduate degree, two Master's Degrees, and a Ph.D. from the Massachusetts Institute of Technology (MIT). In 2009, upon viewing "Paper Clips," a documentary chronicling a Tennessee middle school's unique attempt to honor Holocaust victims, George was moved to share his story with the world. He and his wife Mimi Jensen live in San Francisco, but George makes frequent trips to Seattle to visit his children and grandchildren. George is a member of the Holocaust Center's Speakers Bureau.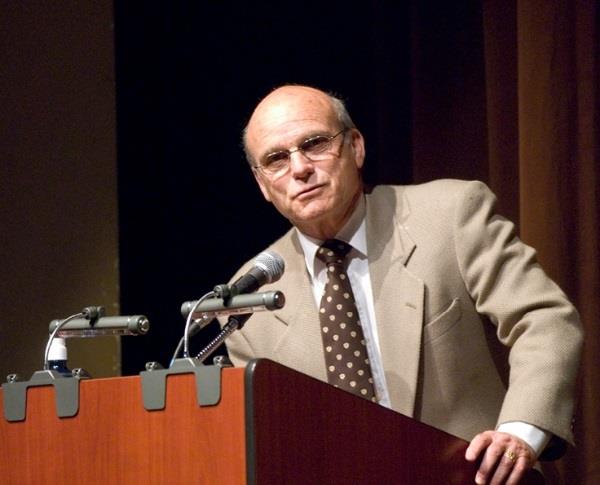 Peter Metzelaar
"My mother and I slept together in a bed that was inside a closet. I remember lying in that bed trembling in fear at times."
– Peter Metzelaar
Peter was born in Amsterdam in 1935. In 1942, when Peter was 7, the Nazis seized Peter's entire family, except for Peter and his mother. Peter's mother contacted the Dutch Underground for help. The Underground found Klaas and Roefina Post, who agreed to shelter Peter and his mother on their small farm in northern Holland, putting their own lives at risk. For two years they lived with the Posts, until it became too dangerous and they found another hiding place with two women in The Hague. Peter, his mother, and his aunt were the only survivors of his family. Klaas and Roefina Post have been recognized as Righteous Among the Nations by Yad Vashem.
After the war, Peter and his mother immigrated to the United States in 1949, arriving in New York. Peter was 13 and didn't speak any English, but was placed in the 8th grade. Peter had a long career as a radiology technologist. He and his wife raised two children in California and moved to Seattle in 1997. Peter continues to be an active member of the Holocaust Center for Humanity's Speakers Bureau.