WHS students fortunate to meet author of "unfortunate" book series
Students attend author visit in Omaha, featuring Lemony Snicket
WHS students (from left) Hannah Janda, Allie Presley, Jessica Pope & Caleb Reyes traveled to Omaha on Oct. 8 to visit renowned author Daniel Handler (aka Lemony Snicket) at the Millard Branch of the Omaha Public Library.
"People aren't either wicked or noble. They're like chef's salads, with good things and bad things chopped and mixed together in a vinaigrette of confusion and conflict." --L. Snicket, The Grim Grotto
Wahoo High School students Allie Presley, Hannah Janda, Caleb Reyes, and Jessica Pope, along with their teacher, Larry Fangman, met Lemony Snicket on Wed., Oct. 8 at the Millard Branch of the Omaha Public Library.
Snicket is the author of the popular book series, "A Series of Unfortunate Events." The books follow the lives of three orphaned children whose parents died in a house fire. The children's uncle gets custody, and he attempts to steal the kids' inheritance.
Lemony Snicket is a pen name used by author Daniel Handler. The 13 books in the series have sold 60 million copies and been translated into 41 languages.
Snicket read from his novels and joked with the audience for a half hour before signing copies of his books for the 250 people in attendance. He showed his wit by the way he signed his fan's books. Snicket autographed Reye's book: "Beware of _____." When Pope requested that her books be signed, "Be happy!" Snicket wrote, "Your happiness will be wrecked!"
Janda and Presley have both read all 13 books in the "Unfortunate Events" series. When they were in fourth and fifth grade, they raced through the books to see who could finish the series first.
Snicket's book had a big impact on Janda's life. She told Snicket, "Reading your books helped me overcome dyslexia."
"It's fun for students to meet authors of beloved books," Fangman commented. "It shows students that real people write these books and that their own creative dreams can come true. It was a fun night for everyone."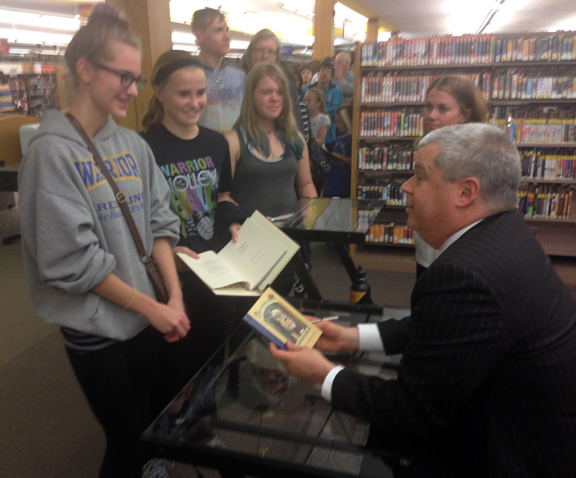 Famous author Lemony Snicket autographs the books of Hannah Janda and Allie Presley during an Oct. 8 author visit, sponsored by the Millard Branch of the Omaha Public Library. Snicket is the author of "A Series of Unfortunate Events."