WAHOO'S Famous Sons
Nebraska Life Magazine spotlights Wahoo's local legends
photo courtesy Alan J. Bartels, Nebraska Life Magazine
Babysitting for Wahoo alum Kharissa Eddie (WHS Class of 2021) means taking Jasmine Pflanz, left, and her sister, McKinnley, to softball practice. Sam Crawford Field honors the community's hometown sports hero.
(This article was printed in the September/October 2021 issue of Nebraska Life Magazine, and is re-posted here with permission.)
Nebraska has produced its fair share of residents who have made a difference across our state and around the world. The following five stories of a writer, a scientist, a musician, a movie maker and a sports hero all hail from the same Saunders County community. This quality quintet leaves us wondering: what's in Wahoo's water?
Big Screen Legend
Darryl F. Zanuck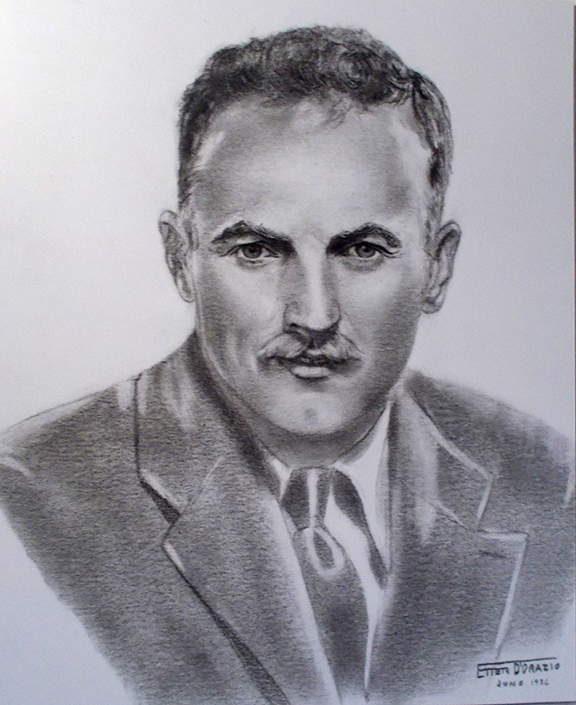 photo courtesy Saunders County Historical Society & Museum
Playing hooky led to this Wahoo native having stars in his eyes long before he earned a star on the Hollywood Walk of Fame.
Born in the La Grande Hotel on Broadway Street in Wahoo in 1902, Darryl Zanuck's young life was worthy of the big screen. At age 6, he moved with his mother to California. While skipping school, the boy landed a role as an extra. Dressing up as an Indian girl earned him $1 a day from the Kalem Company film studio. The show was over when his mother found out: she sent him back to Wahoo to live with his father.
Instead of staying in school and attending Wahoo High, 14-year-old Zanuck lied about his age and enlisted in the military, ultimately serving with the Nebraska National Guard in France during World War I. The letters he mailed home were published in Nebraska newspapers. The military found out about his skill with the written word and made him a correspondent with the Army newspaper Stars & Stripes.
After the war, Zanuck returned to California to pursue his new love of writing. He wrote scripts for Rin Tin Tin and other serials, and for Charlie Chaplin and James Cagney movies. The screen writer worked his way up to head of production for Warner Bros. but left in 1935 over a disagreement with studio head Jack Warner. With backing from film giant MGM and other partners, Zanuck co-founded Twentieth Century Fox Film Corporation less than a week later with actor Joseph Schenck. When the U.S. military needed a filmmaker to produce training films, Zanuck was commissioned as a lieutenant colonel for service during World War II.
Assigned to work with a unit of British military filmmakers, the Nebraskan famously refused to shelter in his London hotel's air raid bunker whenever Nazi bombs rained down on the city. He preferred to watch the allies' anti-aircraft fire from his room. Zanuck wasn't averse to taking part in the action: He volunteered for a successful night raid on a German radar site and helped injured comrades back to safety.
Zanuck returned to the U.S. to lead Fox in 1944, spearheading a flurry of films including the Tennessee Williams' Broadway sensation A Streetcar Named Desire, All Bout Eve starring Bette Davis, and productions that addressed social issues such as antisemitism and race.
He started his own film studio, DFZ Productions, in 1956 but returned to Twentieth Century Fox in 1962, hiring his son, Richard, as head of production. The father and his prodigal son helped create The Sound of Music, Planet of the Apes, Patton and M.A.S.H.
Items and heirlooms donated by Zanuck's family fill an exhibit on the main floor of the Saunders County Museum in Wahoo. Images of Zanuck on safari, movie posters, letters and Golden Globe and Oscar awards make up the display.
"Darryl Zanuck was one of the first true Hollywood movie moguls," said museum curator Erin Hauser. "His work with Fox, especially, is still influencing movie making."
Zanuck died in 1979. Downtown near the Wahoo Civic Center, a bronze plaque marks the site of Darryl F. Zanuck Memorial Square.
Sports Hero
'Wahoo' Sam Crawford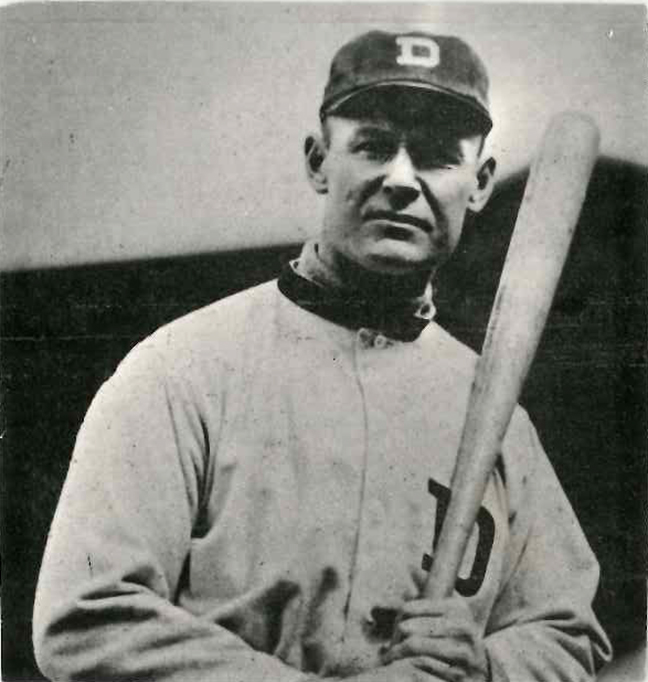 photo courtesy Saunders County Historical Society & Museum
Left-handed "Wahoo" Sam Crawford rightly made a name for himself as a power hitting professional baseball outfielder with the Cincinnati Reds and Detroit Tigers, but he earned his hometown nickname before that.
According to the Nebraska High School Sports Hall of Fame, Crawford led Wahoo High School to state football championships in 1896 and 1897. He worked as a shoeshine boy at the Gregory & Jensen Barbershop in Wahoo before winning the state baseball championship for West Point in 1898. Crawford played minor league ball briefly until Cincinnati called him up top the majors in 1899. He led the league in home runs the following year.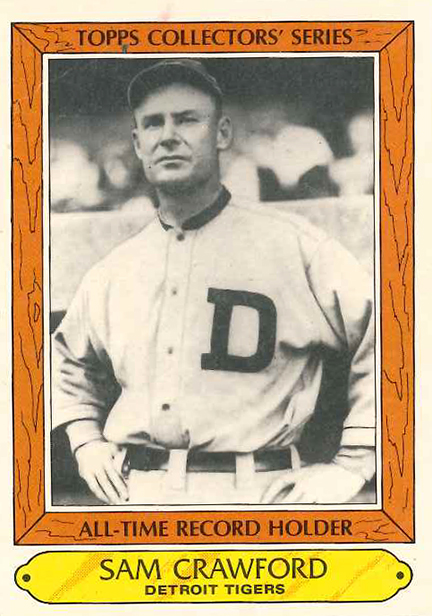 Often overshadowed by superstar teammate Ty Cobb while with Detroit, Crawford still holds Major League Baseball's record for the most triples hit in a career (309). Cobb is second with 295. New York Yankees manager Ed Barrow – the man who developed Babe Ruth into a homerun king – once said of Crawford, "there never was a better hitter."
The June 17, 1968, New York Times printed Crawford's obituary. The account included a quote from his election to the National Baseball Hall of Fame a decade earlier. "When you make up my plaque, have it read 'Wahoo' Sam," the legend reportedly told the curator of the facility. "That's my hometown and I'm proud of it."
Wahoo is proud of Crawford, too. Rosters of hopeful baseball greats practice and play today at the community's Sam Crawford Field.
Scientific Star
George Beadle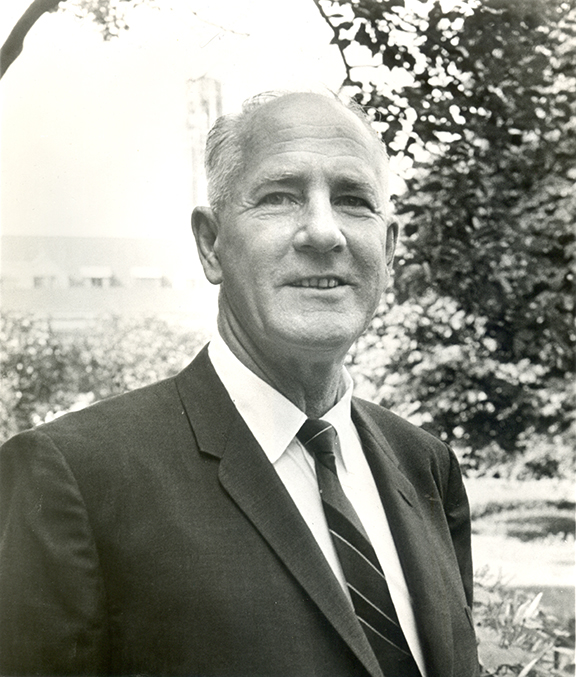 photo courtesy Saunders County Historical Society & Museum
Farming was a way of life for the Chauncey Beadle family of Wahoo. His son, George, raised bees, trapped muskrats and walked 3 miles round trip to school and back each day. He might have followed his father's footsteps into farming had it not been for the intervention of a Wahoo High School teacher.
George was infatuated with physics and chemistry instruction by Bess McDonald. During long evening teaching sessions, she inspired the boy – known as "Beets" to his friends – to enroll at the University of Nebraska's College of Agriculture in Lincoln. His father believed that a farmer did not need an education. Instead of working the family farm, Beadle set down roots in the young field of genetics. But agriculture never left him.
After graduating from Nebraska, Beadle taught at Harvard, Stanford and the California Institute of Technology. He grew plots of corn on campus while working as president of the University of Chicago. He was often mistaken for one of the school's gardeners.
Beadle's research focused on the genetics of corn, fruit flies and bread mold. He won the 1958 Nobel Prize for Physiology or Medicine for discovering how genes control activities within cells. He also received honorary degrees from 10 colleges and universities, including Yale, Nebraska, Rutgers and Oxford.
George Beadle Middle School in Milford is named for the Wahoo native, as is the Beadle Center at the University of Nebraska-Lincoln's Department of Biochemistry.
Romantic Maestro
Howard Harold Hanson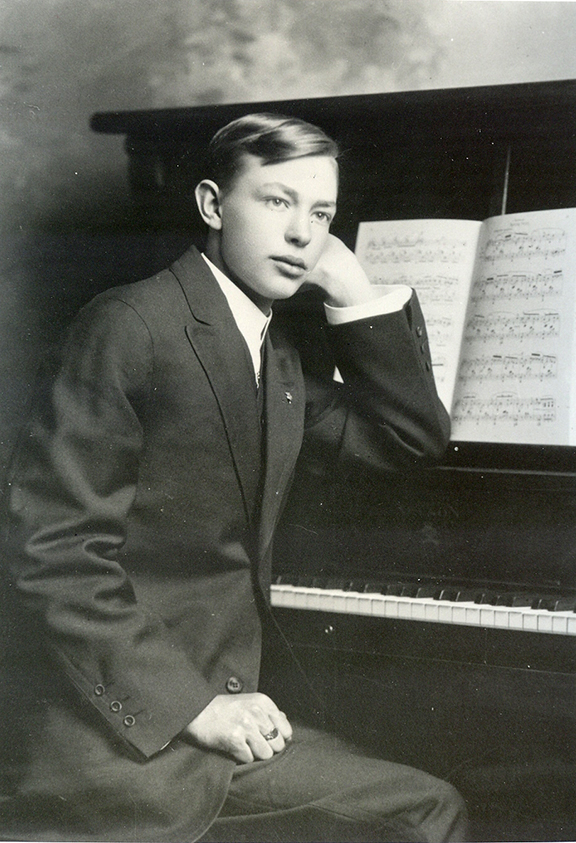 photo courtesy Saunders County Historical Society & Museum
Hilma Hanson's piano playing was sweet music to her son's ears. Howard was 6 when she began teaching him how to tickle the ivories. He enrolled at Wahoo's Luther College School of Music at age 7 and penned his first composition the same year. Two years later, he was playing the cello and performing in recitals with his own quartet around Wahoo.
Hanson's love of music took the Nebraska boy around the world. He studied at the University of Nebraska before attending the Institute of Musical Arts, now known as The Juilliard School in New York. He made musical waves in Europe by winning the prestigious Prix de Rome art scholarship before returning to the U.S. to run the Eastman School of Music in New York.
"From his musical roots on the plains of Nebraska, Hanson confidently developed into a composer of international stature," said David Peter Coppen, librarian and archivist at Eastman's Sibley Music Library. Hanson was not yet 27 when he took over the fledgling music school.
"By his retirement 40 years later, Hanson had utterly transformed the Eastman School of Music into a world-class institution, and at the same time helped put Rochester, New York, on the nation's musical map," Coppen said.
Royalties from compositions and recordings that Hanson created while at Eastman fund the school's Howard Hanson Institute for American Music.
The death of Hanson's Swedish immigrant father, Hans Hanson, inspired Hanson's Symphony No. 4. The composition earned him the Pulitzer Prize in 1944. Better with music than spoken words, Hanson mailed his Serenade for Flute, Harp, and Strings to love interest Margaret Elizabeth Nelson. The musical marriage proposal worked. They married in 1946 and were together until Hanson's death in 1981.
Blaze of Glory
Clarence William Anderson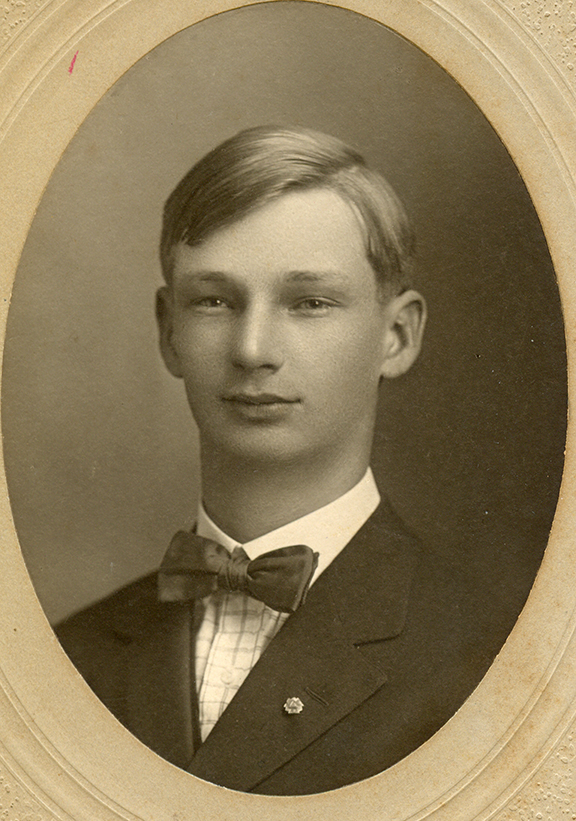 photo courtesy Saunders County Historical Society & Museum
The term "starving artist" may come to mind when looking at the early career of Wahoo High School Class of 1909 graduate Clarence Anderson. But when his career finally took off, it galloped.
He was living in New York and struggling financially when magazines began purchasing his illustrations. His painting of a man gazing across a barbed wire fence toward ripe fruit, "Boy Tempted by Apples," graced the Oct. 4, 1924, cover of the Saturday Evening Post. Anderson was 33. His work also appeared in Life and Judge magazines. He worked professionally as C.W. Anderson.
Attending a horse race sparked an interest in the equine form that would inspire Anderson for the rest of his creative life. His painting of the thoroughbred race horse Man o' War became one of his most famous works of art, but the artist became best known for his children's books.
In addition to illustrating books for other authors, Anderson wrote and illustrated 43 books of his own. He wrote about Man o' War in Big Red, but Anderson's most memorable titles are the 11 books in his Billy and Blaze series.
The first book, published in 1936, began with the title character, Billy, receiving a pony for his birthday. The boy and the horse embark on exciting adventures in titles such as Blaze and the Mountain Lion, Blaze and the Indian Cave, and Blaze Shows the Way. Anderson skillfully weaved proper horsemanship into every book, and each story left young readers with an important life lesson.
"I find it amazing that Anderson's books are still in print after all these years," said Wahoo High School English teacher Larry Fangman, who has one of Anderson's horse drawings in his classroom. "The Billy and Blaze books and the lessons they teach are timeless."
Anderson died in his Boston studio in 1971, but fans of his work have something to look forward to. No release date has been set, but a Billy and Blaze movie has finished filming and is in post-production through Welkin Studios. Yippee ki-yay and Wahoo!
Other Wahoo Native Notables
Fannie Quigley • 1870-1944 • Hunter and gold prospector known for foul language and pie crusts made from bear lard. Member of the Alaska Mining Hall of Fame.
Jack Natteford • 1894-1970 • Prolific screenwriter who wrote for more than 140 motion pictures. Also published as J.F. Natteford and John Francis Natteford.
Tillie Olsen • 1912-2007 • Writer, feminist, union organizer, political activist, teacher. Won the O. Henry Award in 1961 for Best Short Story.
Shuko Akune • 1959- • Actress known for television roles on ER, Murphy Brown and The Steve Harvey Show, and films Alien Nation, and GI Joe: The Movie.
-----
The Saunders County Museum in Wahoo features exhibits dedicated to Wahoo's famous sons and other well-known people with ties to the community. 240 N. Walnut St., Wahoo. (402) 443-3090.