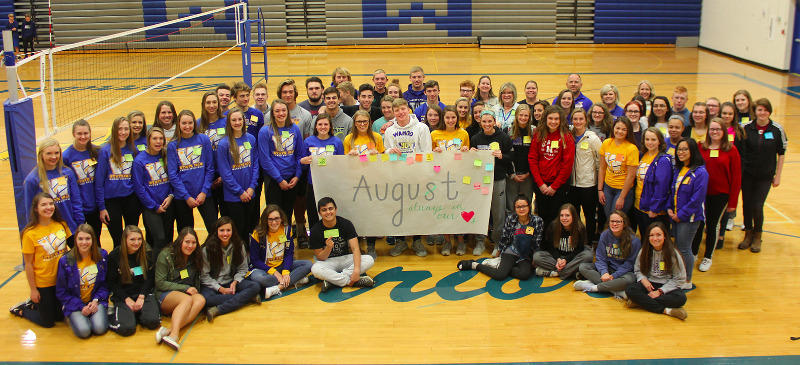 Students honor former staff member's wish for son
August . . . always in our hearts
Several Wahoo High School students and staff participated in a project to honor the memory of August Didier, the child of former Wahoo Public Schools Spanish Teacher Cass Didier.
August died one year ago, and was remembered in a project led by juniors Kendal Brigham and Paige Peterson.
October was Pregnancy, Infant, and Child Loss Awareness Month. The two juniors wanted Mrs. Didier and her husband to know that parents who have lost a child are supported in their grief.
In an effort to share the love that they had for their son, Mrs. Didier recently posted the following message on social media.
"It's November and I so wish we were planning a 1st birthday party while reminiscing on a year of adventures with our
favorite little guy, August. Showing August the world was what I looked forward to most. I saw a super cool idea (from
another mom) and I wanted to give it a go. If you find yourself in a fun location this month, could you write August's name
and take a picture? You can write his name with leaves, sticks, in the sand or snow, on paper - anything! You can also use
nicknames: Gus, Aug, Auggie, even the number 8. I'm excited to see all the adventures he will be a part of in his own
special way."
On Thursday, before the Wahoo High School volleyball team loaded the bus and headed to their opening round state tournament match, the team, staff members and students gathered in the gymnasium. Adorned with Post-It notes of encouragement and messages of support, the group fulfilled Mrs. Didier's wish by posing around a sign created by Brigham and Peterson. The pictures of the event were later posted to Twitter by Brigham.
Junior Trey Scheef was one student who participated in the event. When asked why he joined the event, he said, "she was my Spanish teacher in middle school and high school. She was a great teacher."
Senior Emma Thrasher supported the effort as well. Her Post-It note honored August and let him know that she is looking forward to seeing him some day.
School counselor John Harris was proud of the students for their efforts to make this project happen.
"To demonstrate selfless leadership and think of others at a time when those student-athletes were preparing to defend a state volleyball title is a clear testament to their character," Harris commented.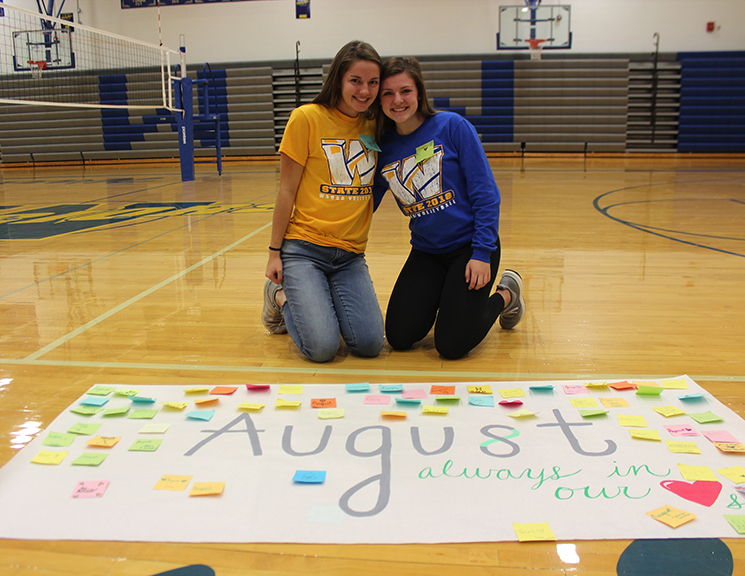 WHS juniors Paige Peterson and Kendal Brigham.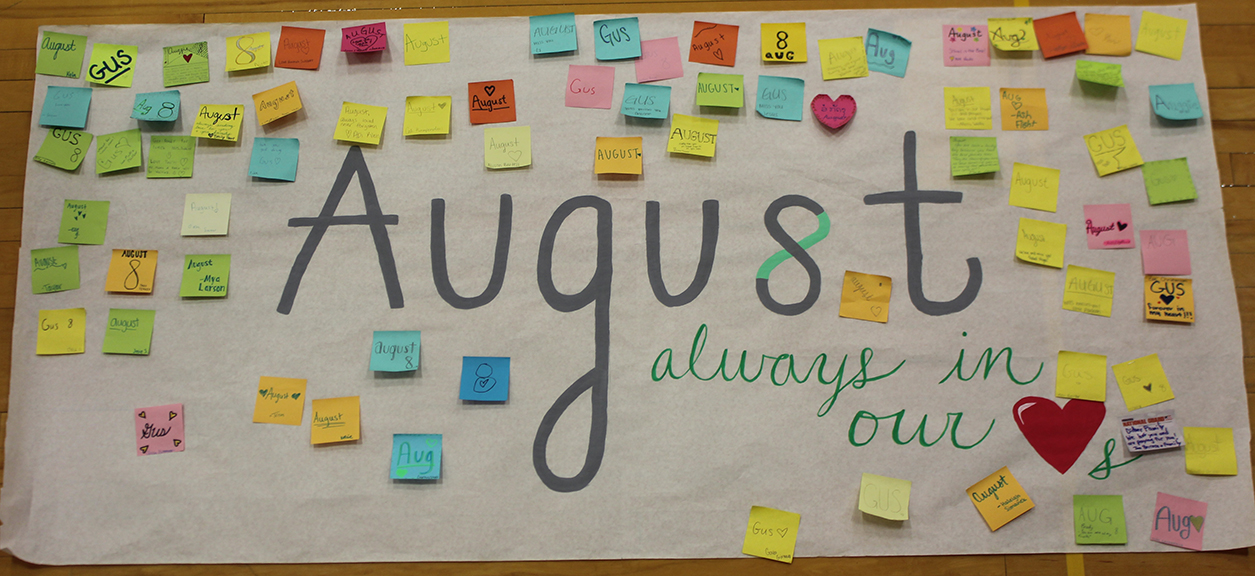 Students honor former staff member's wish for son
Launa

Nov 09, 2018

Love love love this! Great job!!

Rebecca Stark

Lincoln NE

Retired Teacu

Nov 09, 2018

So proud! Wahoo Students are the BEST!! 💙💛💙💛

Joan

Nov 10, 2018

Beautiful.....

Janet Griffin

Grand Island

Nov 13, 2018

Wahoo.... Thank you for your continued love & support for my daughter & grandson, August. You are the best !!!! Congratulations on the championship. I watched the game today. Wahoo Warriors!!!!!I love this!