Photo courtesy Lisa Brichacek, Wahoo Newspaper
Major General Richard J. Evans III from U.S. Strategic Command at Offutt Air Force Base, poses with our guests of honor, local veterans, at the 2016 Veterans Day Assembly in the WPS Performance-Learning Center on Nov. 14. Evans was this year's guest speaker for the event.
2016 Veterans Day Assembly
Wahoo High and Bishop Neumann once again join forces to honor those who fight for freedom
"As we express our gratitude, we must never forget that the highest appreciation is not to utter words, but to live by them." --John F. Kennedy
Wahoo High School recently observed Veterans Day on Monday, November 14, 2016 in a joint assembly with Bishop Neumann High School.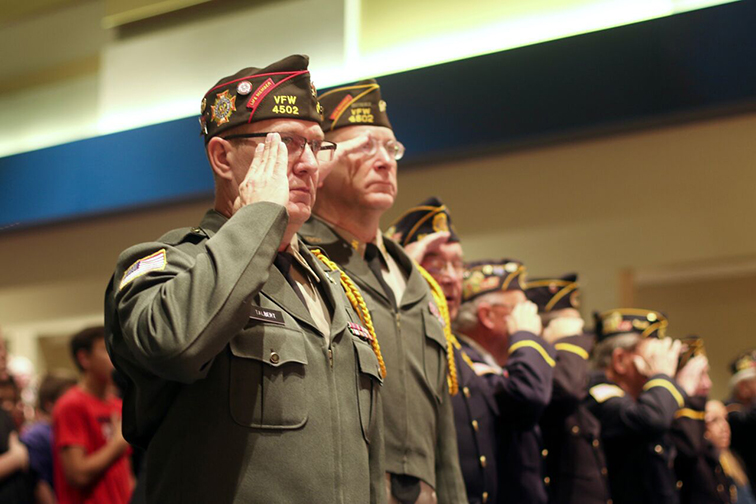 Over 20 veterans from the local American Legion and VFW were in attendance to help commemorate this important date. Madison Talbert and Sam Brabec both wrote and presented inspiring essays to students and staff of Wahoo Middle and High Schools, Bishop Neumann High School, community members and local veterans.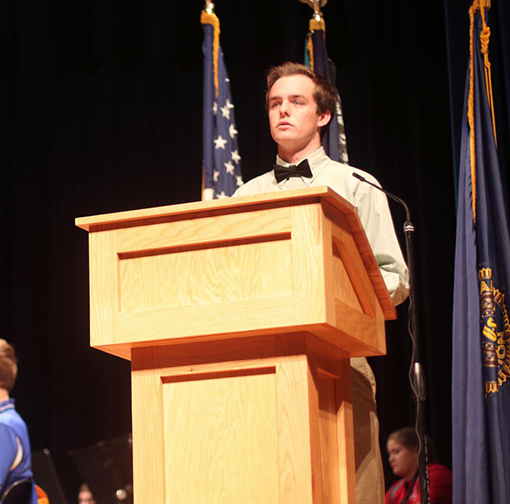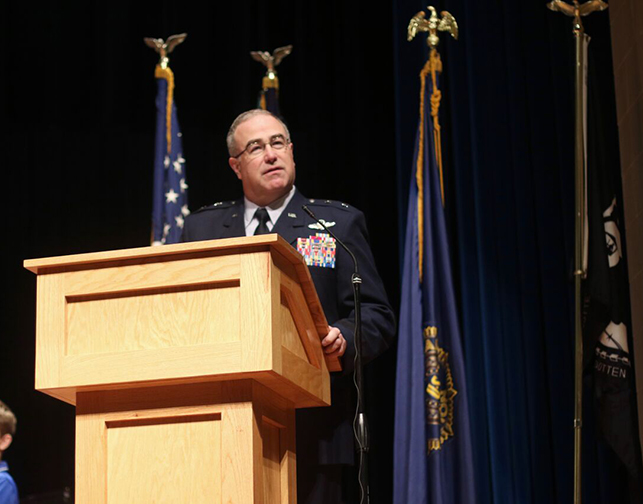 WHS senior Sam Brabec (left) delivered one of the student essay readings,
and Major General Richard J. Evans III delivered this year's Veterans Day message.
------------------------------
Next, the Director of Reserve Forces and Mobilization Assistant to the Commander, Offutt Air Force Base, Nebraska, Major General Richard J. Evans III conveyed an encouraging Veterans Day message. He spoke about how fortunate the community of Wahoo was to have such an admirable Veterans Memorial.
Evans went on to highlight the importance of honoring our veterans and the contributions and sacrifices they make, both while in the service and afterwards. He paid special homage to World War II veterans, a generation of rapidly declining numbers, because if not for them, we would not be able to do many of the things we take for granted today.
Evans reminded us that we do not have to do anything elaborate to showcase our gratefulness; rather, a simple thank you to our servicemen and women goes a long way.
Lastly, members of the WHS and BNHS bands and choirs also joined in the celebration by performing renditions of "God Bless America" and "Salute to America's Finest." Once again, the joint music groups put on an impressive show for the over 700 people in attendance.
This is the tenth year that both schools have joined together to commemorate and honor our veterans. Click HERE to view the full program for this even.
Thank you to all of our veterans, past and present, for everything you have done to allow the rest of us to live and thrive in The Land of the Free.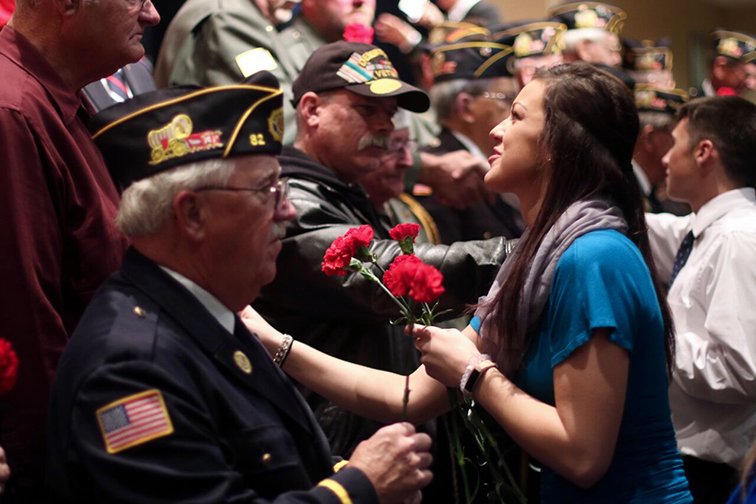 A special thank you to Found and Flora, which provided a red carnation to honor each veteran attending this year's assembly.