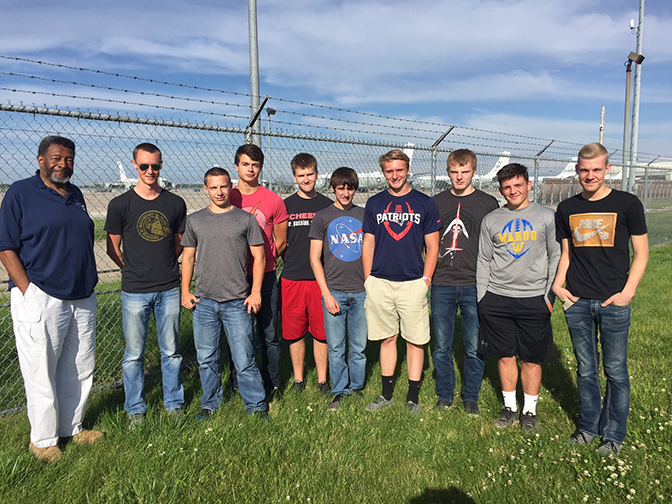 Nine WHS students took over the controls of the flight simulator at Offutt AFB in Bellevue on May 31. Pictured from left are Bob Rose of Tuskegee Airmen, Inc., Ryan Volin, Caleb McGill, Nathan Spicka, Daniel Dunn, Caleb Groff, Tyler Timm, Bobby Spicka, Tucker Hancock, and John Anderson.
WHS students take to the skies at Offutt AFB field trip
9 experience aviation by taking control of base's flight simulator
The opportunity to fly in an airplane is something that fascinates many kids. For many, just experiencing the speed and force of a takeoff and landing, as a passenger, can be quite a rush. Recently, for some students, though, that rush was significantly enhanced by placing them in the pilot's seat!
Nine WHS students virtually took to the skies on Tuesday, May 31, on a field trip to Offutt Air Force Base where, among other activities, they took the controls of the base's flight simulator.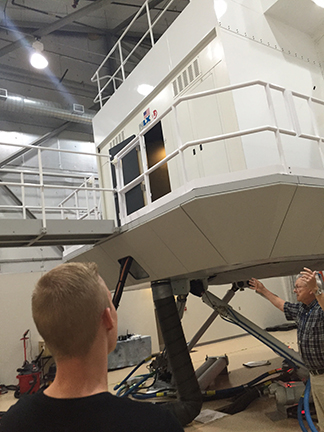 Students are introduced to the simulator by Col. Michael J. Cook (Ret.).
This new simulator was installed at Offutt AFB in 2015, and mirrors the Boeing RC-135 aircraft, a popular plane flown by pilots assigned to Offutt's 55th Wing. This simulator not only offers a safe, effective way for pilots to fine-tune their skills, but it also gives students an opportunity to experience, first-hand, what it's like to actually control a 100-ton, multi-million dollar aircraft.
After some classroom instruction on the basics of flying, provided by retired Air Force Colonel Michael J. Cook, each student enjoyed 15 minutes at the controls. In addition, students received a tour of the base, and were able to visit the air traffic control tower.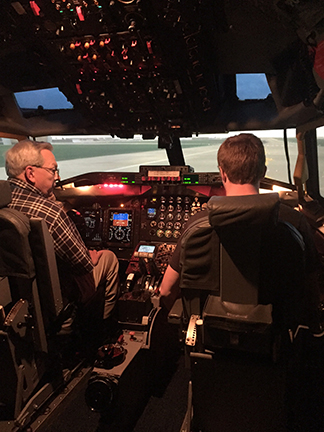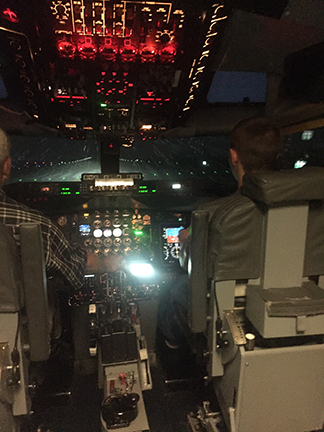 Students inside the flight simulator, which allows pilots to fly, day or night, in any part of the world, in all weather conditions.
This opportunity was sponsored by the Alfonza W. Davis chapter of the Tuskegee Airmen, Inc. This program was implemented in 2012, after Bob Rose, chapter president of the Alfonza W. Davis chapter, contacted Offutt with his idea for these field trips, and he received full cooperation from the leaders at the base.
With these trips, Rose, who is also retired from the U.S. Air Force (joined in 1954), enjoys the opportunity to continue educating students about the Tuskegee Airmen and their important role in World War II. Rose's goal is to preserve the legacy of the black pilots, bombardiers and others trained at the Tuskegee Institute in Alabama, and to inspire students to follow their dreams.
WHS learned of this opportunity following an assembly in the Performance-Learning Center on February 24, 2016, featuring Rose, who was accompanied by retired Airman Cpl. Robert Holts (age 91), the last known surviving Nebraska Tuskegee Airman. At the conclusion of this assembly, Rose informed students of this experience, and students expressed their interest to WPS Media Director David Privett, who worked with Rose to schedule this event.
"I'm always looking for learning opportunities for our kids outside the walls of our classrooms," Privett commented. "When I heard about this program, I immediately knew this was something worth pursuing."
Privett added that while students experienced first-hand the life of someone enlisted in the U.S. Air Force, this field trip was created primarily as an educational experience, not a recruiting opportunity.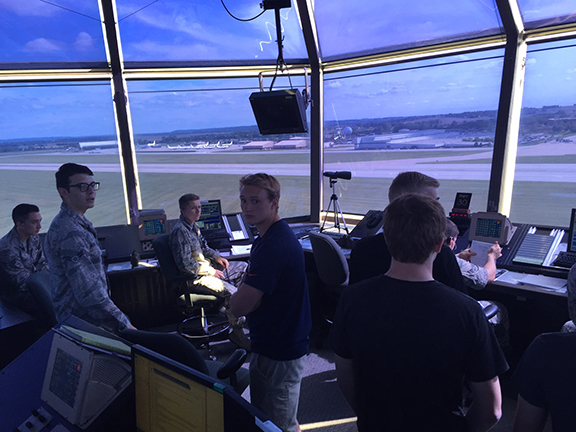 Students were able to visit the flight control tower during their visit.
Available dates were limited. It was not possible to schedule during the school year, so WHS took the first summer spot available.
"When students show up for a field trip during their summer break, you know you've found something worthwhile," Privett added.
For students, there was a unanimous consensus that the day was well-spent!
"Having the opportunity to go to Offutt and actually get to fly a simulator was an amazing experience!" stated new graduate Tyler Timm. "As I am going into the Air Force, it was also a great experience to see how a base operates. I hope Wahoo continues to do this because it will benefit students interested in aviation and the military."
After the experience, Privett and the students debriefed over fish and chips at Dundee Dell, before returning to Wahoo.
"This is definitely an opportunity we will provide to future students who are interested in experiencing aviation in a manner not many get to experience!" Privett concluded.
--------------------------------
Further information about the Tuskegee Airmen:
The Tuskegee Airmen were among the first African American pilots allowed to fly in the U.S. military during World War II, still a time of segregation and discrimination.
On July 19, 1941, the U.S. Army Air Corps began a program in Tuskegee, Alabama to train African­ Americans as military pilots, aircraft mechanics, flight engineers, gunners and many other aviation related specialties. This training was termed the "Tuskegee Experiment." The students who participated in this program are known as "Tuskegee Airmen."
Tuskegee Airmen have an outstanding reputation of escorting over 200 bombing missions with minimal bomber losses during World War II. Flying P-39's, P- 40's, P-47's and their custom painted Red Tail P-51 Mustang, they destroyed over 260 enemy aircraft, sank one enemy destroyer and demolished numerous enemy installations.
Founded in 1988, the Alfonza W. Davis Chapter of the Tuskegee Airmen, Inc. in Omaha is one of 51 nationwide, and its membership includes four original Tuskegee Airmen.
On March 29, 2007, over 300 original Tuskegee Airmen ascended on our Nation's Capitol to receive the prestigious Congressional Gold Medal for their contributions, accomplishments, heroics and bravery exhibited during World War II. Many widows and children representing their parents were also in attendance. The Rotunda seated more than 600 guests, including members of Congress.