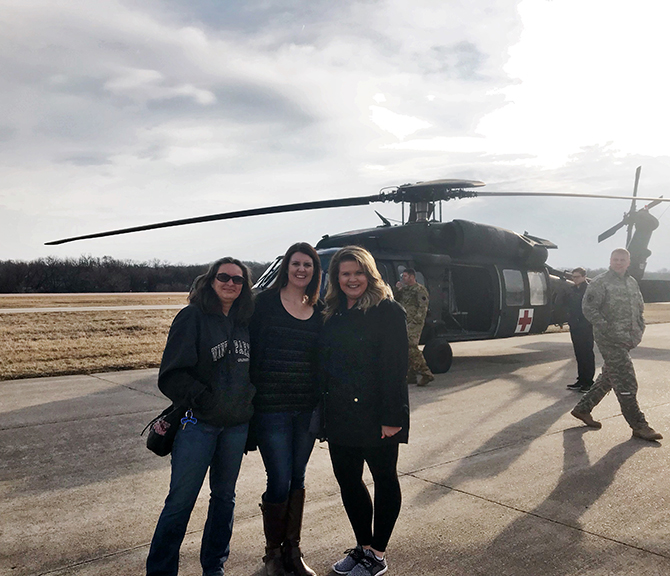 WHS Teachers (from left) Heidi Adams, Nicole Burg, and Allie Munch participated in the Nebraska National Guard's Spring Educator Flight Program on Saturday, March 10, where they learned what the National Guard has to offer educators and students. The program included a ride on a UH-60 Black Hawk helicopter.
Education in the sky!
Adams, Burg & Munch take flight in a Black Hawk helicopter as participants of NE National Guard's 2018 Spring Educator Flight program
On the morning of Saturday, March 10, thousands of fans converged on Lincoln's Pinnacle Bank Arena to cheer on the Wahoo Warriors as they played for their 11th boys basketball state championship. Three Warrior fans, though, decided to take their cheering section 1,000 feet above the arena in a Black Hawk helicopter.
Wahoo High School teachers Heidi Adams, Nicole Burg, and Allie Munch were participants in the 2018 Nebraska National Guard's Spring Educator Flight Program on that morning, where, among other things, they were invited to board a Nebraska Army National Guard UH-60 Black Hawk helicopter for a trip to the Air National Guard's 155th Air Refueling Wing Base in Lincoln. En route, they were treated to fantastic views of the Platte River, downtown Lincoln, and a Pinnacle Bank Arena flyover just as the Warrior Boys were preparing for tip-off against Winnebago.
The Nebraska National Guard's Spring Educator Flight program is designed for high school administrators, educators, coaches, and guidance counselors. According to their website, the program "provides a unique opportunity for civilians, who work with students, to better understand the Army National Guard and what we can offer in terms of money for college, job and leadership experiences, and who qualifies to be a member of the Guard."
The program also introduces teachers to educational programs that are offered by the Guard. The three Wahoo teachers participated along with teachers from both Springfield-Platteview and Omaha Public Schools.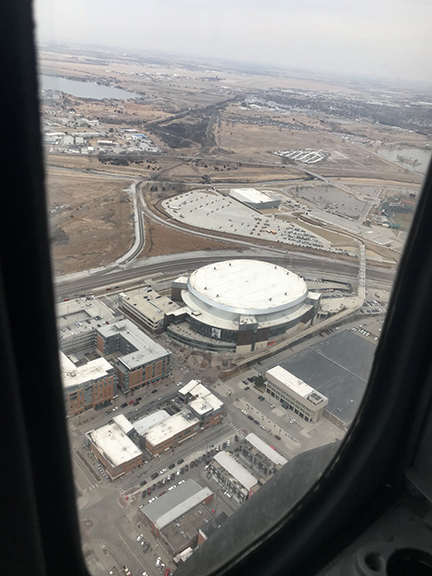 An aerial cheering section! Mrs. Adams, Mrs. Burg, and Miss Munch cheered on the Warrior Boys Basketball team to a State Championship as they flew over the Pinnacle Bank Arena in a UH-60 Black Hawk helicopter.
After the flight, members of the Nebraska National Guard showed off their hangars full of impressive aircraft and equipment. The visiting educators were then briefed on many of the career opportunities and educational benefits available to students who choose to serve their country by joining the Nebraska National Guard.
Many of the Guard members who participated in the flight and the briefing are current or former educators, including Brigadier General Kevin Lyons, who most recently served as superintendent of St. Edward Public Schools.
The Wahoo teachers who participated were unanimous in deeming the program a worthwhile experience.
"As someone who teaches seniors, it was great to understand how the National Guard can provide opportunities within Nebraska for our students to serve their country," Burg, a WHS English teacher, commented.
Adams, the WPS English Language Learner (ELL) Instructor, agreed:
"The Nebraska National Guard Educator Flight was an incredible experience! Not only did I learn what it feels like to fly in a Black Hawk, but I learned how valuable the Nebraska National Guard is to the state and about the amazing opportunities that are available through their programs," Adams stated. "They provide a research-based bullying prevention program for middle school and high school. Students can join while still in high school and start earning benefits toward helping with college expenses, possibly having no student debt upon college graduation. Recruits can serve within the state or they can travel. Currently the signing bonus is unbelievable. I probably would have signed up if it had been available when I was in high school."
Also accompanying the Wahoo crew was Staff Sergeant Josh Peavy, a 2004 Wahoo High School graduate, who has recently taken over recruiting duties in Wahoo and Fremont.
WMS/WHS School Counselor John Harris participated in the program last year, and WPS teachers David Privett and Jason Smith are scheduled to participate in the next scheduled program on Saturday, April 7.