Mr. Mueller named VFW 'State Citizenship Teacher of the Year'
WHS history/government instructor recognized for his outstanding commitment to civics education
WHS American History & Government Instructor Ryan Mueller has been named Nebraska's 1st place winner in the VFW State Citizen Education Teacher-of-the-Year contest! Mueller poses above with students from his Honors American Government class.
"Let every nation know, whether it wishes us well or ill, that we shall pay any price, bear any burden, meet any hardship, support any friend, oppose any foe to assure the survival and the success of liberty." –John F. Kennedy
Patriotism is not an inherent trait, and it's up to America's history and government teachers to educate our future generations, and instill a passion for what makes this country truly great. Wahoo High School celebrates one of the best available anywhere to carry out this mission: its own American History and Government Instructor Ryan Mueller.
Each year school administrators from across the nation nominate teachers for the Veterans of Foreign Wars (VFW) National Citizenship Teacher of the Year Award.
Mr. Mueller has been named the state-wide first place winner for Nebraska's grade level 9-12 teacher entries! At the local level, sponsored by VFW Post and Auxiliary 4502 in Wahoo, Mueller was nominated for the award by WHS Principal Jason Libal.
According to the Nebraska VFW website, three exceptional teachers are recognized annually by the VFW for their outstanding commitment to teach Americanism and patriotism to their students. The VFW annually recognizes the nation's top classroom elementary, junior high and high school teachers who teach citizenship education topics—at least half of the school day in a classroom environment—and promote America's history, traditions and institutions effectively.
For those who know Mr. Mueller, there is no better candidate!
"I am so grateful for the incredible work that Mr. Mueller does to support patriotism, citizenship, and history/government education in his classroom and within our school district," commented Libal. "The incredible amount of time and effort that Ryan lends to his classroom, the Close-Up Program, Veteran's Day Assembly, etc., shows his true passion for his students and his teaching profession. I have had so many former and current students relay to me what an incredible teacher Mr. Mueller is. What makes him incredible is his ability to infuse life, humor, and knowledge into his classroom. These abilities are marks of a great teacher!"
Mueller will attend the VFW State Convention in Norfolk, NE on June 6 to receive his award.
As a state winner, Mueller's name has been passed along to the VFW National Headquarters for consideration in the national awards contest. Those awards will be announced at a later date.
Congratulations Mr. Mueller on this well-deserved honor!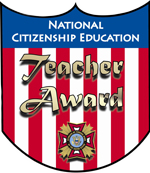 Mr. Mueller named VFW 'State Citizenship Teacher of the Year'
Mick Anderson

Wahoo

retired educator

Jan 30, 2015

Nice honor for a great teacher! Well deserved award!

John Harris

Staff

Jan 30, 2015

Validation for the amazing job that Mr. Mueller does for the students at WHS year in and year out! Job well done!!!!!