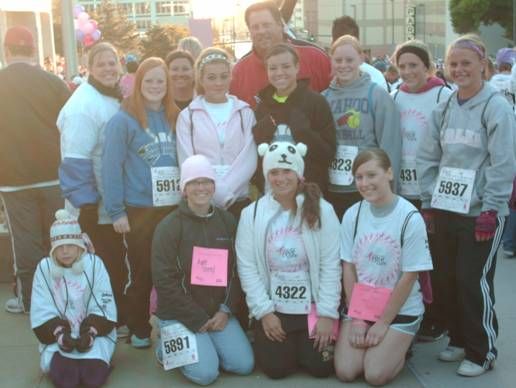 WHS Team Participates in Race for the Cure High School Team Challenge
Students Raise Money for Susan G. Koman Breast Cancer Foundation
Race For The Cure High School Team Challenge
On October 3 a group of Wahoo High School students and sponsors participated in the Susan G. Komen Race for the Cure in Omaha. This was the 17th year for this event and this year there were close to 20,000 participants in the race/walk.
This was the first year that Wahoo High School has participated in the Race For The Cure High School Team Challenge fundraising event. Aubrey Voboril was the captain of the team and Mr. Arent was her faculty sponsor.
Pink bracelets are currently being sold for $2 each, and all profits will be donated to the Susan G. Komen Breast Cancer Foundation. Please contact Aubrey or Mr. Arent if you are interested in purchasing a bracelet.
Thank you to all of the students, family members and faculty who participated in the walk or made a donation. We hope to have more participation next year for this very worthy cause.