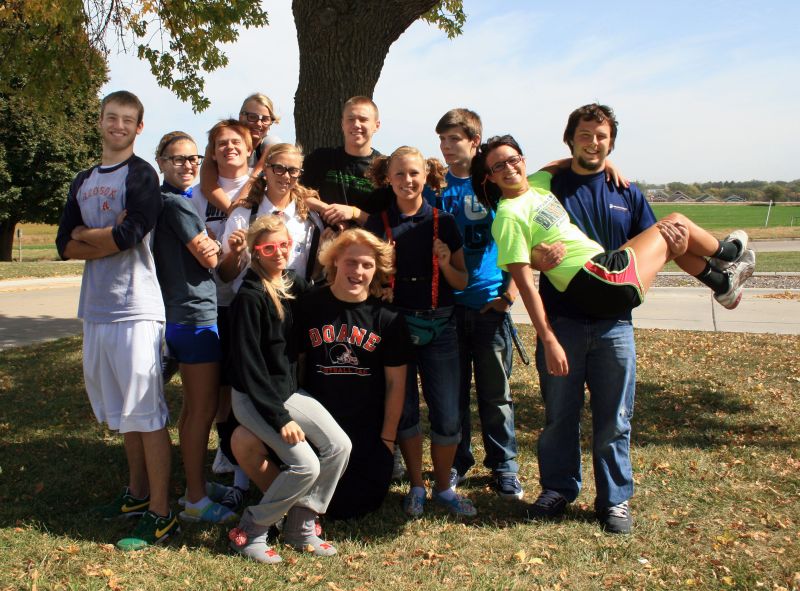 2011 Homecoming Candidates, back row (from left): Alex Bern, Michaela Curran, Brock Partridge, Sydney Hancock, Max Cook, Emma Harris, Dan Clark, Jordan Coffey, Jack Putnam. Front: Autumn Gerrish, Seth Stewart.
Homecoming 2011: a Night in Vegas
Highlights: a Week of School Spirit, a Football Victory & Dance Drawing over 100!
Sparkly dresses, heels too high to walk in, tight up-do's held together with bobby pins and hairspray, corsages and boutonnières, flashes of light popping here and there, booming music, and Vegas, baby, Vegas! Yes, it's Homecoming 2011!
While this scenario played out in the Wahoo High School gymnasium on Oct. 1, the entire week before the Homecoming dance was fun, festive, and competitive. The music of Elvis Presley and Frank Sinatra along with the chinking of slot machines filled the halls with the sounds of Las Vegas.
The five dress-up themes during Spirit Week this year were Pajama Day (Monday), Injury Day (Tuesday), Color Day (Wednesday), Nerd Day (Thursday), and, of course, Spirit Day (Friday).
"I thought Spirit Week was fun and had a lot of fun themes," said Ashlen Groff, junior.
Monday was the perfect day to get to wear pajamas and fuzzy slippers to school. Footy pajamas, or onesies, were popular and kept students warm throughout the day.
"I love wearing my pajamas!" said Ronnie Brust, sophomore, about her favorite dress-up day.
Injury Day on Tuesday allowed students, and even Mr. Boldt, to fake injuries. From Band-aids and black eyes, to walking canes and wheelchairs, lots of students had fun sporting their injuries. Mr. Boldt "hurt" his back and had to wear a brace all day. Patrick Hancock, junior, found several uses for his grandmother's cane. And, looking around the school, one might think our students were a little accident-prone.
On Color Day this year freshmen dressed in brown, sophomores wore green, juniors donned pink, and as is tradition, seniors covered themselves from head to toe with black.
"Spirit Week was fun," said Katie Sloup, senior. "I liked Color Day because I finally got to wear black."
"I liked Color Day the best," agreed Rylee Armstrong, sophomore.
Thursday brought out the nerd in all of us. Students dressed in suspenders, hiked up their waistbands, sported their plastic pocket protectors, and taped the bridge of their black horn-rimmed glasses.
"Nerd Day was fun, too," said Sloup. "I had an awesome outfit."
Friday came quickly with the halls bursting with blue and gold. Some students got into the spirit by wearing t-shirts, jerseys, or uniforms from back in the day.
"Even though I was one of the only ones to go all out, Spirit Week was okay and had cooler themes than last year," said Fenina Rummel, sophomore. Rummel really went all out on Spirit Day when she painted her face blue and gold.
Throughout the week, students and teachers decked out pod areas or hallways using the Las Vegas theme, preparing for the Homeroom Decorating Challenge. Students liked walking through the decorated hallways.
"The decorations were very unique and creative this year," said Cameron Golter, senior.
Teams formed alliances and worked hard throughout the week, but in the end the "Quad Pod" (Mrs. Dinsmore-Talbott, Mr. Foster, Ms. Huenink, Mr. Mueller, Mrs. Nuckolls, and Mr. Watton) took the trophy.
"I'd won almost every year, and I didn't want to lose," said Mrs. D-T. "I was really surprised how the students pulled together to show their school spirit. Winning was just icing on the cake."
Judging the contest were Mr. Boldt, Mrs. Chihal, Mrs. Krecklow, Mr. Libal, Mrs. Myers, and Mrs. Pokorny. Criteria included originality/creativity, eye (artistic) appeal, tied to the theme, and school spirit.
"The casino area [The Quad Pod] felt like you were really in a casino," said Mrs. Krecklow.
Several signs signaled the way through the festive "casino" past a legit poker table and two slot machines, ringing with the sound of money.
"They must be 'connected' to be able to score a real slot machine!" added Mrs. Pokorny.
Friday's Spirit Day was the perfect way to end the week so students could go straight to the homecoming football game decked out in their blue and gold. Wahoo had no problems beating Omaha Roncalli 20-0, so spirits stayed high.
During the half, Homecoming candidates showcased on the back of fancy convertibles were introduced to a big crowd. The 2011 queen candidates were Jordan Coffey, Michaela Curran, Autumn Gerrish, Sydney Hancock, Emma Harris, and Sadie Murren. King candidates included Alex Bern, Dan Clark, Max Cook, Brock Partridge, Jack Putnam, and Seth Stewart.
Finally, the night we've all been looking forward to—Homecoming! Everybody is all dolled up and ready to have a blast. Students began arriving when the doors opened at 7:30 p.m. and whether they showed up with dates or with a group of friends, most everyone had a great time.
"The dance was a lot more fun than last year," said Ashley Brandt, sophomore. "I really liked the decorations."
"Homecoming was fantastic," added Sam Grandgenett, junior.
At 10 o'clock, Mr. Arent introduced the Homecoming candidates, crown bearers Keegan Brigham and Ava Lausterer, and last year's king and queen, Michael Kersten and Emily Brodahl.
After much anticipation, Mr. Arent announced the 2011 Homecoming king and queen, Max Cook and Sadie Murren.
"I didn't think I would win," said Cook. "I'm happy that my peers voted for me."
"It was exciting," added Murren. "I was very surprised to even get elected to court because there are a lot of senior girls. I was even more surprised to win! I'm glad people look at me as a role model."
The 2011 Homecoming Dance brought out over one hundred students.
"That was a good Homecoming crowd," said high school principal Mr. Libal. "It's the largest group we've had in a long time."
"It was fun, but too short," said Janae Urban, sophomore.
While many had a great time, mixed reviews came in about DJ NiteTraxx.
"I thought he was cool," said Rummel. "He played good music."
But, others said it was hard to get into his music choices and found it difficult to dance.
"He didn't play the music I listen to," said Paris Mood, junior.
Despite the differing opinions about the dj, many students still danced the night away.
"I danced the whole time," added Jose Sotelo, senior.
After the music faded and the lights flickered on, students scattered to end their Homecoming night. Girls rummaged around to find the heels and purses. Guys anxiously awaited score updates on the Husker game against Wisconsin. And slowly, students and chaperones left "Las Vegas."