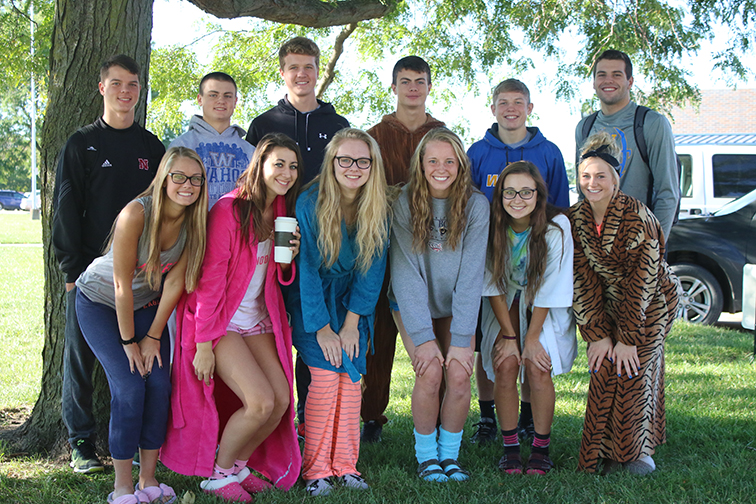 photo courtesy Nicole Burg
Congratulations to the 2016 WHS Homecoming Candidates, front row (from left): Annie Petska, Elizabeth Hill, Maddie Mann, Josie Schnakenberg, Claire Johnston, and Mallory Lindstrom. Back row: Josh Abbott, Corby Brigham, Seth Anderson, Nathan Spicka, Ryan Walker and Jake Ruzicka.
Homecoming 2016
Candidates & list of week's events posted (Sept. 26-30)
WHS Homecoming 2016 will be held September 26-30.
Candidates
Congratulations to your 2016 Homecoming Candidates:
Queen: Elizabeth Hill, Claire Johnston, Mallory Lindstrom, Maddie Mann, Annie Petska, Josie Schnakenberg
King: Josh Abbott, Seth Anderson, Corby Brigham, Jake Ruzicka, Nathan Spicka, Ryan Walker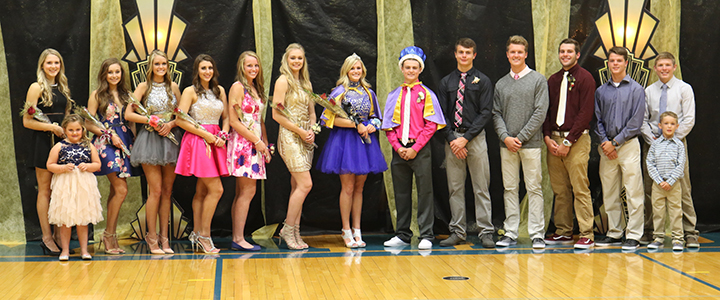 Congratulations 2016 Homecoming Queen Mallory Lindstrom and King Corby Brigham!
2016 Homecoming/Spirit Week Activities:
Reminder: When planning for dress up days, please remember that dress codes apply (hats/headwear must be theme related, & no masks are allowed)
Monday, September 26
Theme: Color Day
Freshman-Brown
Sophomores-Blue
Juniors-White
Seniors-Black
Staff-Camo
• Girls Golf @ Elmwood-Murdock
• Softball NCC Tourn @ Valparaiso
• Volleyball Varsity Triangular
Tuesday, September 27
Theme: Western Day!
• Softball @ Arlington
Wednesday, September 28
Theme: Frat/College Day!
Thursday, September 29
Theme: "I woke up this way!"
• Girls Golf Varsity Triangular
• Cross Country @ Lincoln Lutheran
• Volleyball @ Ashland-Greenwood
• Softball @ Omaha Gross
Friday, September 30
Theme: Can't hide that Warrior Pride!! Spirit Day
• Pep Rally 8th period
• Football Varsity vs. North Bend Central
Saturday, October 1
• Softball Varsity Quad
• Volleyball Tourn @ Ashland-Greenwood
• Homecoming Dance 7:30-11:30 p.m.
• Homecoming Coronation 10:00 p.m.
Homecoming Dance
"The Roaring 20's"
7:30-11:30 p.m. (doors close at 8:30 p.m.)
Coronation at 10:00 p.m.
Admission: WHS Activity Ticket or $5/person