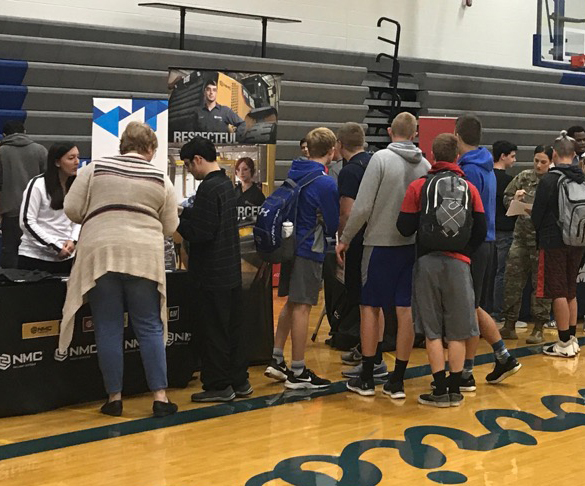 All of Wahoo's 9-12th grade students took advantage of the opportunity to visit with area businesses, colleges and military reps at the 2018 WHS Career Exploration Fair on Oct. 12.
WHS hosts first annual Career Exploration Fair
Students visit with multiple area businesses, colleges & military representative to start exploring life after graduation
The 1st Annual Career Exploration Fair was held on Tuesday, October 2 at Wahoo High School from 8:00 a.m. to noon. WHS students gathered in the gym to visit with business, college, and military representatives to learn more about opportunities available to them after graduation.
This event allowed 9th-12th grade students to speak with area representatives about further education, necessary training, important skills, future employment, and potential internships that may be useful to them as they continue to explore their post-secondary options.
This event was free for area representatives to participate in, however many representatives donated door prizes to be raffled off to students. To encourage student participation, students were given a raffle ticket when asking meaningful questions and having positive engagement at the various tables. Fifty students were awarded various prizes, including "logo swag," gift cards, and snacks/drinks following the event.
Students from each grade level found this experience to be valuable.
"I liked the career fair. I have no idea what I want to do after high school. I liked having a chance to explore different options, like working for Coca-Cola," said sophomore LJ Morley.
Junior Trey Scheef learned that companies like Duncan Aviation have multiple career path options.
"I thought that they just cleaned airplanes," Scheef commented. "I didn't know that I could be a business major and work for them."
Senior Mattie Pfeiffer agreed: "I was surprised that there were so many different career options in a single company. I like creativity. Bobcat has a division devoted to the development of new products. That might fit my interest."
Kylee Kenning, a freshman, is looking forward to next year's career fair.
"It was definitely worth my time," Kenning stated. "I talked to a lot of the healthcare businesses. I am hoping next year to get to talk with a chiropractor or meet with a college admissions person from UNL to find out what that college might have in my field of interest."
THANK YOU to the representatives from the following agencies for participating in our first Career Exploration Fair and making a difference in the lives of our students:
Berkshire Hathaway Real Estate
Lower Platte North Natural Resource District
Platte Valley Agriculture Equipment
T.E.A.C.H. Early Childhood Nebraska