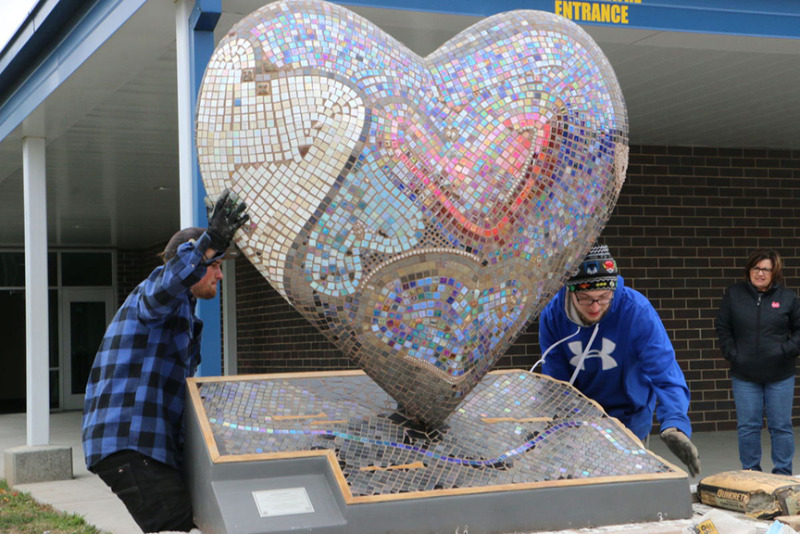 (Wahoo Newspaper Staff Photo by Lisa Brichacek)
HEART DELIVERY: Fiberglass Animal and Objects Deliverymen Vincent Bye and Landon Keough carefully take the 6-foot heart off the trailer in preparation for its move inside the Wahoo Performance-Learning Center.
Heart finds home in Wahoo
Mosaic artwork created by former WHS art teacher Lynn Wilson honors memories of former students
The heart is home.
A truck and trailer pulled in front of the Wahoo Performance-Learning Center Tuesday afternoon and the two-man crew from Fiberglass Animals and Objects LLP in Lincoln quickly started to unload their delivery.
Terri Elliott couldn't stop smiling.
"It's here. It's really here," the Wahoo woman said about the mosaic heart and the journey to get it to Wahoo.
Artist Lynn Wilson, a former Wahoo High School art teacher and cross country coach who now lives in Lincoln, created the 6 foot, three-dimensional heart for Nebraska by Heart, a public art project celebrating the state's sesquicentennial.
Eighty-nine hearts were created for this project. Each heart had the same basic shape, but every artist gave their heart a unique design. They were on display earlier this year at locations throughout Lincoln.
Wilson created two hearts for the project. Elliott said both are beautiful, but one she has had a special attachment to ever since she learned her friend was creating it.
Elliott and her sister, Sharla Schultze of Lincoln, sponsored Wilson's heart entitled "Memories in My Heart – Remembering Kyle, Marty, Mel, Rachel, Michael and Mitch" for the project and display in Lincoln.
Wilson told the Wahoo Newspaper in April she came to personally know Kyle Elliott, Marty Massie, Mel Hanson, Rachel Simon, Michael Shada and Mitch Hanke during her 30 years as a teacher and coach at Wahoo High School. It was the memories of those former students who had lost their lives tragically that inspired this heart.
But being the sponsor of this heart didn't mean that Kyle Elliott's mom had any guarantee to eventually bring it to Wahoo.
Elliott gave her sister credit for planting the seed that it should find a permanent home in the town where its namesakes were from.
"It was my sister who said you should buy it and take it to Wahoo where it belongs," she said.
Nebraska By Heart is sponsored by Lead Up and the Sadie Dog Fund. The plan from the start was to sell the hearts at auction once the display was done.
Elliott started sharing the idea that the former Wahoo High School art teacher's "Memories in My Heart" should be on permanent display at the school.
She wasn't alone thinking it was a good idea either. She found support from the other parents of the heart's students.
"The community was also supportive and so was the school," Elliott said.
So last Friday evening, Elliott, Sandi Massie (Marty Massie's mother), and Mike and Debra Mowry (Mel Hanson's parents) went to the Haymarket in Lincoln for the auction. The families had all agreed to help fund the effort to bring the heart to Wahoo.
"It was a community effort, but these two lead the way," Mike Mowry said, pointing to Elliott and Sandy Massie.
They were not entirely sure how much the heart and transportation to Wahoo would cost, but they were hopeful to be the last bidder.
Debra Mowry said there were some anxious moments during the auction, especially since there was another bidder on this heart.
"It was kind of tense," she said.
But Tom Massie, who could not attend the auction because of another obligation that evening, apparently gave the signal for success even before the auction started.
Elliott said she and Sandi Massie had talked right before the auction, so they were on the same page during the bidding.
"She told me 'Tom said don't come home without the heart,'" Elliott said.
"Memories in My Heart" sold for $8,000 and is now in Wahoo.
"Love lives on," Sandi Massie said, looking at the heart shortly after it was carted into the Performance-Learning Center Tuesday afternoon. "The kids were loved. It's wonderful to bring this back in their memory."
A special thank you to the Wahoo Newspaper for granting permission to re-post this article on our website. Please click HERE to access the original article.