13 WHS Spanish students expand their language/cultural knowledge with Peru adventure
Mrs. Didier reflects on recent trip
In late May/early June, 13 WHS students and three teacher sponsors enjoyed a seven-day adventure in Peru. The group is pictured below standing above Machu Picchu, an ancient 15th Century Incan city in the Andes Mountains..
Late this May into early June, 13 Wahoo High School students, WHS Transition Specialist Abbie Huenink, former WHS Spanish teacher Susan Dinsmore-Talbott and myself, Cass Didier, traveled 6 hours via plane (Ms. Huenink with a surprise upgrade to first class!) to the southern hemisphere to explore the country of Peru for seven days.
The seven-day agenda included sightseeing around the country's capital, Lima, a quick splash in the ocean (during their winter no less!), conquering ancient Incan ruins around Cusco, taking in the beautiful views of the Sacred Valley, bartering at local markets, rafting and, of course, seeing one of the seven wonders of the modern world: Machu Picchu.
Our group this year was quite diverse, as we had an awesome blend of students from all grades and all levels of Spanish. Travelers included:
Seniors: Seth Anderson, Corby Brigham, Claire Johnston, Mitchell McGill and Ryan Walker
Juniors: Caleb Groff and Katie Pace
Sophomore: Mattie Pfeiffer
Freshmen: Jaynie Bustad, Grant Crockett, Kaitlyn Herndon, Trey Johnston and Calin Smith
To add to the mix of fun that was the 2017 Peru Crew, nine members of this group (Seth, Corby, Mitchell, Ryan, Caleb, Katie, Grant, Calin and Ms. Huenink) decided to hike up to Machu Picchu in hopes of catching the sunrise over the "Lost City."
I'm guessing 90 percent of visitors to the ruins take the traditional bus route to the top of the mountain, missing the opportunity to see the sunrise, but not nine of Wahoo's most determined! They woke up at 3:30 a.m. to be first in line at the bottom of the mountain when the gates opened for hikers.
They began the ascend at 5:00 a.m. and reached the Sun Gate--even higher than Machu Picchu--by 6:30 a.m. to watch the sunrise at 7:00. This is an incredibly difficult six-mile hike that includes too many tiny stairs for this chaperone's legs at en elevation above 8,000 feet. Kudos to them for completing this once-in-a-lifetime challenge! What a story to share!
As their chaperone, my favorite part of the trip was listening to students' stories and watching how well they immersed themselves in the culture, whether that was trying guinea pig (the local delicacy), using Spanish, learning how to salsa dance or bartering at local markets. The group was up for anything. Even when fighting altitude sickness, their positive attitudes shone through. I would take them anywhere! The group received more than one compliment on how well-behaved they were. Well done, team!
Ms. Huenink shared similar sentiments stating, "a lot of adventure was packed into one day and we seemed to be constantly on the go, so I was impressed at how well the students consistently got along with one another, were open to trying new things and all were respectful and genuinely intrigued about the culture. They put into practice what they had learned in the classroom about speaking Spanish. Some shared that they even thought they might have learned more than they would if they sat in a classroom. They applied those skills and made friends with some of the locals."
I asked students for a quick reflection on the trip. Here are some of their responses:
"You know you're not a gringo when you can sleep talk in Spanish while in Peru," said Walker, who was overheard bartering in Spanish while sleeping one evening ("veinte soles").
"My favorite thing about this trip was getting to see a new culture, trying new foods and making new friends," Herndon stated.
"I enjoyed interacting with all of the locals, especially the kids. They were so adorable! Also trying new foods like alpaca and guinea pig was awesome. I'd definitely eat alpaca again," commented Pace.
"Don't climb Machu Picchu! It's like grandma's steep stairs but 9,000 ft of them!" cautioned Smith, aka our #1 barterer.
Groff added, "This trip was a great inside look on an entirely different culture. My biggest cultural shock was the amount of crazy driving! You could be in a bus three lanes to the right and attempt a left turn during a red light simply because you were the biggest vehicle. Walking around Cusco, I was surprised by the amount of people walking around offering various souvenirs and services. One morning I was offered several dozen massages within just a couple of hours! My favorite part was waking up at 3:30 a.m. to climb Machu Picchu just to see the sunrise. I really got to know a lot of people on the trip, especially Mitch and Ms. Huenink. My Spanish improved more than I had expected, especially with all of the bartering we did. This trip was a 'wonder'ful first-time experience out of the country."
In regards to trip highlights for the chaperones, Huenink said: "Waking up at 3 a.m. to climb Machu Picchu with a few students to watch the sunrise was my favorite part of the trip. The trek was indescribable, and having a few of our students greet me at the top after hiking for two hours was empowering and inspirational. We all agreed that the photos we took would never be able to do this adventure justice. We're all saving for our next one!"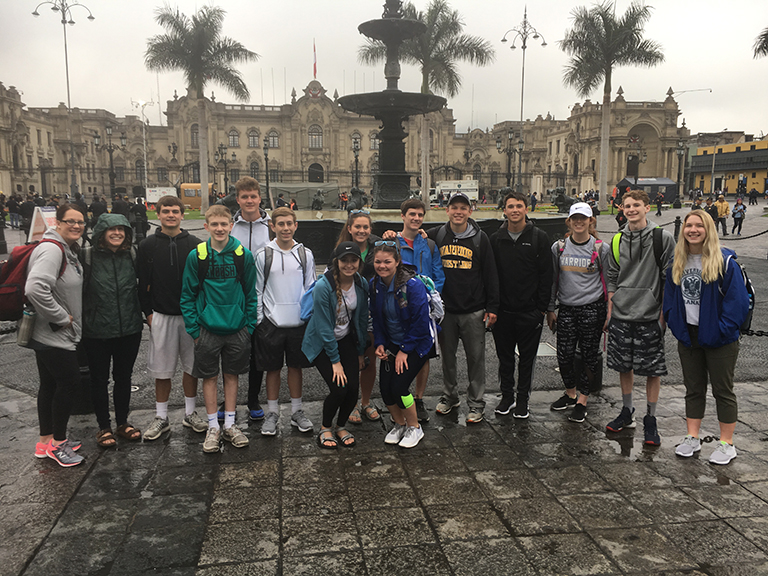 The Wahoo Crew in Lima in front of Peru's "White House."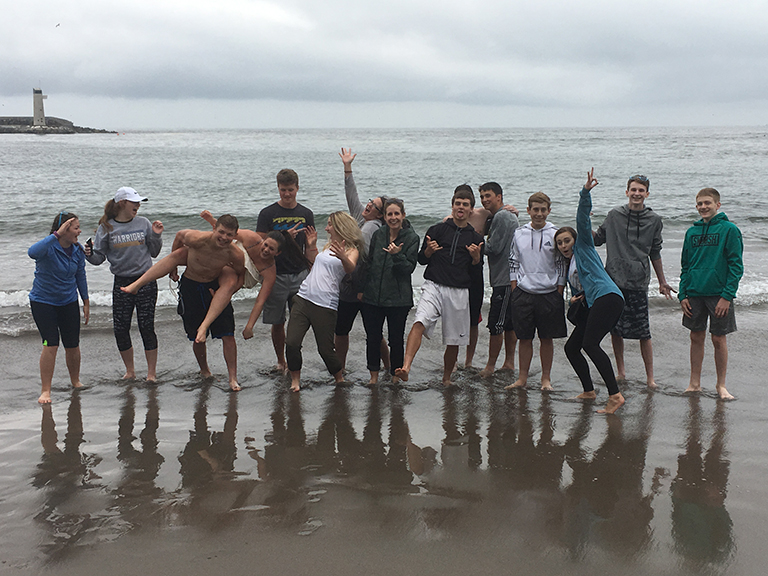 The group enjoying the chilly Pacific Ocean waves that make up Lima's coastline.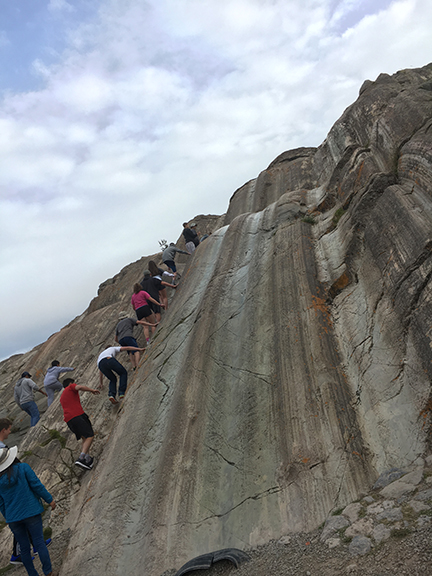 Scaling the "Incan Slide" where students climbed up to slid down, all natural!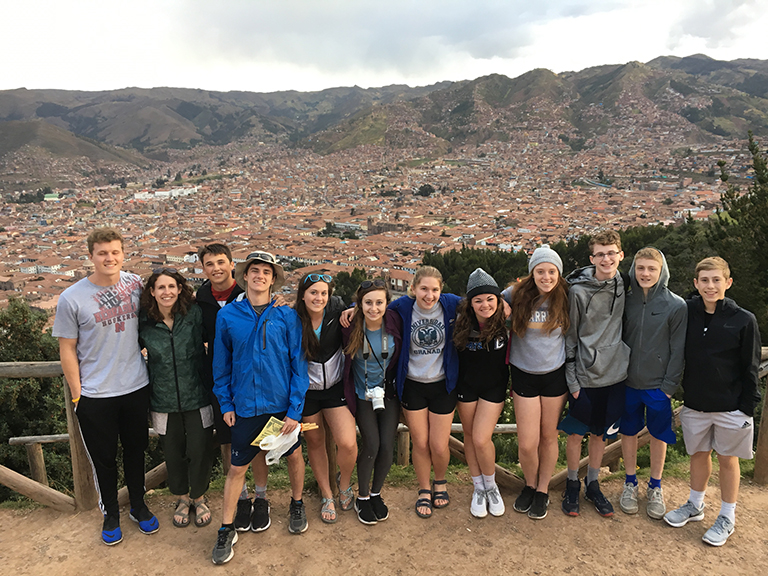 Most of the Wahoo Crew with the antique city skyline of Cusco in the background.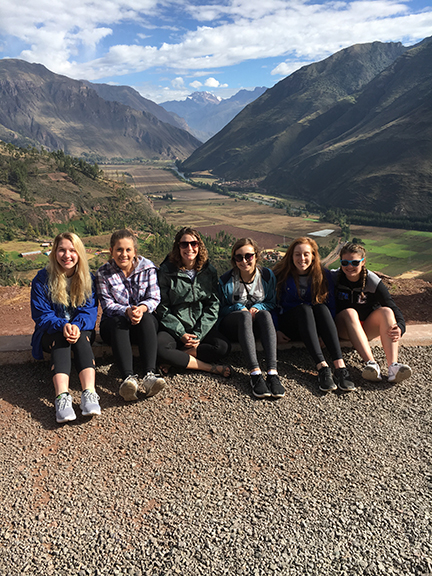 The girls of the group in front of the breathtaking scenes of the Sacred Valley.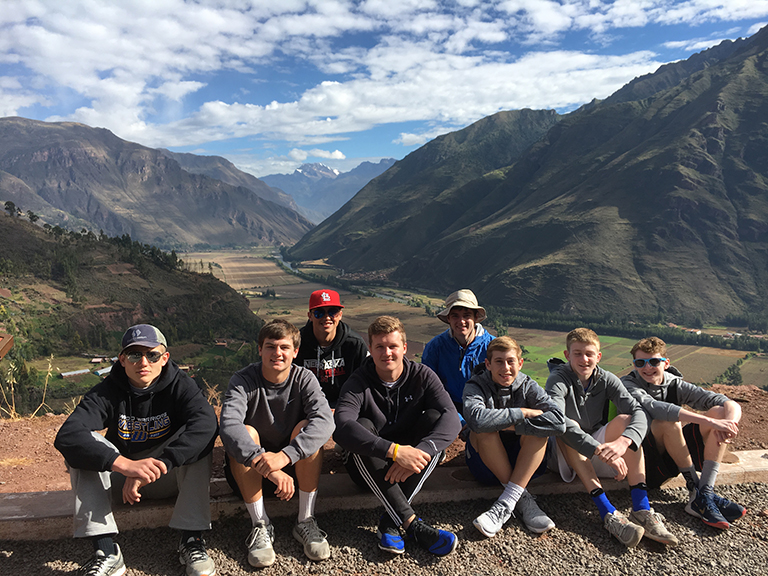 The boys of the group also enjoying the views from the Sacred Valley.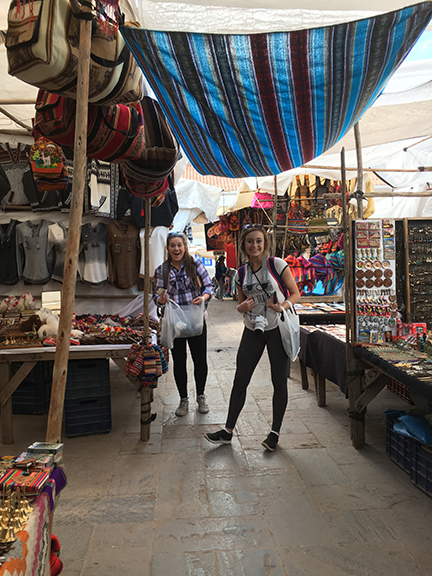 Claire Johnston and Mattie Pfeiffer making deals in the Pisac Market.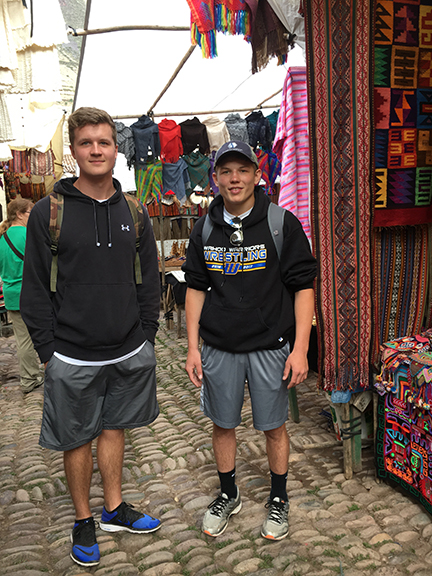 Seth Anderson and Ryan Walker purchasing souvenirs in the Pisac Market.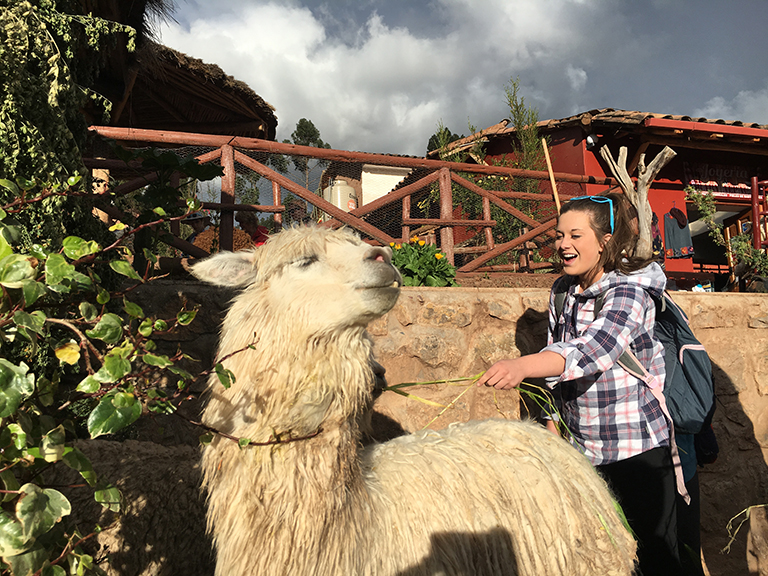 Mattie Pfeiffer meets an alpaca friend.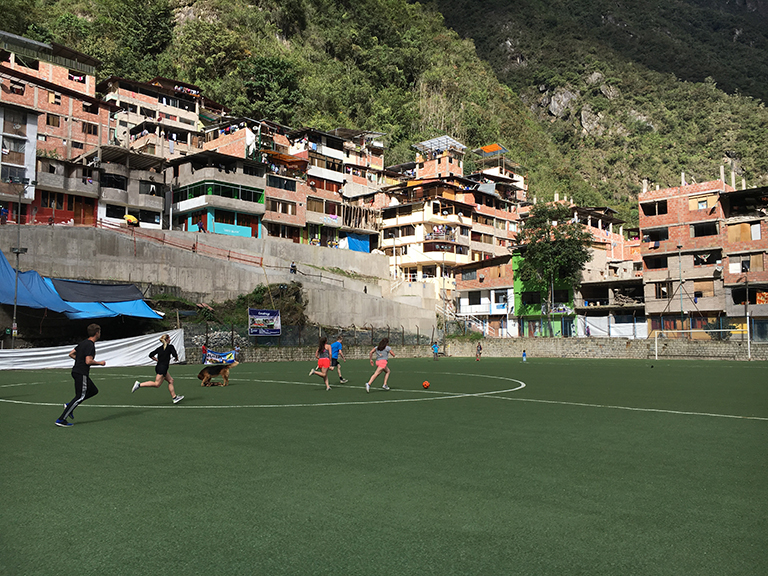 Calin Smith, Kaitlyn Herndon, Katie Pace and others playing soccer with a few local kids and some dogs. :-)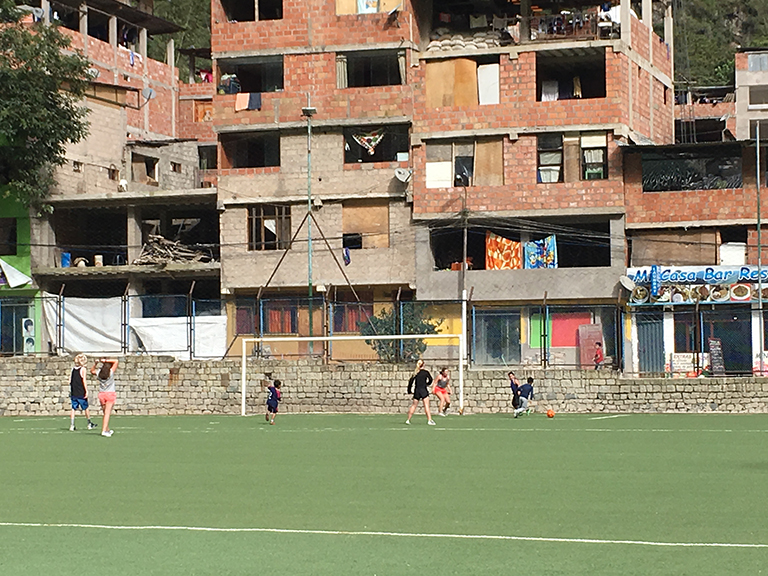 More soccer action!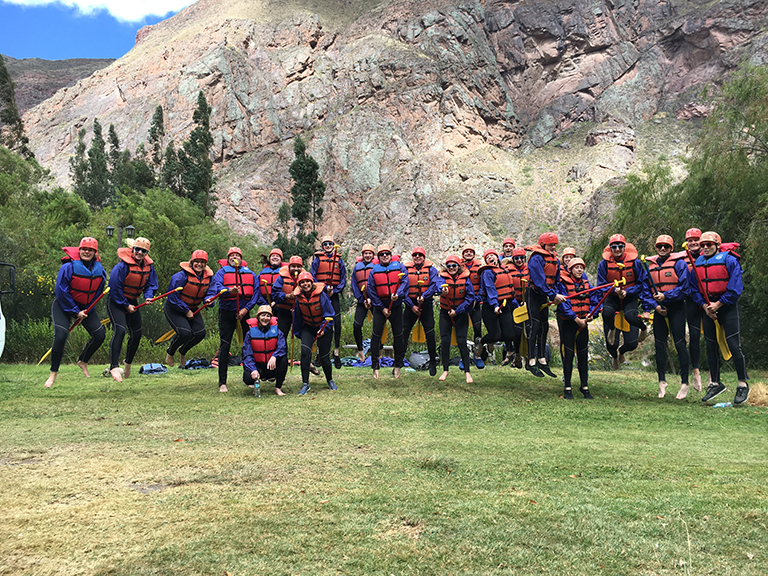 The group all geared up before rafting in the Urubamba River.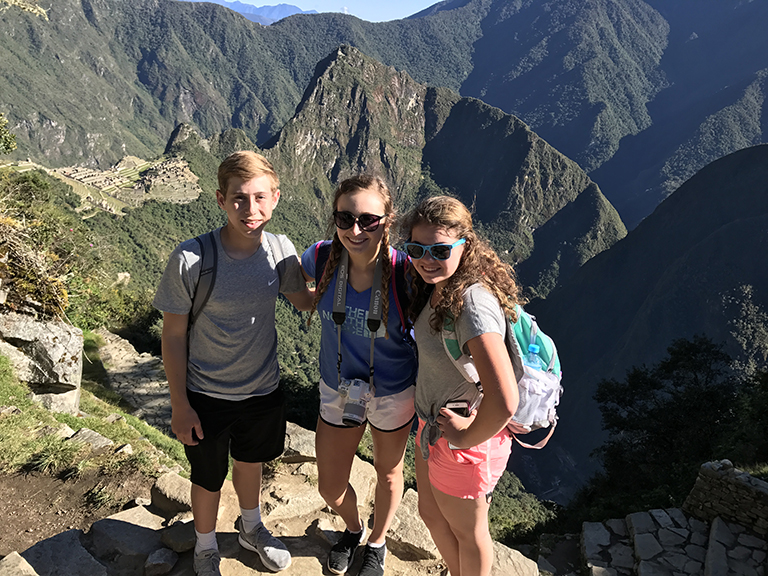 Trey Johnston, Claire Johnston and Kaitlyn Herndon checking out the views of Machu Picchu from the Sun Gate. Notice how small Machu Picchu looks from this spot.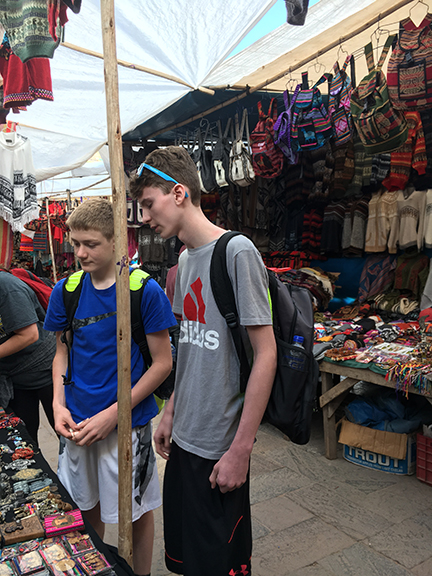 Freshmen Grant Crockett and Wahoo's finest barterer Calin Smith, making deals!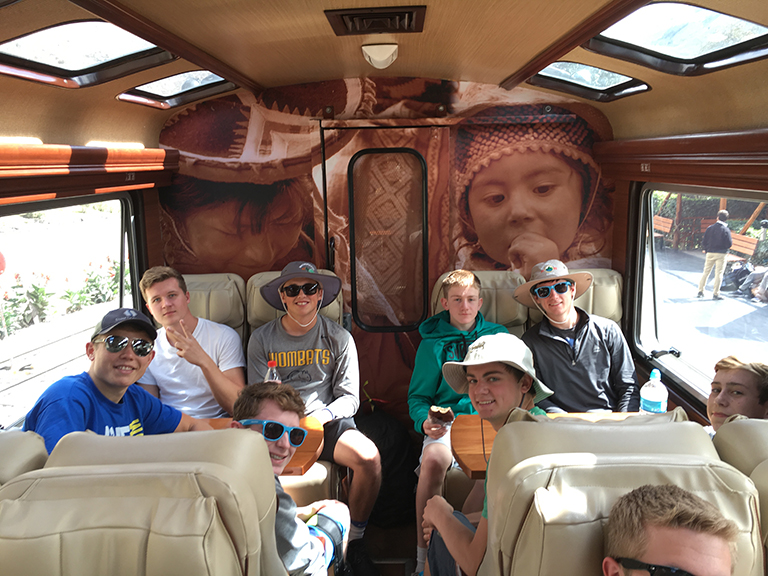 The boys on the train ride to Machu Picchu.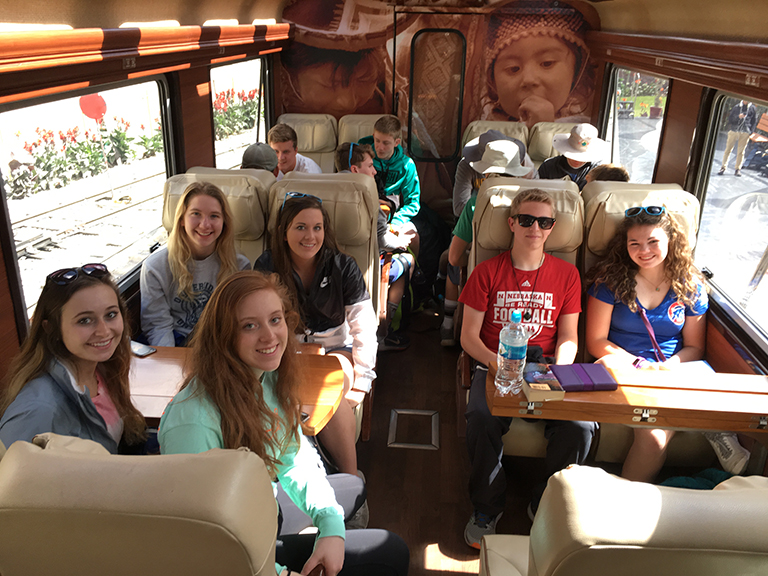 The girls on the train ride to Machu Picchu.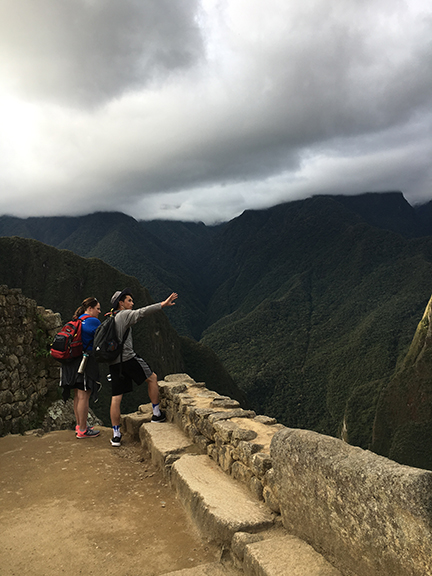 Mitchell McGill pointing out the amazing scenery of Machu Picchu to Ms. Huenink.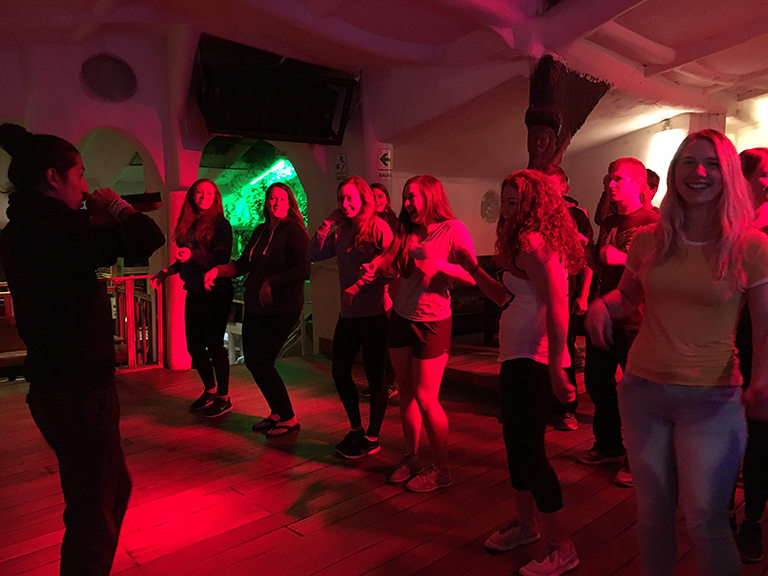 Surprise salsa dance lessons!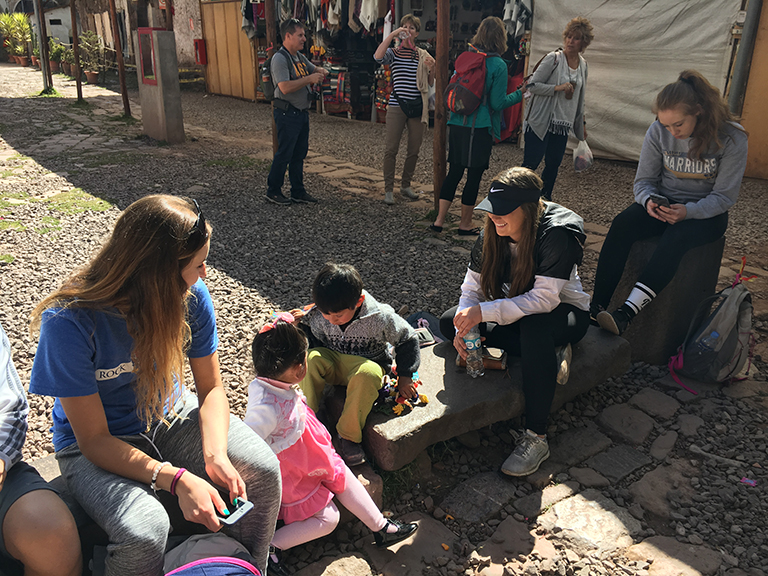 Mattie and Claire playing cars with a new amigo, Dominque.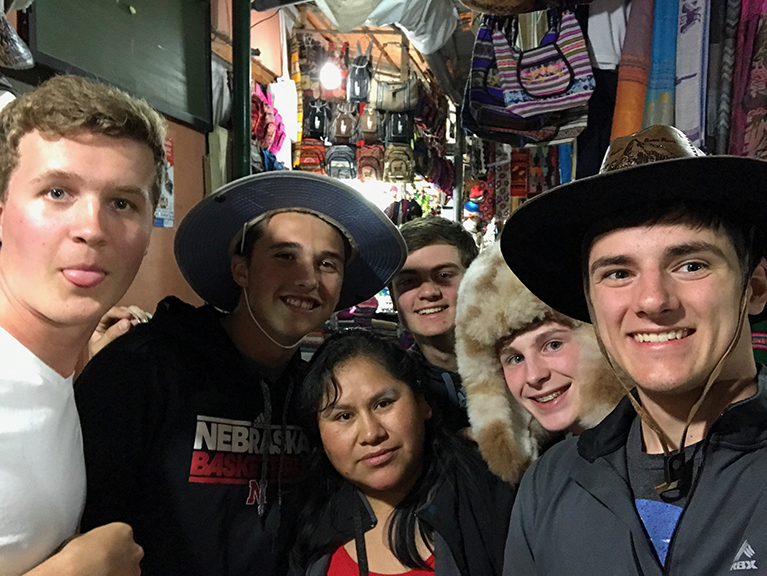 The boys with their most favorite local store front owner, Barbara.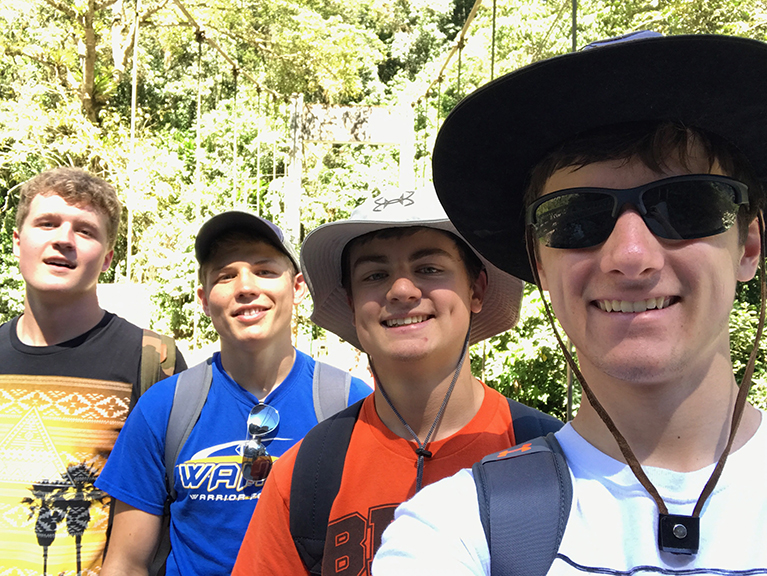 Some of the boys after hiking up Machu Picchu. What a feat!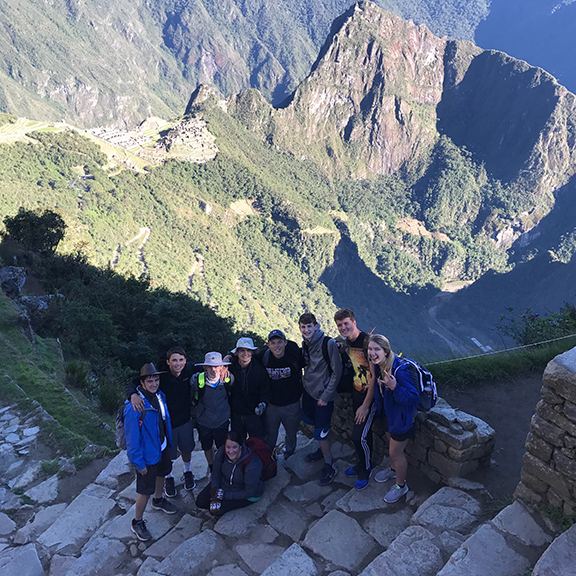 The group of nine at the Sun Gate after making the 6-mile climb to watch the sunrise at 7 a.m.
Again, notice how small Machu Picchu is from this spot. What a story to tell!