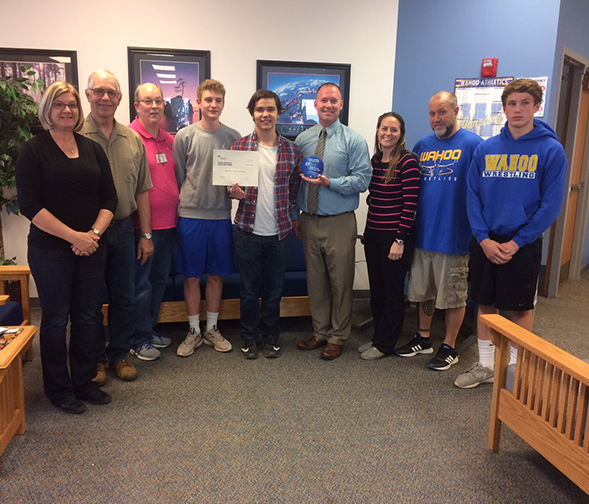 Pictured from left: Kathy Malm, Chuck Malm, EF High School Exchange Local Coordinator Dan Rathe, Maximilian Biller (exchange student from Germany), Karl Sandahl (exchange student from Sweden), WPS Superintendent Brandon Lavaley, Nicki Bordovsky, Kevin Bordovsky, and Kole Bordovsky. The Malm and Bordovsky families hosted this year's two foreign exchange students at WHS.
Wahoo High School receives "Global Education Excellence Award"
WHS recognized for its comittment to global education & foreign exchange student program
Wahoo High School has received national recognition for excellence in global education from EF High School Exchange Year, the leader in high school exchange.
The EF High School Exchange Year Global Education Excellence Award is presented annually to high schools that demonstrate an extraordinary commitment to international understanding and global awareness. Wahoo Public Schools was one of a select group of high schools/districts recognized across the United States for the 2016-17 school year.
"Wahoo Public has shown an outstanding commitment to offering a global education," Said Bob Fredette, President of EF High School Exchange Year. "By welcoming exchange students into the classrooms, Wahoo High School has created new and unique learning opportunities not just for the exchange students, but for the American students and faculty as well."
This year, Wahoo High School welcomed two EF High School Exchange Year exchange students. Not only were the students accepted into the school, they became an integral part of the school's academic and extracurricular life, involving the greater community in the exchange experience.
"Our experience at Wahoo High School has been amazing," said EF students Karl Sandahl and Maximilian Biller. "We were able to participate in football, which is something we would not have done in Sweden and Germany. We will never forget our time in Wahoo, Nebraska, and we know we will always be welcome here."
Local exchange coordinator Dan Rathe added, "We thank Wahoo Public Schools for welcoming this year's students from around the globe. The community and visiting students shared an unforgettable experience thanks to the generosity of Wahoo High School administration, teachers, students and families."
Headquartered in Cambridge, Mass., EF High School Exchange Year has been committed to promoting international understanding and global awareness for over 30 years. The organization brings more students to the United States each year than any other high school exchange program. Since 1979, EF High School Exchange Year has matched more than 100,000 enthusiastic students from around the world with caring host families across the United States.
To learn more about getting involved with the high school exchange in the community, contact EF High School Exchange Year local coordinator Dan Rathe at 402-499-6039, or e-mail to daniel.rathe@efexhangeyear.org. You may also call the EF High School Exchange Year office at 1-800-447-4273 or visit www.efexchangeyear.org.