Solo artist Todd Green featured in Oct. 16 'Live from Wahoo' assemblies
International musician takes students on around-the-world tour with 30+ instruments
International musician Todd Green will be featured on the P-LC stage on Oct. 16 for two student assembly performances. These programs are part of the ESU2 Distance Learning Cooperative's annual 'Live from Wahoo' series.
LIVE FROM WAHOO!
International Music . . . 30+ Instruments . . . One Solo Artist . . .
TODD GREEN
Monday, October 16, 2017 || WPS Performance-Learning Center
Elementary Presentation/Performance - 10:00-11:00 a.m.
Middle/High School Presentation/Performance - 1:30-2:30 p.m.
"Next to the Word of God, the noble art of music is the greatest treasure in the world." --Martin Luther
Wahoo Public Schools is proud to continue cooperating with Educational Service Unit #2 in Fremont to offer our Live from Wahoo programming, providing extraordinary enrichment opportunities to Nebraska students.
The first Live from Wahoo event for 2017-2018 will be on Monday, October 16, 2017, featuring multi-instrumental solo artist Todd Green. Coming to us from Northern Nevada, Green will take us on a tour around the world through the power of music. By playing and layering rhythms created from a plethora of international instruments, Green constructs unique and mesmerizing melodies that break international barriers and take the crowd on a trip around the world through his use of over 30 instruments and improvisational melody.
Green will be featured in a morning session from 10:00-11:00 a.m. for elementary students, and an afternoon session from 1:30-2:30 p.m. for middle and high school students. Students from schools across Nebraska are also invited to participate live, either in the audience, or remotely via distance learning technology.
Green will also offer a public performance on Thursday, October 19 at 7:00 p.m. This performance will be held in Swanson Hall, on the campus of Midland University in Fremont. For more information about this performance, please contact Midland University Director of Performing Arts Rex Barker at (402) 941-6337.
BACKGROUND INFORMATION ON TODD GREEN (source: www.toddgreen.com):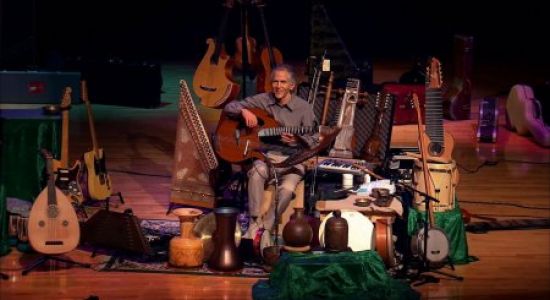 Biography
Todd Green began studying guitar at the age of ten. He has been writing and performing his own music professionally since the age of fifteen. He studied composition and arrangement at Berklee College of Music, in Boston, Mass. At the same time he was studying privately with Mick Goodrick, jazz guitar legend at New England Conservatory of Music, Pat Metheny, Grammy Award winning guitarist and George Benson, international recording star. After spending five years in Boston, he moved to New York City where he performed with the top echelon of studio musicians and toured with bands throughout the United States, Canada, and Europe.
While in New York, he began studying Western Flute, East Indian Bansuri Bamboo Flute (with Steve Gorn), and Tablas (Indian hand drums) with Ray Spiegel. At the time that he relocated to Western Montana, Todd decided to stop playing the electric guitar and concentrate on acoustic music. After spending 10 years there his next move was to Northern Nevada near Lake Tahoe where he has lived since 2001. Recently the electric guitar has reappeared and, as of the Fall 2012 concert season, will once again be part of his musical landscape.
Todd now performs nationally as a multi-instrumental solo artist in the college and fine arts markets. Frequently, along with his concerts, Todd conducts college master classes and interactive school clinics and assemblies. His columns on improvisation have been published in Fingerstyle Guitar Magazine.

Other samples of Todd Green's music are posted on his website: http://www.toddgreen.com/video-todd-green-music.asp
WORLD MUSIC STUDIES
After studying composition, arranging and guitar performance at Berklee College in the mid-seventies, Todd moved to New York City, performing an eclectic variety of music with a focus on Jazz. During this time, as he was exposed to NYC's vibrant and diverse music scene, he started developing his interest in World Music. His non-guitar studies began with taking Bansuri flute lessons with Steve Gorn—generally considered the foremost western Bansuri flute performer. He also started assembling his extensive library on methodology and the philosophy behind, at first, Indian music, then in later years expanding it to include Persian, Arabic, Central Asian, Far Eastern and Andean music.
After trading in the man-made mountains of New York City for real ones and spending ten years in Bozeman, MT, developing his music as a solo artist—which started to take on more of a World Music direction—he moved to the Lake Tahoe area of Northern Nevada in 2001, so he could be closer to the many amazing musicians from different musical cultures who reside in the Bay Area. When he is not on tour, he frequently spends time there performing and studying with them. Beginning at 3:00 AM he spends 14 hours per day, six days a week practicing and recording his many instruments. A few of the musician/teachers he has studied with are:
Ashwin Batish (Indian Tabla and Dholak drums)
G. S. Sachdev (Indian Bansuri Flute)
Mohammad Saeed Nejad (Persian Tambak, Tar, Daf, Setar, Ney and Santur)
Rahim Alhaj (Arabic Oud)
Shen Shen Zhang (Chinese Pipa)
Xiao Feng Zhang (Chinese Er-Hu)
David Wong (Chinese Gu-qin and Gu-zhung)
Masayuki Koga (Japanese Shakuhatchi)
Homayun Sakhi and Aziz Herawi (Afghan Rubab)
Toryalai Hashimi (Afghan Tabla drums)
Edmond Badoux (Founder of the group Sukay—Andean flutes and Charango)
All the while, Todd has assembled a CD/video library, numbering in the thousands, of native masters of string, flute and percussion instruments from many different cultures which continually inspire him in developing his own original music. In the "Instrument Gallery" section of this website there are over 80 photos of his many instruments and in the description underneath each one he lists his favorite artists.
As a classically, western-trained musician who over a life-time of study and performance has developed a deep reverence and passion for many different musical cultures of the world, Todd Green's goal is to inspire his audiences to reach out beyond their current musical horizons and embrace a new instrument, a new rhythm or maybe a different melody in a hitherto unknown scale. With so many wonderful musical cultures out there, he feels there is bound to be something to appeal to everyone if they will just try it. In his lectures, he covers not only the differences in his many instruments and their playing techniques, scales and rhythms, but the many common threads between them and the western ones with which his audiences are familiar, to thus "Help bring down the barriers that divide us by experiencing other cultures through their music."