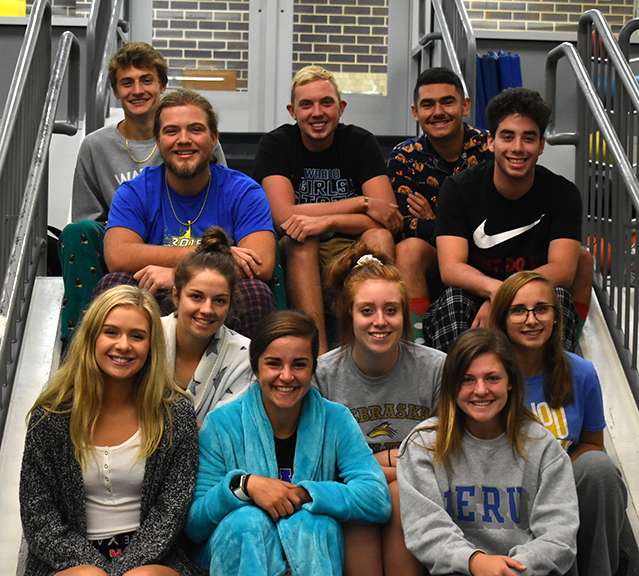 photo courtesy Mr. John Minnick
Congratulations to the 2019 WHS Homecoming Candidates, back row (from left): Thomas Waido, Quinn Zeleny, Jesus Zaragoza. Third row: Kalon Cooper, Gerarado Chavez Madrid. Second row: Paige Peterson, Jaynie Bustad, Alyssa Dunkle. Front row: Lillie Mann, Morgan Oden, Kendal Brigham. (Not pictured: Kole Bordovsky)
Homecoming 2019
Candidates & list of week's events posted (Sept. 9-14)
Wahoo High School's Homecoming 2019 will be held September 9-14.
Candidates
Congratulations to your 2019 Homecoming Candidates:
Queen: Kendal Brigham, Jaynie Bustad, Alyssa Dunkle, Lillie Mann, Morgan Oden, Paige Peterson
King: Kole Bordovsky, Gerardo Chavez Madrid, Kalon Cooper, Thomas Waido, Jesus Zaragoza, Quinn Zeleny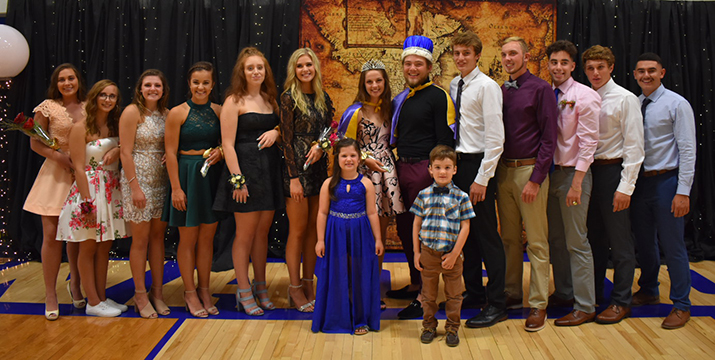 Congratulations 2019 Homecoming Queen Paige Peterson and King Kalon Cooper!
2019 Homecoming/Spirit Week Activities:
Reminder: When planning for dress up days, please remember that dress codes apply (hats/headwear must be theme related, and no masks are allowed)
Monday, September 9
Theme: PJ Day!
Tuesday, September 10
Theme: Decade Day!
• Girls Golf @ Blair
• Volleyball @ Platteview
• Softball Home vs. Bennington
Wednesday, September 11
Theme: Western Day!
• Early Dismissal (Elem 1:15 p.m. / MS/HS 1:30 p.m.)
Thursday, September 12
Theme: Frat Day!
• Girls Golf @ Plattsmouth
• Cross Country Home - Wahoo Invitational
• Softball @ Syracuse
• Volleyball Home vs. Norfolk Catholic
Friday, September 13
Theme: BLUE & GOLD Day!
• Pep Rally 8th period
• Football Varsity vs. Aurora
Saturday, September 14
• Homecoming Dance 7:30-11:30 p.m.
• Homecoming Coronation 10:00 p.m.
Homecoming Dance
"Around the World"
7:30-11:30 p.m. (doors close at 8:30 p.m.)
Coronation at 10:00 p.m.
Admission: WHS Activity Ticket or $5/person
(Outside dates must have paperwork turned in to the office by Thursday, September 12)
AddThis Sharing Buttons
Share to FacebookShare to TwitterShare to PinterestShare to More