Anica Gannon wins school's Poetry Out Loud Competition & advances to State Finals!
Gannon wins narrowly over runner-up Connor Herndon; Caden Smart finishes in 3rd place
Congratulations WHS sophomore Anica Gannon (left) on winning this year's Poetry Out Loud Competition and advancing to the State Finals! Connor Herndon (center) took the runner-up trophy, and Caden Smart (right) finished in third place.
WHS Sophomore Anica Gannon will be one of 12 competitors in the Poetry Out Loud State Finals at the Sheldon Art Museum in Lincoln on Sunday, March 12. The public is invited to attend.
Gannon defeated 80 other contestants to win Wahoo's school championship. She recited the poems "One Girl" by Sappho and "Words" by Pauli Murray.
Connor Herndon finished a close second in the Wahoo contest, while Caden Smart placed third. The other finalists in the school competition were Trinity Rummel, Jaymes Gaskins, Adelia Dunlap, Madelyn Snyder, and Miranda Keller.
Gannon then videotaped a recital of her two poems and sent it in to the Nebraska Arts Council. From the submitted videos, the judges selected twelve finalists for the state competition.
Poetry Out Loud is a National Competition with a winner from each state winning a trip to Washington D.C. for the national finals. Each student recites two poems: one poem that is 25 lines or less, and one poem that was written before 1900 (pre-20th Century). Each year at the national finals, over $50,000 dollars in scholarship money is awarded.
At the Nebraska State Finals, students will recite their first two poems over the course of two rounds. A third poem will be recited only by the top five competitors who will be selected based on their scores in the first two rounds. If Gannon qualifies as one of the five finalists, she will recite "The Clouded Morning" by Jones Very for her third poem.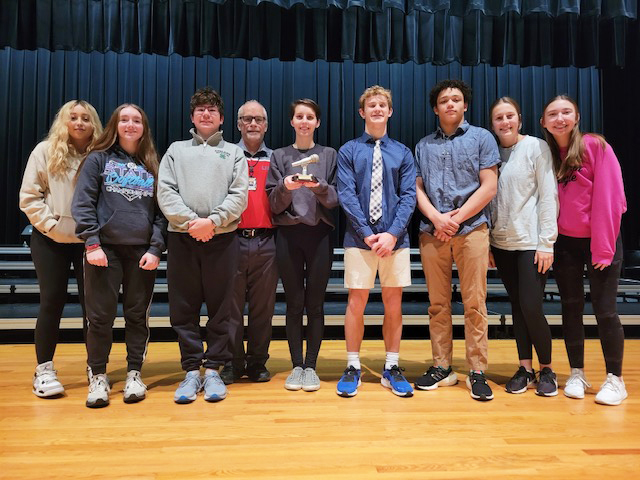 Congratulations to the 2023 WHS Poetry Out Loud Finalists (from left): Trinity Rummel, Adelia Dunlap, Connor Herndon, WHS English Teacher Larry Fangman, Anica Gannon, Caden Smart, Jaymes Gaskins, Madelyn Snyder, and Miranda Keller.