Kody Pope heads to Hollywood!
WHS senior accepted into 4-year program @ prestigious American Musical and Dance Academy in Los Angeles
WHS senior Kody Pope recently receiving the news that he has been accepted into the prestigious American Musical and Dramatic Academy, which has campuses in Hollywood and New York City!
For those who have followed the theatrical performances of WHS senior Kody Pope over the past four years, it's clear that he possesses a real talent, and ability to make people laugh!
That talent has also been recognized on the national stage!
On April 22, 2015, Pope received some very good news: after a rigorous application and audition process, he has been accepted into the prestigious American Music and Dramatic Academy!
The American Music and Dramatic Academy, known as the AMDA, offers both a two-year conservatory program and a four-year Bachelor of Fine Arts (BFA) degree program. Pope has been admitted to the four-year program.
The AMDA has two campuses, one in Los Angeles, and the other in New York City. Recognized as one of America's premier institutions for the performing arts, AMDA is the only performing arts college to offer BFA and Conservatory Programs on both campuses.
The application process, which is highly competitive, consisted of a resumé, recommendation letters, several written essays, a telephone interview, an in-person interview, and a recorded in-person audition that included two contrasting monologues. Pope's monologues were "My William Shatner Man Crush" and "Before You Punch Me."
Auditions are held at major cities throughout the United States and in several cities overseas. Pope auditioned on April 4 in Denver, CO, which was the closest location to Wahoo.
Two weeks later, Pope was notified of his acceptance through a video email in the style of a silent movie.
Pope will begin his studies this fall on the Los Angeles campus, although he has since learned that AMDA offers the opportunity to earn a BFA by spending two years at each campus. Needless to say, studying acting, performing arts and dancing in two of the world's artistic capitals has a great deal of appeal to him.
This accomplishment comes on the heels of a very successful high school "career," where Pope will leave behind an abundance of memories from his numerous roles on the WHS stage.
"Kody is one of the most talented students I have had the pleasure of working with," commented WHS Vocal Director Julie Baker-Anderson. "No matter what role he plays, he does it with everything he's got and always gives 110 percent. I have never had to tell Kody that he doesn't have enough energy onstage!"
Anderson added: "I can safely say that of all the students I have taught, Kody has had the most audience response of any of them. People will stop me on the street and say, 'I can't believe Kody Pope! Wow!'"
For Pope, he is simply pursuing a dream.
His advice to others: "Have big dreams; you will grow into them! And never give up!"
WHS Principal Jason Libal also expressed his excitement at adding another student success story to the list.
"Congratulations to Kody! Yet another student to make our district very proud. Kody is one of the most tremendously talented actors and students that I have been associated with during my time as a school administrator," Libal said. "He has a true gift, and I am thankful that he will have the opportunity to share this gift through this program and his travels to Hollywood and New York and Hollywood."
Congratulations Kody on this exciting accomplishment and opportunity!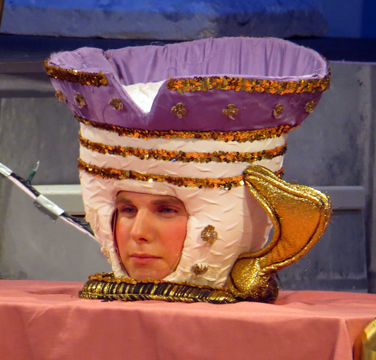 In last year's performance of the musical "Beauty and the Beast,
Kody Pope played the very memorable role of Chip.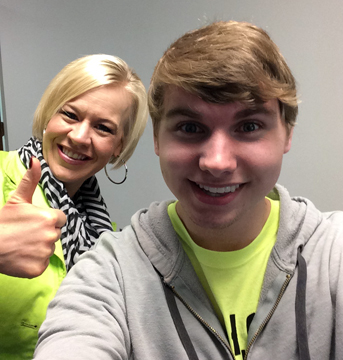 Celebratory selfie! WHS sr. Kody Pope poses with WHS vocal director
Julie Baker-Anderson, shortly after receiving the news!
Background on the AMDA (Source: www.amda.edu):
Rising to the top of the entertainment world is incredibly rewarding, but getting there requires more than just natural talent. You need discipline, determination and – most importantly – the right training. That's where AMDA comes in. Because for over 50 years, the American Musical and Dramatic Academy has been transforming talented performers from across the country and around the world into well-respected, working professionals.
At AMDA, you'll get a once-in-a-lifetime opportunity to experience legendary conservatory training in the two artistic capitals of the world. Whether you study in Los Angeles or New York City (or both), as an AMDA student you become part of a thriving community of artists. Your classmates are talented performers from every corner of the globe. Your teachers are the best and brightest professionals in the industry. You begin performing on your very first day of class. Every moment is designed to support and enhance your individual development as an artist.
If you're willing to put your heart and soul into what you do, AMDA is the place for you. As you take bold steps toward your future, we'll guide and support you. As you begin to transform your unique talents into a rewarding career, we'll be there for you every step of the way. Generations of outstanding alumni have proven that success is the rule at AMDA, so you'll be in great company. From the silver screen to the stage and beyond, the possibilities for your future are boundless.