WHS seniors create 'Tougher Than Most' podcast channel to share memories and messages of support during COVID-19 school closure
Project spearheaded by WHS English Teacher John Minnick & funded by WPS Foundation Grant
WHS senior Morgan Oden records her 'Tougher Than Most' podcast on March 30. These interviews with the senior class are made possible thanks to a WPS Foundation grant.
Members of the Wahoo High School Class of 2020 who had their senior year cut short because of the Coronavirus (COVID-19) are sharing their high school memories and sending messages of support to their classmates through podcasts funded by a grant from the Wahoo Public Schools Foundation.
When the Wahoo Public Schools closed because of the Coronavirus (COVID-19) on March 16, many seniors thought they would be able to come back to school in a few weeks to say goodbye to their classmates and friends and celebrate their graduation. Those plans were dashed when it was announced on March 25 that school would be closed for the rest of the school year.
"Recording the podcasts, which we call the 'Tougher Than Most' podcasts, give us a chance to communicate with our classmates, many of whom we've gone to school with for 13 years," said senior Thomas Waido, who hosts the podcasts, which are recorded in WHS English Teacher John Minnick's dining room.
Waido said many of his classmates in the senior class are unable to leave their houses, and the podcasts are an additional way to stay in touch with them.
Minnick applied for the grant for podcasting equipment from the Wahoo Public Schools Foundation last fall, thinking he could assign podcasts to students in his speech and yearbook classes.
"When school was closed, I thought the podcasts would be a great way for the seniors to stay in touch," Minnick said. "Thomas and I had made some practice podcasts earlier in the year, and I approached him about hosting."
Minnick sent an email to seniors, encouraging them to sign-up for a podcast recording session. As of April 13, 38 podcasts have been recorded with over 2,400 downloads.
Podcasts can be streamed or downloaded at Wahoo2020.podbean.com (or by clicking individual podcast links below). Seniors can contact Minnick if they have any questions.
Waido said he enjoys hosting the podcasts, and has been joined at times by co-hosts Quinn Zeleny and Nate Fox.
"It's been a chance for us to see each other and share our memories," Waido said. "It's disappointing to end our senior year this way, but as Quinn likes to say, 'We're tougher than most.' We'll get through this."
SPECIAL EPISODE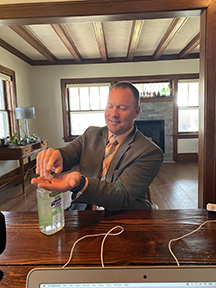 WPS Superintendent Brandon Lavaley