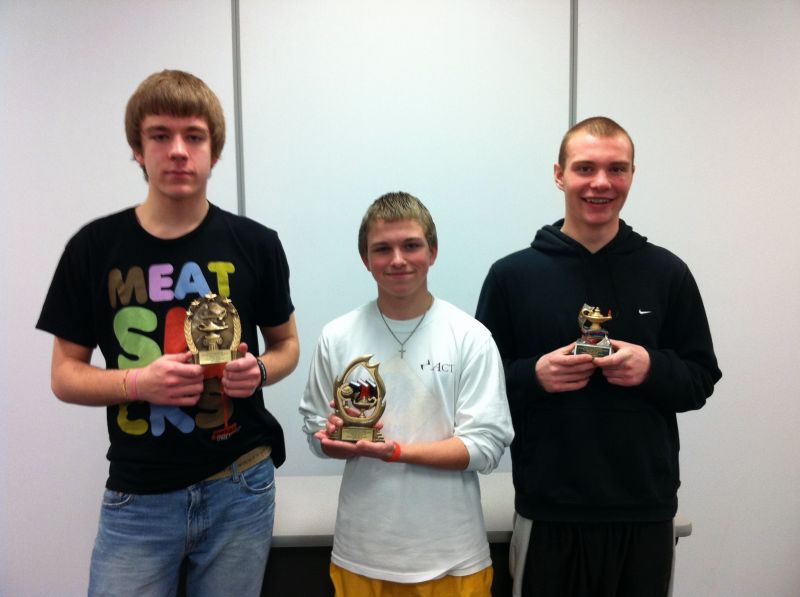 2011 Poetry Out Loud winners, from left: WHS sophomores Parker Nicholls (2nd place), Derek Hamar (1st place), and Kyle Zeleny (3rd place).
Derek Hamar Takes First Place in 2011 Poetry Out Loud Competition
Nicholls & Zeleny Named Runners-Up
Ten Wahoo High School students competed in the finals of the 2011 Wahoo High School Poetry Out Loud Championship on Monday, February 7.
Sophomore Derek Hamar won the competition. He recited the poems "A Hymn to God the Father" by John Donne, and "Light Shining out of Darkness" by William Cowper.
Parker Nicholls finished in second place, while Kyle Zeleny captured the third place trophy.
Hamar will represent Wahoo High School at the regional competition at The Joslyn Art Museum on Saturday, February 19. The competition will start at 2:00 p.m. The top four students at the regional will advance to the state finals.
Sixty Wahoo students participated in Poetry Out Loud this year.
The judges of the Wahoo finals this year were WHS senior Ali Norris, WPS Director of Learning Sue Heine, and English student teacher Ainslee Kroenke.