Four WHS business students attend 2020 UNO Accounting Careers Expo
Annual event helps students build networking skills & connect with multiple accounting firms
From left, WHS students Katelyn Urban, Morgan Oden, Nate Fox, and Colin Ludvik attended the 2020 Accounting Expo at the University of Nebraska at Omaha on Jan. 31. The annual event allows high school business students to network with a variety of professional accounting firms.
On Friday, Jan. 31, four WHS Business Students were given a glimpse of what the future may hold for them at the 4th annual UNO Accounting Careers Expo, by being introduced to the art of networking, while exploring careers in accounting.
The main focus of the day was learning networking skills and practicing these skills as the students met with a variety of exhibitors. The students learned that the purpose of networking is not to better your position, but to build relationships.
Once they were taught the networking skills, participants were sent to mingle with the 40+ participating exhibitors. The exhibitors were from public and private accounting firms, government agencies, and accounting-related organizations.
At the time, the students were somewhat uncomfortable with the challenge of walking up to strangers and starting a conversation; however, as the morning went on, they became more comfortable using their networking skills. Overall, it was a good experience for the students, and an eye opener as to what skills are needed when they get to college.
This was the first time Wahoo High School students have attended the EXPO, and WHS Business and Accounting Instructor Barb Shanahan already has plans to take more students next year.
"It contained a lot of useful, insightful information for students who are about to enter life after high school," Shanahan commented. "Even though the focus was on accounting careers, it contained so much more than that."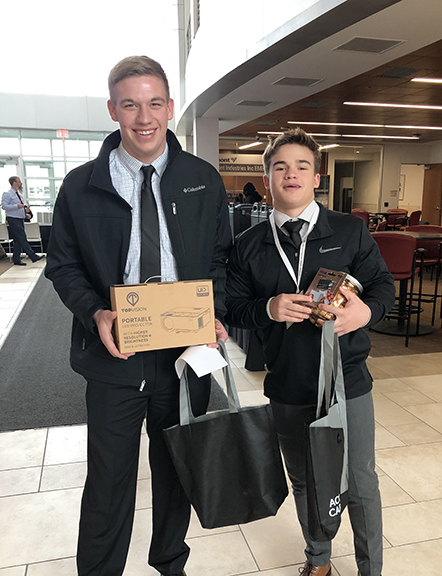 Nate Fox & Colin Ludvik pose with their prizes.
Prizes were also given throughout the morning. WHS senior Colin Ludvik guessed the closest number of Rolos in a jar, which won him the jar and a $50 Visa gift card, and senior Nate Fox had his name drawn as winner of a mini portable projector.
Comments from the students who attended the EXPO:
"I think being an accountant is a really good idea, because they are always going to be needed," said Ludvik, who also added that his favorite part of the day was the break out session on "A Day in the Life of an Accountant."
Fox commented that "it was a great opportunity to hear from professionals that work in the real world."
Senior Morgan Oden stated, "it opened my eyes to the importance of networking," and sophomore Katelyn Urban concluded, "it was cool to be able to talk to a bunch of professionals that work in accounting everyday to see their point of view."