Tingelhoff/Polacek/Ludvik/Dobesh all place @ 2020 UNO Business Competition
Tingelhoff captures $2,000 in scholarships; Warriors place 4th, missing team trophy by 1 point
Congratulations to the 2020 UNO Business Competition (from left): Caden Tingelhoff, Luke Polacek, Colin Ludvik, and Mara Dobesh.
Neither blowing winds nor a little slush could keep 11 Wahoo High School students from competing in the University of Nebraska at Omaha's Business Competition on Friday, January 22, 2020. This annual 'Battle of the High Schools' is hosted by the UNO College of Business Administration.
Wahoo High School was one of 12 area high schools that participated in the competition.
Top winner for the day was Caden Tingelhoff, who took first place in both the Intro. to IT and Business Math competitions! He received a $1,000 scholarship to the UNO College of Business for each first place he received . . . $2,000 total!
Also placing at the competition were Mara Dobesh, third place in Business Math; Colin Ludvik, fourth place in Accounting; and Luke Polacek, fifth place in Intro to IT.
Overall, Wahoo placed fourth as a school, just one point off third place.
"I was proud of my students," commented WHS Business Instructor Barb Shanahan. "Everyone gave it their best and it showed in our placement amongst the other schools."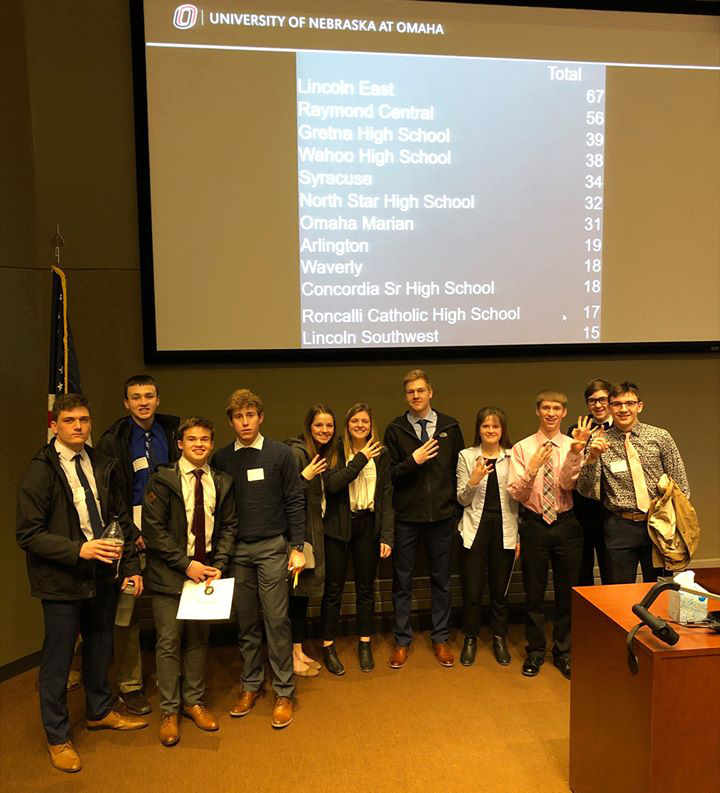 WHS students competing in the 2020 UNO Business Competition, from left: Trevin Luben, Caden Tingelhoff, Colin Ludvik, Trey Johnston, Paige Peterson, Kendal Brigham, Trey Scheef, Mara Dobesh, Luke Polacek, Josh Graber, and Cooper Hancock.