Matt Dobesh edges Savanna Bruce to capture 2nd straight title @ WHS Poetry Out Loud Finals
Sydney Holdsworth takes 3rd
Winners of the 2016 WHS Poetry Out Loud competition are, from left, Matt Dobesh (1st), Savanna Bruce (2nd), and Sydney Holdsworth (3rd). Dobesh advances to the Feb.13 state regionals at the Joslyn Art Museum in Omaha.
When speaking of the value of poetry, Oprah Winfrey once stated that "a great poem can move you, shake you, and remind you what it is to be human."
As was illustrated on the stage on Thursday, Feb. 4, the same holds true for some WHS students.
Junior Matt Dobesh won the Wahoo High School Poetry Out Loud Championship for the second straight year with a close win over sophomore Savanna Bruce. Sydney Holdsworth finished a strong third in the tight race.
Other finalists in the event, held in Wahoo's Performance-Learning Center, were Jamie Lee, Billy Hancock, Hanna Jemison, Cynthia Ruiz, Joab Carlson, Lucy Brooks, Korena Edmonds, Allie Dey, and Cheyenne Moore.
The winning poems recited by Dobesh were "The Last Laugh" by Wilfred Owen and "The Charge of the Light Brigade" by Alfred Lord Tennyson.
Dobesh will now compete in the state regionals at The Joslyn Art Museum in Omaha at 2:00 p.m. on Saturday, February 13. The top finishers in each of the three regionals will compete at the state meet in Lincoln. The state meet winner advances to the national finals in Washington D.C.
Each Poetry Out Loud contestant selects two poems off the poetryoutloud.org website. The students memorize the poems and recite them. They are scored for their performance in the following categories: physical presence, accuracy, voice and articulation, dramatic appropriateness, evidence of understanding, and overall performance.
Poetry Out Loud is a national poetry recital contest sponsored by Poetry Magazine. In the 1970's, Ruth Lily, an heir to the Eli pharmaceutical fortune, submitted several poems to Poetry Magazine, and was rewarded only with handwritten rejection notes from the editor, Joseph Parisi.
Evidently she did not take the rejections to heart, because in 2002 she donated over 100 million dollars to the small poetry magazine. The magazine uses the money to sponsor Poetry Out Loud. Over $50,000 in scholarship money is awarded to winners at the national level each year, and state winners receive an all expenses paid trip for them and one adult to Washington D.C. for the national finals.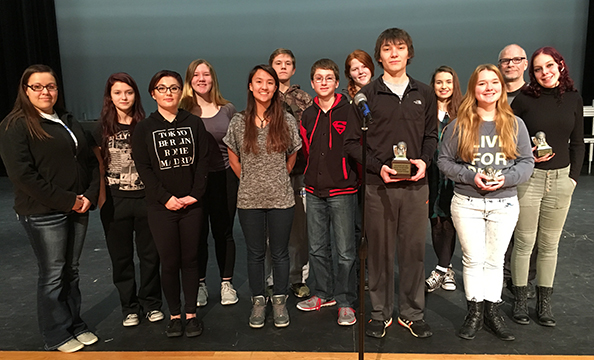 Finalists in the 2016 WHS Poetry Out Loud competition were, from left: Cynthia Ruiz, Allie Dey, Hanna Jemison, Jamie Lee, Korena Edmonds,
Billy Hancock, Joab Carlson, Cheyenne Moore, Matt Dobesh, Lucy Brooks, Sydney Holdsworth, advisor Larry Fangman, and Savanna Bruce.