WMS StuCo members manage successful donation drive for Buffett Cancer Center in Omaha
Students deliver $500 and over 1,000 donated items to cancer patients and their families
Members of the WMS Student Council visited the Buffett Cancer Center at Nebraska Medicine on Monday, Nov. 19. Students delivered donations of $500 and thousands of items, which will be given to help provide comfort and relief to cancer patients and their families.
When dealing with cancer, inspiration and encouragement from others can have a big impact on a patient's outlook on life, and the source of that inspiration and encouragement can come from anywhere: family, community members, religious leaders . . . and middle school students.
Members of the Wahoo Middle School Student Council (Logan Scott, Garrett Grandgenett, Teegan Roberts, Sarah Kolterman, Branden Koranda, Kearsten Peterson, Alicia Foster, and Braylon Iversen) visited the Fred & Pamela Buffett Cancer Center on the campus of Nebraska Medicine in Omaha on Monday, November 19.
Their mission: to help eliminate some of the simple, everyday stresses that accompany a family's fight against cancer.
Wahoo Middle School recently completed a donation drive for the Buffett Cancer Center. When all was said and done, students were able to raise $500, and about 1,000 items, which will be given to patients and their families.
Eighth grader Kearsten Peterson came up with the idea to help the Buffett Cancer Center, because her grandpa was a patient in the Buffett Center during his battle with cancer. She and her family learned that when going back and forth between the hospital and home, it was easy to forget things, and became expensive when buying gas and eating out frequently. Families often don't have a lot of money to spare, and it's really difficult to budget, along with the stress of dealing with a loved one who is sick.
WMS spent about two weeks collecting donations such as fleece blankets, stocking hats, money, crayons, coloring books, books for all ages, puzzles, stuffed animals, hot cocoa, apple cider, and much more.
Last Monday, they were able to drop off the donations and tour the cancer center.
"We learned lots of interesting facts," commented Peterson. "We learned that the cancer center is a relaxing, family friendly, kind, and peaceful place where patients are offered the best care possible."
The hospital offers many different peaceful places to relax and deal with emotions. One of these places is called the Chihuly Sanctuary. In the sanctuary patients and family members can go into a dome and look up at the sky into cascading glass sculptures. In the dome are four couch bench seats and calming music.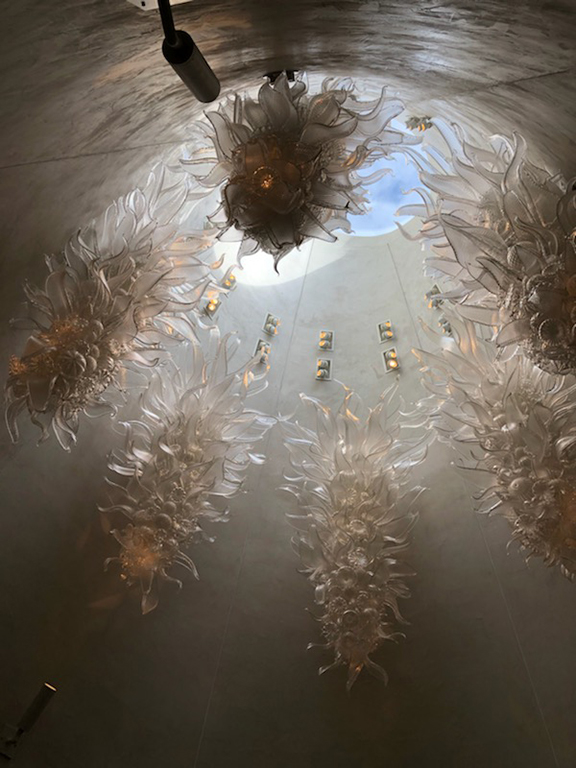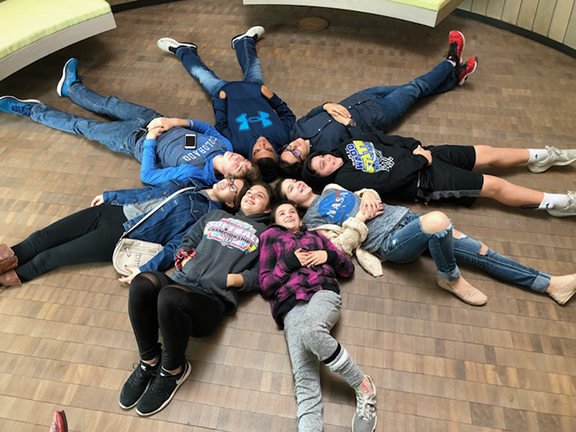 Students enjoying the views from the Chihuly Sanctuary.
The students commented on how much they were able to learn because of this, and hope to do this again in the future. In this season of giving, these middle school students certainly have lived out the WMS theme of being awesome and kind, and their efforts will greatly benefit many patients and their families.
WMS would like to thank everyone for their donations to make this possible!
Well done WMS StuCo!