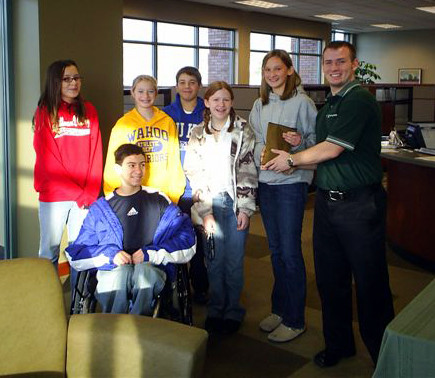 Wahoo Middle School students present $223.20 raised in a week-long fund raiser for the victims and families affected during the Von Maur shooting. Presenting the money to First National Bank head teller Justin Bruning are (l-r) Baeli Greenwalt, KJ Russ (seated), Darian Coffey, Brook Stuart, Dayna Gulliksen and Rachel Urban.
Wahoo Middle School Students Practice the Spirit of Giving
Students Raise Funds for Von Maur Victims & Families
Getting into the spirit of holiday giving was easy for eighth graders Rachel Urban and Dayna Gulliksen. Knowing who needed a gift was also simple: the victims and families affected by the recent Von Maur shootings in Omaha. So the two leaders organized a one-week fund raising campaign throughout Wahoo Middle School and raised $223.20.
Accompanied by sixth grade representatives Baeli Greenwalt and KJ Russ and seventh grade representatives Darian Coffey and Brook Stuart, sponsor John Harris and the group headed to an Omaha First National Bank branch, on December 21, to present the money raised. First National Bank head teller Justin Bruning, acting on behalf of the greater United Way of the Midlands Von Maur Memorial Fund, gratefully accepted the donation and praised the young leaders for their efforts and caring attitude.
"This will touch a lot of people's hearts," Bruning told the group.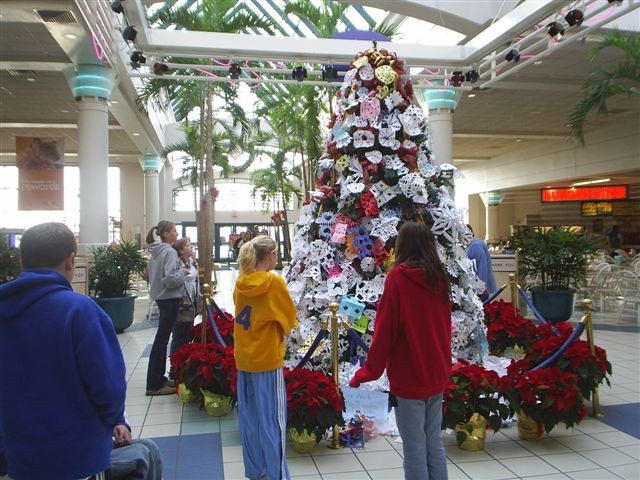 Wahoo Middle School students observe the snowflakes that were part of the impromptu memorial that was left at Von Maur after the shootings.
After the presentation, the students proceeded to the Westroads Mall. Upon entering the food court entrance, their attention was immediately captured by a large Christmas tree adorned with snowflakes made by well-wishers and left outside the store doors at an impromptu memorial in the days following the shootings. Written on the snowflakes were messages of hope, love and support by hundreds of well-wishers across the Midlands. The middle schoolers remained gathered around the tree for a long time, thoughtfully reading the many messages and later walked to the Von Maur store to see the eight memorial wreaths, each inscribed with the message, "We Remember".
"As Mr. Bruning said, giving touches hearts," sponsor John Harris reminded the students.
Without a doubt, many hearts were touched by Rachel and Dayna's efforts.