Thirteen Wahoo band/choir students tour Europe in 2019 Nebraska Ambassadors of Music trip
16-day, 7-country Summer 2021 NAM trip now being planned; Contact Mr. Smith for more information
Following a cog train ride up a mountain from Zermatt, Switzerland, 2019 Wahoo NAM students pose with the Matterhorn in the background. Not a bad way to spend the day!
"Traveling – it leaves you speechless, then turns you into a storyteller." – Ibn Battuta
This past June, 13 Wahoo students performed for hundreds of world travelers on their 16-day tour of Europe. The tour consisted of 288 students and adults from across Nebraska, who adventured out to seven different countries for a whirlwind musical performance tour.
The Nebraska Ambassadors of Music (NAM) is comprised of music students, parents, and educators from all over the state. Every two years NAM takes director-nominated students on this impressive tour of Europe.
The group is comprised of a band, choir, and orchestra, and this year the trip also included percussion ensembles.
The Wahoo High School students involved in this year's trip were Mara Dobesh, Maya Foxworthy, Sammy Flores, Elise Cejka, Ryker Henderson, Caleb Obert, Rachel Steele, Isaac Privett, Kaitlin Arney, Sydney Barnes, and Allison Eggleston. One Bishop Neumann student, Elizabeth Kastl, was also on the tour.
The trip began in Omaha, where students participated in an intense three-day camp. At Elkhorn South High School students rehearsed what would become their European tour performance. The students worked long days and put together an amazing show!
After the third day everyone flew out of Omaha and eventually landed at Heathrow International Airport in London, England, where the adventure began.
From England, the trip continued on to France, Switzerland, Lichtenstein, Austria, Italy, and finally Germany.
The trip lasted 16 days. In that time the ambassadors performed for hundreds of people in city parks and beautiful cathedrals, observed ancient ruins, breathtaking architecture, priceless works of art, and countless other experiences. Students were exposed to different cultures, customs, and mouthwatering cuisines.
Students that participated in this trip gained experiences that they will talk about for a lifetime!
The next Nebraska Ambassadors of Music trip adventure will be in the summer of 2021. If you or your families are interested in joining this adventure, please contact WHS Band Director Jason Smith at jsmith@wahoowarriors.org.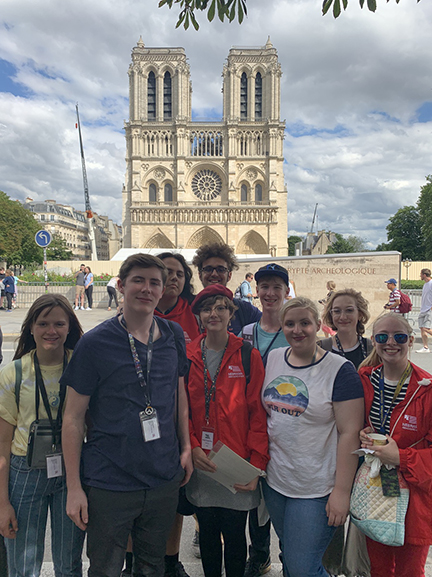 Students pose near the Notre Dame Cathdral in Paris, France.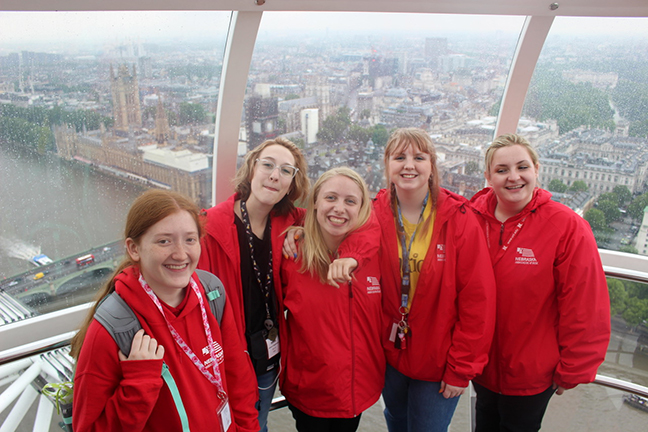 Riding the London Eye, overlooking Parliament and Big Ben.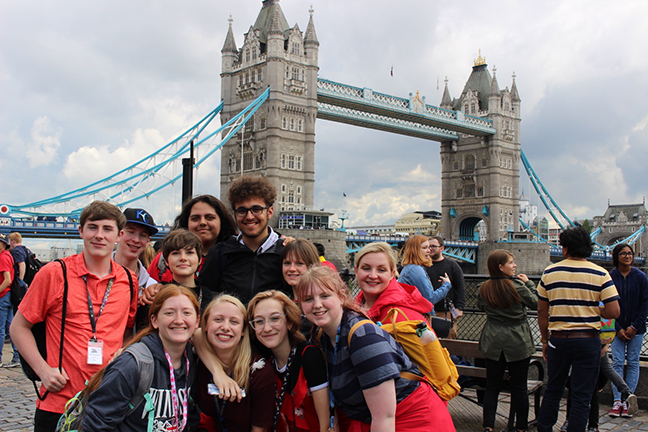 Tower Bridge in London, England.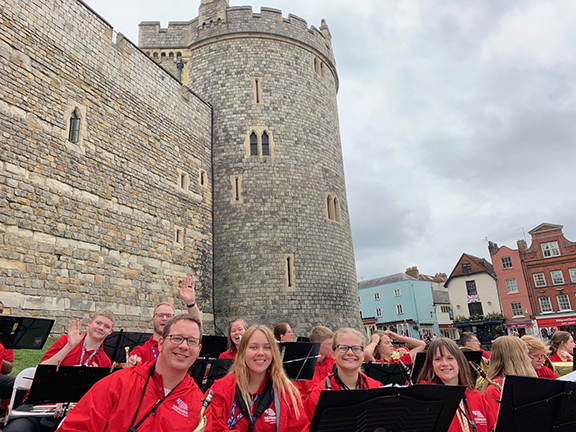 Performing outside of Windor Castle in Windsor, England.