WHS Royalty show choir/band ends season with 'Grand Champion' crown at Lincoln Northeast!
Wahoo also wins award for 'Best Choreography' and completes best season in school history
photo courtesy John Harris
Warrior Royalty took another impressive performance to the highly competitive Jan. 27 Roosevelt Contest in Sioux Falls, SD. Wahoo take first place in their division, advance to Finals, and finished 6th place overall!
March 3, 2018 (Lincoln Northeast Competition)
The Wahoo show choirs wrapped up their competition season on Saturday, March 3, at Lincoln Northeast.
Though Wahoo was the smallest school in the competition, Royalty went on to receive Grand Champion at the event, along with Best Choreography and Best Newcomer, beating out 13 other groups! This is the first grand championship in Wahoo's history and caps a record-setting season in many respects.
Legacy, the girls group, enjoyed its first season ever, making huge strides throughout the year.
Royalty finished undefeated in its class for the second season in a row, repeating as the best show choir in Class B, made finals at every applicable competition, and scored higher than ever before. Above and beyond the trophies, this group of band, crew, and singer/dancers grew to be like a second family, and the bonds between members really showed onstage.
Thank you to all who supported and cheered on the show choirs throughout the year. Congratulations on a great season, Legacy and Royalty!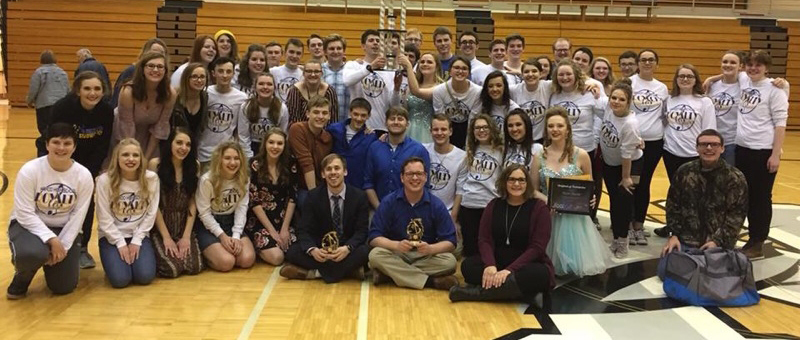 Congratulations Warrior Royalty: 2018 Lincoln Northeast Competition Grand Champions!
WHS Royalty show choir/band breaks into finals @ Omaha South; finishes 6th of 21 groups
Wahoo prepares for season's final competition March 3 @ Lincoln Northeast
February 17, 2018 (Omaha South Competition)
On Saturday, February 17, the day after hosting their own competition, Legacy and Royalty show choirs were in action at the South Omaha Classic.
Legacy gave its best performance of the year, capping a great competitive season and first year as an ensemble. Congratulations on a great year, ladies!
Royalty broke into finals for the 4th time this year, beating out a number of AA schools! Royalty gave its most complete performance to date, finishing in 6th place overall, out of 21 groups. Congratulations to the singers, band, and crew! Royalty will end its competitive season next week at Norris High School's Fields of Talent.
WHS Royalty show choir/band finishes 1st place in their division at highly-competitive Sioux Falls contest!
Impressive performance pushes Wahoo into finals and 6th place overall finish
January 27, 2018 (Roosevelt Contest in Sioux Falls)
On Friday, January 26, Wahoo's Royalty show choir made the trip north to Sioux Falls for a weekend of competition among some of the brightest and best show choirs from Nebraska, South Dakota, and Minnesota.
The varsity ensemble took home 1st place in the small school division by a landslide, doing well enough to break into finals, alongside schools that are three, four, and five times our size. Royalty finished in 6th place, a great result for the year's only out-of-state competition. Royalty and Legacy show choirs will be in action on Friday, Feb. 16 when they host the first-ever Wahoo Court of Champions, featuring 17 other show choirs from across the state.
WHS Royalty show choir/band takes impressive 4th of 23 groups @ Ramaggedon; Obert awarded Best Female Performer
Next competition: Roosevelt Show Choir Contest in Sioux Falls (Saturday, Jan. 27)
January 11-12, 2018 (Ramaggedon @ Ralston High School)
On Friday and Saturday, January 11-12, all three Wahoo show choirs were in action at Ralston High School's Ramaggedon.
The middle school show choir, Majesty, opened their season with a 4th Runner-Up finish against some of the best middle school groups in the state. Sydney Barnes also took home the awards for Best Female Soloist and Best Female Performer, an incredible accomplishment!
Not only did Saturday mark the beginning of Legacy's season, but the ensemble's first performance ever! Legacy is the high school women's show choir and is in its first year of existence. A great first performance kicked their season off in style.
In Royalty's second competition of the season, the 62 performers and band members broke into finals, finishing in 4th place out of 23 groups, beating some incredible groups from a number of Class A schools. Emily Obert was also awarded Best Female Performer for the day. Royalty again will be in action this Saturday, January 27 in Sioux Falls.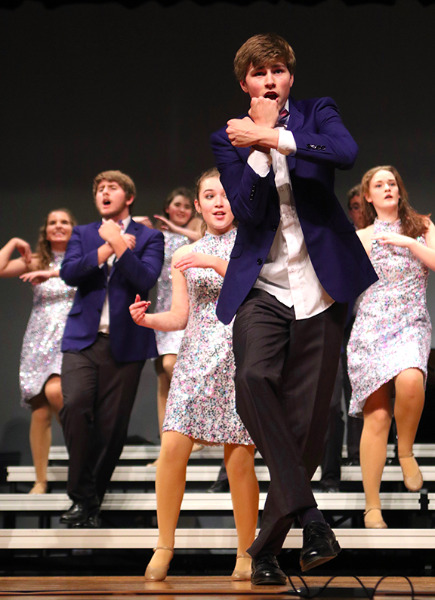 Warrior Royalty is off to an impressive start to its 2018 season, finishing 1st in small school division of Jan. 6 UNL Midwest Cup, and 4th of 23 schools at the Jan. 11-12 Ramaggedon competition at Ralston High School. (photo courtesy Nicole Burg)
Warrior Royalty opens show choir/band season with 1st place in small school division (6th overall) at rigorous UNL Midwest Cup
Majesty/Legacy/Royalty prepare for Jan. 11-12 Ramaggedon at Ralston
January 6, 2018 (Midwest Cup @ University of Nebraska at Lincoln)
On Saturday, January 6, Wahoo's Royalty show choir traveled to Midwest Cup on the University of Nebraska-Lincoln campus. In a competition filled with schools enrolling well over 1,000, 2,000, and 3,000 students, Royalty took home first place in the festival division, and broke finals, finishing in 6th place overall. A fantastic result, especially in what is consistently a difficult regional competition, attended by groups from across the country. What a great way to start off the competition season, Royalty! Wahoo's Majesty, Legacy, and Royalty show choirs will next compete at Ralston High School on January 19 and 20.