Coach Trish Larson passes the torch after establishing legacy of success for Warrior Volleyball
Larson steps down with a 359-74 record, 3 state championships, a trophy case of conference and district championships, and the love and admiration of her players
photo courtesy Francis Gardler, Lincoln Journal-Star
Trish Larson is stepping down after 13 years as Wahoo's head volleyball coach. Larson has worked tirelessly to help the program evolve into one of the best in the state. In her tenure the Warriors have captured three state championships, seven conference championships, and six district championships. Larson leaves with a record of 359-74.
The statistics speak for themselves.
There are many celebratory state championship signs proudly mounted on the walls of the Wahoo High School gymnasium. Up until 2017, though, none of those signs were inscribed with the word "volleyball."
That is no longer the case.
After 13 years of building a culture of success (2008-2020), WHS Head Volleyball Coach Trish Larson has made the decision to resign her coaching position, but there is no doubt: she has left her mark right alongside the girls who were lucky enough to have her for a coach.
"My decision was not an easy one, but after a lot of thought and discussions with my family, I made the decision to step down from coaching," Larson explained. "I am at the stage of my life where I would like to lighten the load a little bit. It wouldn't be fair to the girls if I wasn't giving it my all, and it's time for the program to experience a new coach to give the program a spark of energy and new ideas."
Larson guided Warrior Volleyball to its first-ever State Tournament back in 2013, and the story only gets brighter from there.
That story is highlighted by three State Championships (2017, 2018, 2020) and an overall record of 359-74 (a perfect 35-0 for 2020!). The trophy cases have been further filled by seven conference championships and six district championships, and under Larson's leadership, the program has produced eight all-state athletes.
"I am extremely grateful for the experience I have had while coaching volleyball at Wahoo," Larson added. "I have been blessed with talented athletes who invested in the program, along with great assistant coaches. I have had the full support of our administrative team and parents during my time here, and want to thank every one of them for supporting our program."
Equally admirable is the fact that what Coach Larson offers her girls far transcends what it takes to win a lot of volleyball matches. Looking for someone to emulate both on and off the court? Someone with the expectation of excellence in all areas of life? Coach Larson is a wise choice.
"Wahoo Public Schools and the Wahoo Volleyball program are extremely grateful for Coach Larson's commitment to excellence during her tenure as head coach," commented WPS Activities Director Robert Barry. "Coach Larson is a positive role model that produced not only successful young women on the court, but also in life."
Warrior volleyball seniors Elle Glock, Lauren Kavan, and Kelsie Sears concur.
"I am so grateful that I got to be coached by Mrs. Larson," Glock stated. "She's an incredible coach, and she has always set the standards high for all of her players and teams. Not only has she taught me so much about being a good volleyball player, but she has helped me become a better person and teammate as well. Mrs. Larson has invested so much time and dedication into Wahoo Volleyball. She has definitely made a legacy here, and I am so proud that I got to be a part of it!"
Kavan and Sears echoed those sentiments.
"I am truly grateful to have had Coach Larson as my coach throughout high school. We would not have accomplished everything that we have if it wasn't for her competitiveness, scouting reports, and her ability to be open-minded to our opinions," Sears stated. "She has taught us what it takes to succeed not only on the volleyball court, but also in life itself."
"Coach Larson was one person that always believed in us as students, athletes and people. She helped us reach our goals through all of the obstacles, while ending it the only way any of us could have hoped. Thank you for helping us leave our mark on Wahoo Volleyball," Kavan said.
So thanks to Coach Larson, a solid road map of success is in place for Warrior volleyball, and now it's time for someone else to continue the journey. WPS is appreciative of all the hard work and effort Coach Larson has put in to create a culture of relationships, accountability, and competitiveness, and looks forward to continuing that same culture in the future.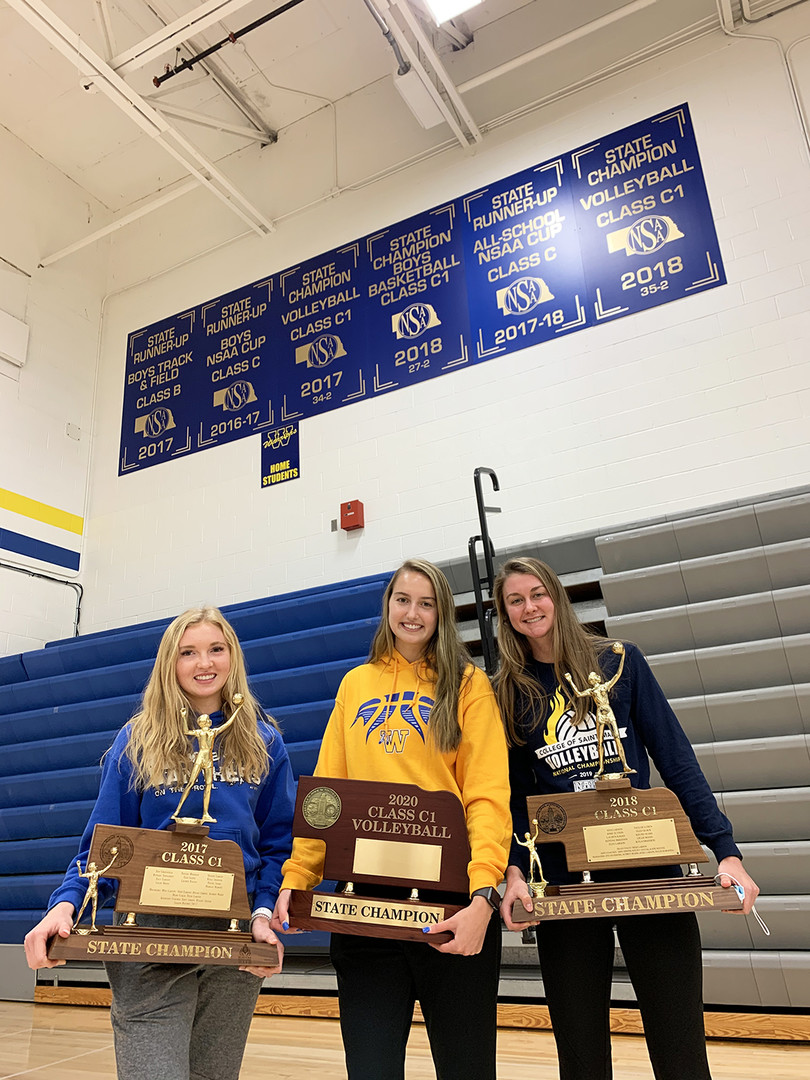 2020 Warrior seniors Lauren Kavan, Elle Glock, and Kelsie Sears end their high school careers with three state championships, all earned under the leadership of Head Coach Trish Larson.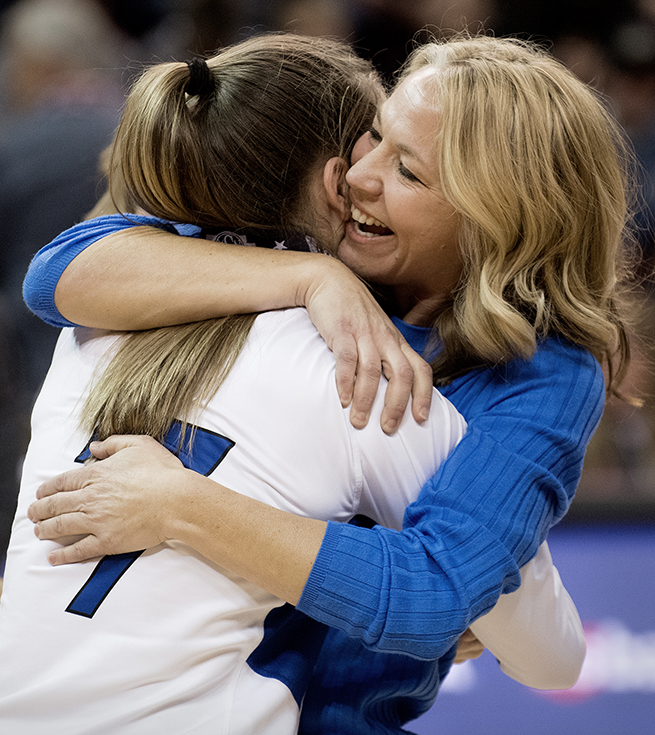 Wahoo head coach Trish Larson hugs her daughter, freshman Mya Larson after the Warriors defeated Lincoln Lutheran 3-1 on Saturday, Nov. 10, 2018, during the Class C-1 state volleyball championship game at the Devaney Sports Center. (photo courtesy Francis Gardler, Lincoln Journal-Star, 11/10/2018 [used with permission])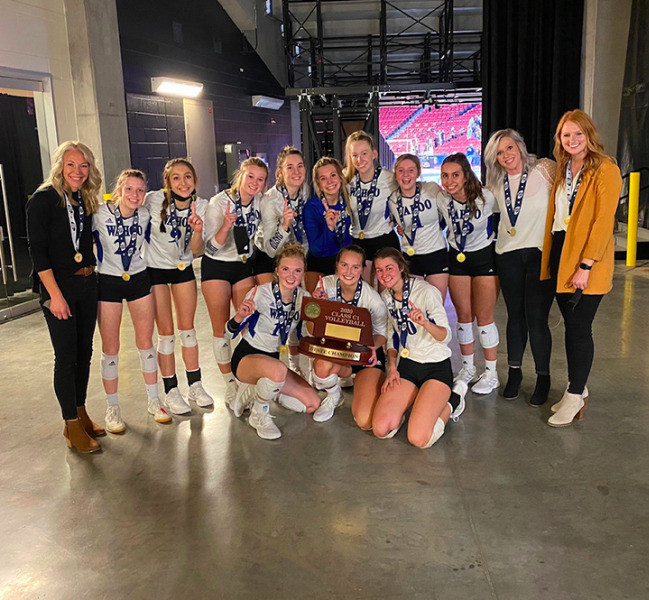 Coach Trish Larson (far left) has stepped down from her role as head volleyball coach after 13 years. She ended her tenure with a perfect 2020 season (35-0) and the school's third state championship!