2014 Warrior Volleyball posts school history's best season with 2nd-straight State Tourney appearance
Wahoo takes out #3 Ogallala, falls to #2 Concordia in State semifinal; closes season 31-5
Warrior girls celebrate after a very close victory, knocking off the #3 seed Ogallala at State on Nov. 14. This marks the first State Volleyball win in school history!
FINAL VARSITY SEASON RECORD: 31-5
ROSTER:
Click HERE to view the 2014 Warrior Volleyball roster
STATE TOURNAMENT:
Congratulations Warrior Volleyball: C-1 District Champions & State Bound for the 2nd straight year!
The 2014 Nebraska State Volleyball Tournament was played Thursday-Friday, November 13-15 in Lincoln.
The #6-seeded Wahoo Warriors (30-3) defeated #3 Ogallala (29-5) in Match 2 in 5 sets on Thursday (scores posted below)! Warriors lost to #2 Concordia in Friday's State Semifinal, and to #5 Columbus Scotus in the 3rd place game (both losses in 4 sets).
Please click HERE to view the completed 2014 State Volleyball Tourney bracket.
Congratulations Warrior Volleyball on posting the best season in school history!
ALL-STATE:
Congratulations to the following Warrior Volleyball players for being named to the 2014-2015 C-1 All-State Volleyball Teams by the Lincoln Journal-Star:
Kinsley Tingelhoff: All-State 2nd Team
Gabby Shannon: All-State Honorable Mention
Bailey Brigham: All-State Honorable Mention
Katie Reeves: All-State Honorable Mention
Lauren Crockett: All-State Honorable Mention
Taylor Homes: All-State Honorable Mention
ALL-CONFERENCE:
Congratulations to the following Warrior Volleyball players for being named to the 2014-2015 Capitol Conference All-Conference Volleyball Teams:
Gabby Shannon: Honorary Captain All-Conference 1st Team
Bailey Brigham: All-Conference 1st Team
Katie Reeves: All-Conference 2nd Team
Lauren Crockett: All-Conference 2nd Team
Kinsley Tingelhoff: All-Conference 2nd Team
Taylor Homes: All-Conference Honorable Mention
Please click HERE to view the entire All-Conference Teams.
SEASON WRAP-UP:
The Wahoo Lady Warriors ended their 2014 volleyball season with a respectable 31-5 record and a 4th place finish at state. For the first time in school history, the Warriors made it past the first round at state.
"We are very proud of the girls," stated Warrior Volleyball Coach Trish Larson. "They continue to raise the bar and set higher expectations for themselves."
A balanced attack and quick offense, as well as consistent passing, was a key factor to the success of this team.
"We are fortunate to have multiple weapons on our team," Larson added. "Each player contributed to the team's success."
The Warriors were led by senior right side Gabby Shannon with 290 kills. Middle blocker Katie Reeves added another 272 kills and a team-high 65 solo blocks. Junior outside hitter Lauren Crockett contributed 284 kills and led the team in aces with 60. Taylor Homes added 238 kills and led the team in hitting percentage with .367. Sophomore Mallory Lindstrom contributed another 124 kills.
"It is rare for a team to have four players with over 200 kills in a season," Larson commented. "It shows how much talent we have on our team."
Freshman setter Kinsley Tingelhoff commanded the quick-tempo offense with 1113 assists: a new state record!
"Kinsley did an excellent job delivering the ball and creating one-on-one opportunities for our hitters," said Larson. "She continued to improve throughout the season, and by the end became one of the top setters in class C-1."
Senior Bailey Brigham led the team in digs with 436 and 600 receptions, a new school record.
"Bailey's job was pass the ball well to our setter," added Larson. "She did an excellent job keeping our team in system so we could run our offense."
The Warrior Volleyball team will say goodbye to three talented seniors.
"Seniors Bailey Brigham, Gabby Shannon, and Katie Reeves will be missed," Larson said. "They have made a huge impact to our program and were key to our success. There will be big shoes to fill next year."
Season Stats:
Kills: G. Shannon 290, L. Crockett 284, K. Reeves 272, T. Homes 238, M. Lindstrom 124
Kill %: T. Homes .367, K. Reeves .282, L. Crockett .265, G. Shannon .239, M. Lindstrom .077
Assists: K. Tingelhoff 1113
Blocks: K. Reeves 65, T. Homes 59
Digs: B. Brigham 436, G. Shannon 345, L. Crockett 306, M. Lindstrom 225, K. Tingelhoff 225, K. Reeves 137, M. Larson 119
Receptions: B. Brigham 600, L. Crockett 459, G. Shannon 275, M. Lindstrom 106
SCORES:
STATE TOURNAMENT
November 13-15, 2014 (State Tournament @ Lincoln North Star High School)
November 15 (State Tourney 3rd Place Game)
#6 Wahoo vs. #5 Columbus Scotus
25-20 25-27 20-25 18-25 LOSS (1-3)
Warriors fall to #2 Concordia in Fri. State semifinal
November 14 (State Tourney Semifinal)
#6 Wahoo vs. #2 Concordia
21-25 25-23 11-25 14-25 LOSS (1-3)
Warriors overtake #3 Ogallala in 5 sets to post school's first State Volleyball victory!
November 13 (First Round State Tourney)
#6 Wahoo vs. #3 Ogallala
27-29 25-20 23-25 25-16 15-12 WIN (3-2)
Media Coverage:
Wahoo outlasts Ogallala
by Darren Ivy / Lincoln Journal Star
The team that was on the south side of the court won the first four sets in Thursday's Class C-1 first-round match between Ogallala and Wahoo at Lincoln North Star.
So when No. 2 Ogallala (29-6) won the toss for the fifth set, of course, the Indians chose to take that side.
But it didn't work out the way the Indians had hoped, as No. 9 Wahoo (31-3) broke the streak and won the fifth set to take the match 27-29, 25-20, 23-25, 25-16, 15-12. It was the school's first win at state after qualifying for the first time in 2013.
With Ogallala leading 10-9 in the fifth set, Sophia Arensdorf's serve hit the top of the net and bounced back, tying the score at 10. Wahoo freshman setter Kinsley Tingelhoff, who had 54 assists, then went to the service line. Her first serve led to a kill by Lauren Crockett and the second was an ace to put the Warriors up 12-10.
"Her serves were crucial," Larson said. "There's a lot of pressure in that situation just to get it in. She went for it. That takes a lot of courage to do that."
Ogallala then had a passing error and Wahoo's Katie Reeves blocked Indian middle hitter Kendall Schroer, who had a match-high 24 kills, to make it 14-11. A net violation cut the lead to 14-12 before Reeves hammered her ninth kill of the match to cap the comeback win.
"She is a competitor," Larson said. "She wanted this win really bad."
In the opening set, Ogallala raced to a 7-2 lead. The Indians led 16-9 on a kill by Shelby Welsh. But Wahoo battled back to forge a 19-19 tie on a kill by Lauren Crockett. The set again was tied at 21 and 23. The Warriors staved off three set points before a kill and a block by Taylor Homes gave them their first lead and a set point at 27-26. Kills by Arensdorf and Welsh, who finished with 14 kills, sandwiched around a Wahoo hitting error, gave the Indians the first set.
Wahoo won the second set after an 8-3 run.
With the score tied at 23 in the third set, Jensen Geisert's attack was long, but the Indians appealed and the other line judge ruled it had been tipped, giving Ogallala a 24-23 advantage. After a Wahoo timeout, Kacey Jaeger blocked a Wahoo attack to give her team the 2-1 set advantage.
After falling behind 4-0 in the fourth set, Wahoo rallied to go up 11-6. The Indians tied it at 14 before Wahoo ended the set with an 11-2 run.
Gabrielle Shannon led Wahoo with 16 kills, Homes added 14, Crockett 12 and Mallory Lindstrom 11.
"Our theme all year has been work hard and don't quit," Larson said. "We had to remind them of that. They came through."
------------------------------
Warrior Volleyball: C1-4 District Champs & State-Bound!
Wahoo takes out Milford in Fri. district final
November 7, 2014 (District Final @ Waverly High School)
Wahoo vs. Milford
25-17 25-22 25-16 WIN (3-0)
------------------------------
Wahoo Volleyball overcomes Bishop Neumann in subdistricts
Wahoo faces Milford in Friday district final
November 3, 2014 (C1-4 Subdistricts @ Papillion-LaVista South High School)
Please click HERE to view the C1-4 subdistrict bracket.
#1 Wahoo vs. #4 Raymond Central
25-13 25-10 25-13 WIN (3-0)
#1 Wahoo vs. #2 Bishop Neumann (subdistrict final)
25-17 15-25 17-25 25-23 19-17 WIN (3-2)
Media Coverage:
Warriors grab C1-4 title in all-Wahoo final (by Ron Powell, Lincoln Journal-Star)
Warriors able to outlast rival Cavaliers
by Mike Patterson / Omaha World-Herald staff writer
Wahoo's dream of a second straight trip to the state volleyball tournament remains alive.
But crosstown rival Wahoo Neumann made the Warriors work for it in the C-1 subdistrict final Monday night at Papillion-La Vista South.
Wahoo, ranked fifth in Class C-1, prevailed 25-17, 15-25, 17-25, 25-23, 19-17. The win boosts the Warriors into a district final Friday night while the season comes to an end for the unranked Cavaliers.
"Obviously, it's always an emotional match when we play them,'' Wahoo coach Trish Larson said. "It was a great team effort and we were able to find a way to win."
Neumann played an inspired match without senior outside hitter Haley Thiele, who is sidelined by a back injury.
"She's a four-year starter and one of our senior leaders,'' Cavaliers coach Michelle Moser said. "But I was proud of the way our girls battled, right to the end."
Wahoo won the first set but Neumann fought back to win the next two. The Warriors, who reached the state tourney for the first time last year, held on to win the fourth set 25-23.
That set the stage for the deciding fifth set, and Wahoo jumped to a 4-0 lead. Neumann closed within a point but Moser was forced to use a timeout when the Cavaliers fell behind 10-6.
The Warriors continued to inch toward the 15-point final and Moser used her final timeout when a kill by Katie Reeves put Wahoo on top 13-9.
"I just told the girls to keep playing hard," Moser said. "And they played their hearts out."
Neumann rattled off the next four points to tie the set at 13. A block by the Cavaliers' Aspen Jansa put her team one point from victory, but a serve by sophomore Maggie Dailey — who had served the previous four Cavaliers points — sailed long.
Moser's squad had a second shot at the win after Reeves served one long for Wahoo, but Neumann's Jansa did the same thing to tie the set at 15.
"I think both squads were dealing with a lot of emotion on those serves," Moser said. "You can't blame the girls for trying."
A kill by Wahoo's Taylor Homes gave the Warriors their first match point, but a kill by Neumann sophomore Caitlin Makovicka tied it once again. The Cavaliers had their third chance at match point after another Makovicka kill, but a kill by Wahoo's Mallory Lindstrom tied it at 17.
The Warriors finally put the match away when Lindstrom delivered an ace and Homes put down the last of her match-high 20 kills.
"Taylor had a phenomenal night for us," Larson said. "I thought we got a little tentative as a team but I told the girls they had to be fearless in those last two sets."
Reeves and senior Gabby Shannon had 10 kills each for Wahoo while freshman setter Kinsley Tingelhoff dished out 48 assists.
"I wasn't nervous out there," Tingelhoff said. "I just tried to act like this was any other match."
Hannah Thiele, Haley's sister, led the Cavaliers with 14 kills. Makovicka added 13 and Jansa had 10 while setter Kelly Dailey had 41 assists.
Wahoo had defeated Raymond Central earlier in the night to advance to the subdistrict final while Neumann beat Douglas County West.
"This is a tough way to end it," Moser said. "We had a great season, and I can see the progress our program is making."
Wahoo Neumann (17-11) .......................... 17 25 25 23 17
Wahoo (29-3) ............................................ 25 15 17 25 19
WN (kills-aces-blocks): Aspen Jansa 10-4-2, Kelly Dailey 4-2-1, Hailey Bohac 0-1-0, Caitlin Makovicka 13-1-1, Madison DeLay 7-0-2, Hannah Thiele 14-0-0, Haley Kabourek 4-0-1, Maggie Dailey 0-2-0.
W: Katie Reeves 10-0-2, Lauren Crockett 7-2-0, Mallory Lindstrom 4-1-2, Kinsley Tingelhoff 2-1-1, Gabby Shannon 10-2-2, Taylor Homes 20-0-2, Bailey Brigham 0-2-0.
Set assists: WN 42 (K. Dailey 41, Jansa 1); W 50 (Tingelhoff 48, Reeves 1, Shannon 1).
------------------------------
Wahoo Volleyball closes regular season with 3-set victory over Platteview
Wahoo heads to subdistricts with 27-3 record
October 28, 2014 (Home)
Wahoo vs. Platteview
25-13 25-20 25-15 WIN (3-0)
------------------------------
Wahoo Volleyball sweeps Lincoln Christian Tourney
October 25, 2014 (@ Lincoln Christian Tournament)
Wahoo vs. David City Aquinas
25-19 25-20 WIN (2-0)
Wahoo vs. Lincoln Christian
27-25 25-16 WIN (2-0)
------------------------------
Wahoo takes out Plattsmouth & Bennington @ Badger Triangular
October 23, 2014 (@ Bennington Triangular)
Wahoo vs. Plattsmouth
25-18 23-25 25-23 WIN (2-1)
Wahoo vs. Bennington
25-12 25-22 WIN (2-0)
------------------------------
Wahoo Volleyball takes out Beatrice
October 21, 2014 (Home)
Wahoo vs. Beatrice
25-22 25-13 25-12 WIN (3-0)
-----------------------------
Wahoo Volleyball: 2014 NCC Champions!
#1 Warriors sweep the Capitol Conference Tourney
October 14-18, 2014 (NE Capitol Conference Tourney)
Please click HERE to view the full tournament bracket.
Game 1 (Oct. 14 @ Home): #1 Wahoo vs. #8 Ft. Calhoun
25-11 25-20 25-13 WIN (3-0)
Semifinal (Oct. 16 @ Home): #1 Wahoo vs. #5 D.C. West
25-15 25-18 25-14 WIN (3-0)
Championship (Oct. 18 @ Syracuse): #1 Wahoo vs. #2 Arlington
25-20 25-13 25-22 WIN (3-0)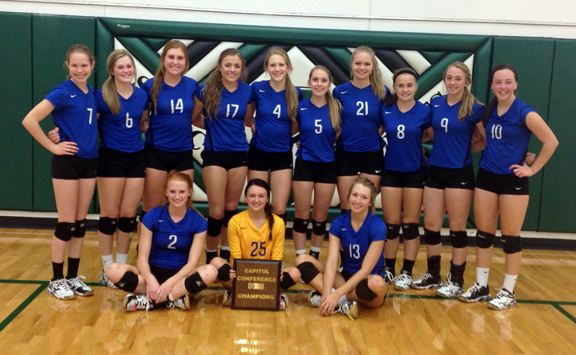 2014 Capitol Conference Champions!
------------------------------
Wahoo Volleyball rolls over Lincoln Lutheran in 3-set victory
October 7, 2014 (Away)
Wahoo vs. Lincoln Lutheran
25-17 25-12 25-13 WIN (3-0)
------------------------------
Wahoo takes runnner-up @ Ashland Tourney
October 2 & 4, 2014 (@ Ashland-Greenwood Tournament)
Wahoo vs. Schuyler
25-12 25-15 WIN (2-0)
Wahoo vs. Lincoln Lutheran
25-13 25-15 WIN (2-0)
Wahoo vs. Ashland-Greenwood
25-17 25-20 WIN (2-0)
Wahoo vs. Plattsmouth
26-28 25-15 25-13 WIN (2-1)
Wahoo vs. Omaha Gross (CHAMPIONSHIP GAME)
20-25 20-25 LOSS (0-2) Tourney Runners-Up
------------------------------
September 29, 2014 (Triangular @ Ft. Calhoun)
Wahoo vs. Ft. Calhoun
25-13 25-10 WIN (2-0)
Wahoo vs. D.C. West (@ 6:00 p.m.)
25-14 25-12 WIN (2-0)
------------------------------
September 27, 2014 (Home)
Wahoo vs. Syracuse
25-12 25-12 25-16 WIN (3-0)
------------------------------
September 23, 2014 (Home)
Wahoo vs. Ashland-Greenwood
25-10 25-14 25-12 WIN (3-0)
------------------------------
September 20, 2014 (@ Seward Tournament)
Wahoo vs. York
25-13 25-18 WIN (2-0)
Wahoo vs. Duchesne
25-22 25-12 WIN (2-0)
Wahoo vs. Omaha Mercy
20-25 25-18 25-11 WIN (2-1)
Wahoo vs. Concordia (Tourney Championship)
21-25 23-25 LOSS (0-2) Tourney Runners-Up
------------------------------
September 18, 2014 (Home)
Wahoo vs. Yutan
25-13 25-21 25-20 WIN (3-0)
------------------------------
September 16, 2014 (Home)
Wahoo vs. Arlington
22-25 25-23 25-22 27-25 WIN (3-1)
------------------------------
September 11, 2014 (Away)
Wahoo vs. Norfolk Catholic
25-22 25-17 25-27 25-10 WIN (3-1)
------------------------------
September 6, 2014 (Wahoo Tournament)--3rd
Wahoo vs. Omaha Roncalli
25-22 25-8 WIN (2-0)
Wahoo vs. Ord
24-26 25-17 20-25 LOSS (1-2)
Wahoo vs. Lincoln Christian (for 3rd place)
25-18 25-17 WIN (2-0)
------------------------------
September 4, 2014 (Season Opener @ Home)
Wahoo vs. Raymond Central
25-8 25-14 25-12 WIN (3-0)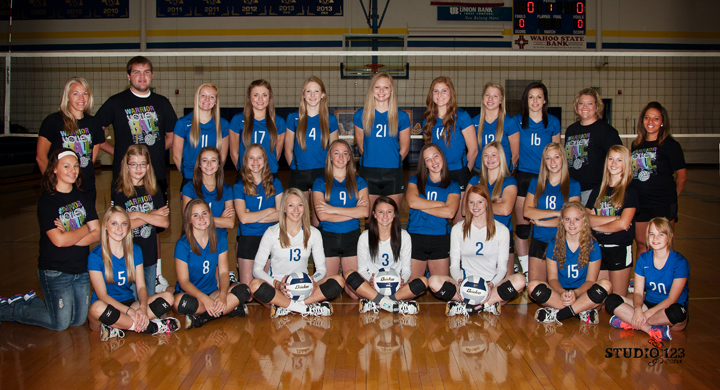 2014 Warrior Volleyball Team, back row (from left): Coach Trish Larson, Coach Brandon Nygren, Taryn Scheef, Anna Gottschalk, Lauren Crockett, Maddie Mann, Taylor Homes, Katie Pearson, Jaclyn Masek, Coach Stephani Smaus, Coach Benishia Siemer. Middle row: Maddie Masek, Greeley Hauswald, Claire Johnston, Emma Hastings, Maddie Larson, Kinsley Tingelhoff, Mallory Lindstrom, Maddie Rappl, Cali Britton. Front row: Shelby Milliken, Allie Presley, Gabby Shannon, Bailey Brigham, Katie Reeves, Jaycey Sutton, and Lindsey Wirka. (Photo courtesy Studio 123)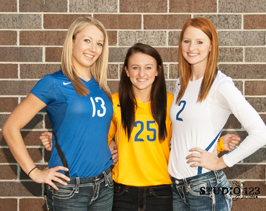 2014 WHS Volleyball Seniors Gabby Shannon, Bailey Brigham and Katie Reeves. (Photo courtesy Studio 123)