Curran & Walker Medal in 2010 State Cross Country Meet
Curran Takes Fourth; Walker Takes Tenth
Congratulations to Michaela Curran for finishing 4th place, and Erin Walker for finishing 10th place at the 2010 State Cross Country Meet!
Click HERE to view final Class C girls results.
Click HERE to view final Class C boys results.
The girls' cross country team, as well as lone boy qualifier, Zack Gropp, turned in some excellent performances last Friday afternoon at the State Cross Country meet in Kearney.
The girls' team placed sixth overall after compiling 107 points. Michaela Curran led the way, placing fourth in a time of 15:42.2. It was her best time of the season, and a personal record on the State meet course.
"I couldn't be more proud of Michaela's performance," stated Head Coach Karla Curran. "To run that well after having half her summer training cut short due to injury, says a lot about her competitive spirit."
Erin Walker also had a personal best effort in Kearney, placing tenth with a time of 15:59.4.
"I told Erin going into the meet to just do what you do, and all will go well. I was confident that she would place. She truly deserves this honor," commented Coach Curran.
For the rest of the girls, all but one turned in season best times. "It was a wonderful way to end the season," responded Coach Curran.
For the boys' team, Zack Gropp ran 18:29.3, which was good enough for sixty-third place.
"Considering that it was his first state meet, I thought Zack ran well. This will be a great motivator for him heading into next season," concluded Coach Curran.
Past Season Articles:
Wahoo Harriers Headed to State Cross Country Meet (Oct. 22 in Kearney)
Girls Team Takes 3rd at Districts; Individually, Curran Takes 1st, Walker 4th, and Gropp 15th
C-1 District Cross Country Meet at Fort Calhoun (October 14, 2010):
CONGRATULATIONS WAHOO GIRLS TEAM ON QUALIFYING FOR STATE WITH THEIR 3RD PLACE FINISH AT DISTRICTS! INDIVIDUALLY, MICHAELA CURRAN TOOK 1ST PLACE (16:06), ERIN WALKER TOOK 4TH PLACE (16:25), AND RONNIE BRUST TOOK 16TH!
ON THE BOYS SIDE, CONGRATULATIONS ZACK GROPP FOR QUALIFYING FOR STATE WITH HIS INDIVIDUAL 15TH PLACE FINISH AT DISTRICTS (18:03)!
CLICK HERE TO VIEW STATE-WIDE DISTRICT RESULTS.
THE STATE CROSS COUNTRY MEET WILL BE HELD IN KEARNEY ON FRIDAY, OCTOBER 22. CONGRATULATIONS AND GOOD LUCK WARRIORS!
Wahoo Harriers Perform Well at Capitol Conference Cross Country Meet
Curran Takes First, Named All-Conference Champion; Walker/Brust Earn All-Conference Honors
The Wahoo Harriers competed well at the Capitol Conference cross country meet in Syracuse on Thursday, October 7.
For their hard work, the girls earned a runner-up team finish. When asked about their performances, Coach Curran replied, "I felt we competed hard. We have not had three girls receive All-Conference honors in years."
The gentlemen were led by Zack Gropp's ninth place finish. Senior Nick Dobesh ran 18:24 for sixteenth place, while Casey Brown, Travis Burkey, and Zach Jansa ran in the twenty-fourth, twenty-sixth, and twenty-ninth place spots. Alex Talbott completed the varsity squad, running 22:13 for thirty-fifth place. The boys' team earned a fourth place finish.
"They all ran season bests, so I couldn't ask for much more than that," commented Coach Curran.
The harriers wrap up their regular season next week when they compete in the district meet at Fort Atkinson State Park in Fort Calhoun. The first race is set to begin at 4:30.
Wahoo Harriers Perform Well at Lincoln Lutheran
Both Boys & Girls Earn Runner-Up Place
After a week off last week due to a weather-related postponement, the Wahoo harriers came back with a vengeance. Both teams claimed the runnner-up spot behind some excellent performances.
The girls' team was once again led by Michaela Curran, who garnered a second place finish with a time of 16:10. Erin Walker placed fifth in 16:35, while Ronnie Brust, Anna Hornung, and Ali Norris ran close together in 18th, 20th, and 22nd place, respectively. Jessica Barry completed the varsity squad placing forty-second.
The boys' team was led by senior Nick Dobesh who covered the 5000m course in 19:03, which was good enough for tenth place. Zack Gropp, Casey Brown, and Travis Burkey weren't far behind, running in the fourteenth, sixteenth, and eighteenth spots. Zach Jansa came in at twenty-seventh place, while Alex Talbott completed the course in 22:15 for a thirty-ninth place finish.
When asked about both teams' performances, Head Coach Karla Curran commented, "Many of the kids either met or exceeded their goal times for this meet. They have worked really hard these last few weeks, and it is starting to pay off."
The Wahoo harriers head to Syracuse next week for the Capitol Conference meet (October 7). The first race is set to begin at 4:30 p.m.
Wahoo Harriers Make Good Showing in Season Opening Schuyler Cross Country Invite
Warrior Girls Take First; Boys Third
The Wahoo Harriers began the season on a positive note, when the girls brought home the team title at the Schuyler Invite on September 2.
Leading the way for the girls' team was Michaela Curran, who placed first with a time of 16:44. Following close behind was Erin Walker in second place at 16:54. Ronnie Brust placed third, and Anmerie Schirmer, Alexandra Norris, and Anna Hornung, rounded out the top six varsity spots in fifth, sixth, and seventh, respectively.
"We had all six varsity runners place in the top seven. That says a lot about our team!" commented Coach Karla Curran.
Senior Jessica Barry also had a fine day, taking home the top spot in the junior varsity race with a time of 21:33.
The boys' team also ran exceptionally well. Nick Dobesh was the highest individual runner with a seventh place finish in 19:19. Zack Gropp and Travis Burkey brought home hardware running in the eighth and tenth spots, while Casey Brown just missed cracking the top ten, placing 11th. Zack Jansa ran a very respectable race in the fifteenth spot, and Alex Talbott completed the course in thirtieth place.
For their efforts, the boys' team placed third. When asked about the day, Coach Curran replied, "It was a good way to begin the season."
The Wahoo Harriers host their own invitational on September 9, with the first race set to begin at 4:15.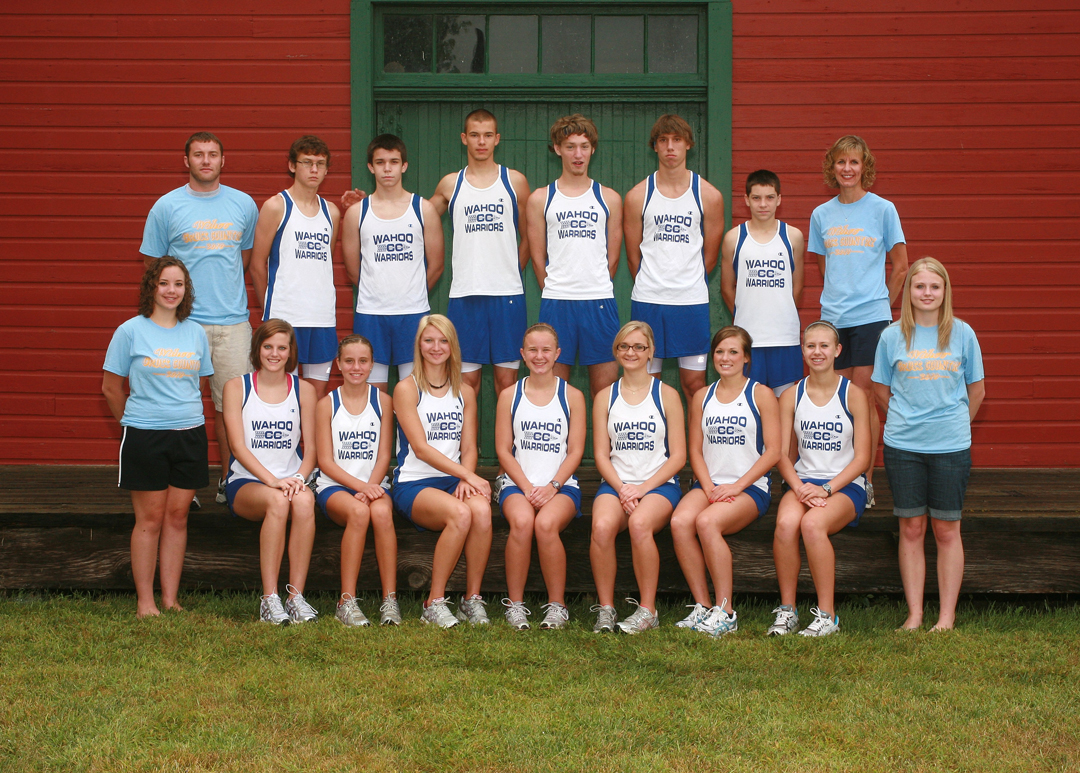 2010 Warrior Cross Country Team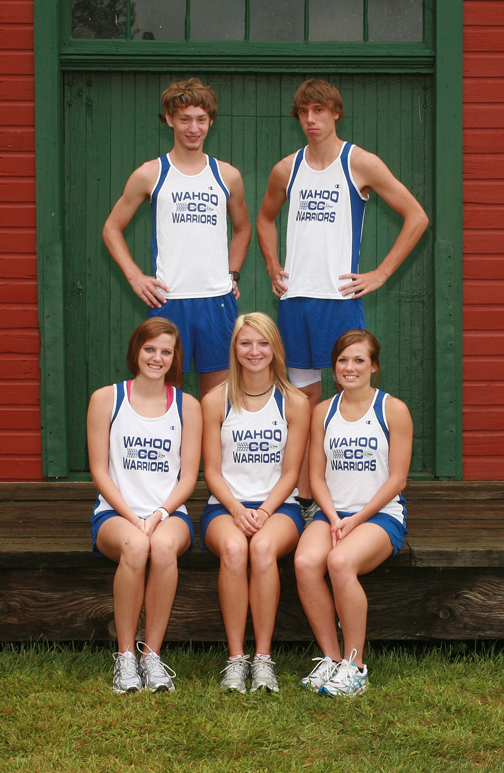 Warrior Cross Country Seniors