WHS presents 2023 musical 'The Hunchback of Notre Dame' March 30-April 2
Advance tickets available online now
Wahoo High School Presents



------------
"We are so proud of the hard work and dedication these students are putting in to make this show the best it can be. Come support the wonderful talents these students have to offer!" --WHS Musical Director Leighton Ware
------------
PERFORMANCE DATES
Thursday, March 30 @ 7:00 p.m.
Friday, March 31 @ 7:00 p.m.
Saturday, April 1 @ 7:00 p.m.
Sunday, April 2 @ 2:00 p.m.
TICKETS NOW AVAILABLE FOR SALE ONLINE @ https://gofan.co/app/school/NE21255
ADVANCE TICKETS
$10 Students • $12 Adults
(tickets will be $14 at the door)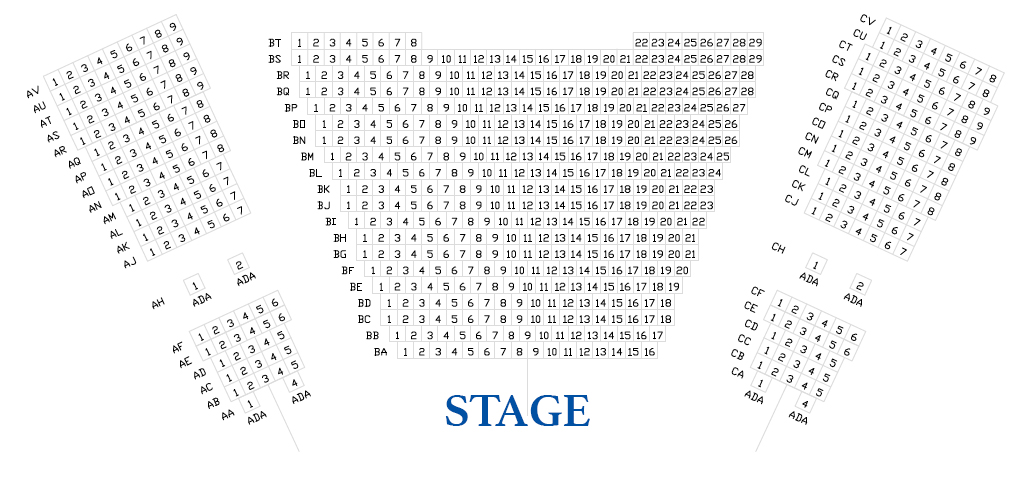 --------------------------------------------------
SYNOPSIS
Based on the Victor Hugo novel and songs from the Disney animated feature, The Hunchback of Notre Dame showcases the film's Academy Award-nominated score, as well as new songs by Menken and Schwartz. Peter Parnell's new book embraces story theatre and features verbatim passages from Hugo's gothic novel.
The musical begins as the bells of Notre Dame sound through the famed cathedral in fifteenth-century Paris. Quasimodo, the deformed bell-ringer who longs to be "Out There," observes all of Paris reveling in the Feast of Fools. Held captive by his devious caretaker, the archdeacon Dom Claude Frollo, he escapes for the day and joins the boisterous crowd, only to be treated cruelly by all but the beautiful Gypsy woman, Esmeralda. Quasimodo isn't the only one captivated by her free spirit, though – Captain Phoebus and Frollo are equally enthralled. As the three vie for her attention, Frollo embarks on a mission to destroy the Roma – and it's up to Quasimodo to save them all.
Director: Leighton Ware • Assistant Director: Jason Smith • Stage Manager: Zoe Abramo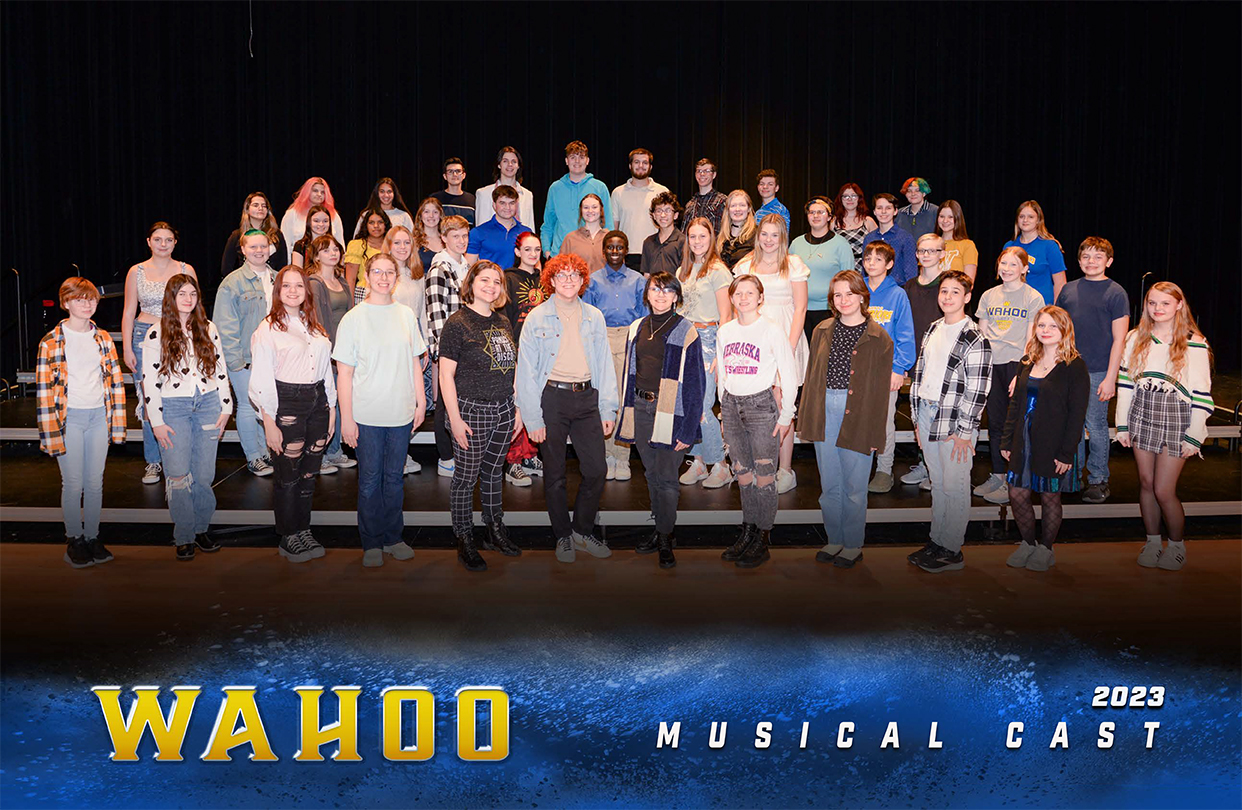 Warrior Musical Cast, back row (from left): Sophia Rafteseth, Lea Govind, Logan Scott, Landon Spicka, Noah Taylor, Dawson Rafteseth, Chris Johnson, Jonathan Johnson, Izzy Morley, Madison Hajek. Third row: Miam Tarkashvili, Keira McClain, Anna Perez, Brailey Gronenthal, David Divis, Lilly Obert, Michael Carranza, Jackie Kahler, James Richardson, Anica Gannon, Hadyn Feilmeier, Chloe Graves. Second row: Maizie Josephsen, Delaney Wusk, Lexi Jonas, Megan Robinson, Alex Adamec, Alicia Foster, Tatum Nelson, Maddie Snyder, Piper Rustermier, Jason Maly, Lucas Wusk, Norah Herrera, Braeton Seamann. Front row: Rachal Stevens, Daphne Jones, Kiaya Dryden, Rebecca Louison-Odvody, Hayli Ruble, Anthony Rowe, Marisol Marquez, Grace Darling, Gabbie Raney, Riley Scott, Zoe Hood, Dani Baker. (Photo courtesy Studio 123)
CAST
Dom Claude Frollo - Dawson Rafteseth
*Understudy - Logan Scott*
Jehan Frollo - David Divis
Florika - Maddie Snyder
Father Dupin - Logan Scott
Quasimodo - Tatum Nelson
*Understudy - Madison Hajek*
Clopin Trouillefou- Anthony Rowe
*Understudy - Hayli Ruble*
Phoebus de Martin - Landon Spicka
*Understudy - Ales Adamec*
Frederic Charlus - Logan Scott
*Understudy - Michael Carranza*
Esmeralda - Marisol Marquez
*Understudy - Megan Robinson*
King Louis IX - Madison Hajek
Madame - Mariam Tarkashvili
Saint Aphrodisius - Ales Adamec
Congregation/Citizens of Paris/Townspeople
Ella Kramer (Alto), Chloe Graves (Soprano), Keira McClain (Alto), Anna Perez (Alt0), Daphne Jones (Tenor), Izzy Morley (Alto), Dani Baker (Alt0), Brailey Gronenthal (Alto), Zoe Hood (Alt0)
Latin Choir
Kiaya Dryden (Soprano), Hadyn Feilmeier (Soprano), LexiJonas (Soprano), Lilly Obert (Soprano), Megan Robinson (Soprano), Grace Darling (Alto), Cadence Bailar (Alto), Hannah Simon (Alto), Sophia Rafteseth (Alto), Madison Hajek (Tenor), Delaney Wusk (Tenor), Hayli Ruble (Tenor), Ales
Adamec (Tenor), David Divis (Tenor), Logan Scott (Bass), Michael Carranza (Bass), Chris Johnson (Bass), Noah Taylor (Bass)
Gypsies
Lilly Obert (Soprano), Maddie Snyder (Soprano), Kiaya Dryden (Sopran0), Norah Herrera (Soprano), Piper Rustermier (Soprano), Lucas Wusk (Tenor), Lea Govind (Soprano), Hadyn Feilmeier (Soprano), Sophia Rafteseth (Alto), Riley Scott (Bass), Hannah Simon (Alto), Mariam Tarkashvili (Alto)
Gargoyles
Hayli Ruble (Tenor), Anica Gannon (Soprano), Cadence Bailar (Alto), Grace Darling (Alto), Gabbie Raney (Alto), Alicia Foster (Tenor), Lexi Jonas (Soprano), Megan Robinson (Soprano)
Soldiers/Priests
Braeton Seamann (Tenor), Chris Johnson (Bass), Noah Taylor (Bass), Michael Carranza (Bass), Jonathan Johnson (Bass), Madison Hajek (Tenor), David Divis (Tenor), Ales Adamec (Tenor)
Revelers
James Richardson (Tenor), Maizie Josephsen (Alto), Rebecca Louison-Odvody (Alto), Jason Maly (Tenor), Rachel Stevens (Alt0), Jackie Kahler (Tenor)
Parishioners
Lilly Obert (Soprano), Hadyn Feilmeier (Soprano), Hannah Simon (Alto), Michael Carranza (Bass)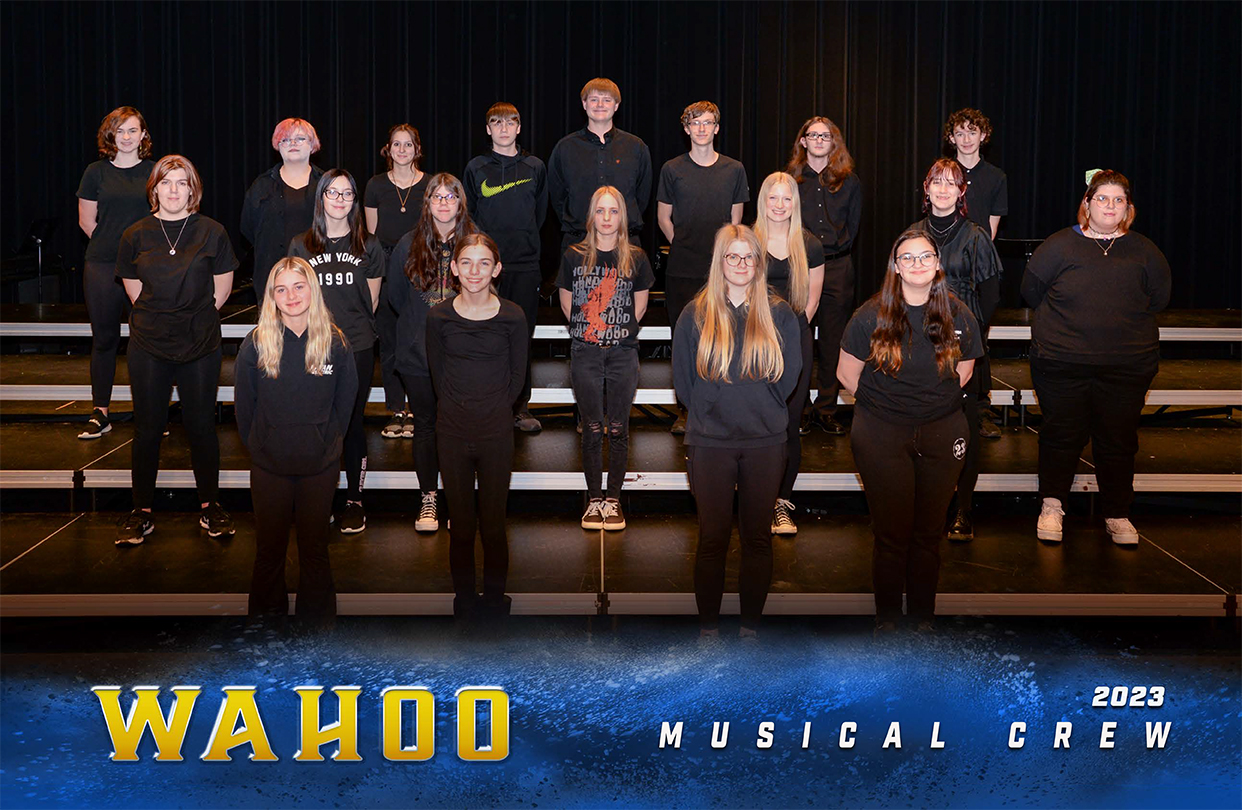 Warrior Musical Crew, back row (from left): Hailey Pfligler , Karissa Forbes, Audrie Lepore, Elijah Polacek, Austin Clemon, Patrik Adamec, Riley Beck, Jack Jones. Middle row: Gracie Johnston, Olivia Schneider, Emma Lowther, Holly Cejka, Katie Elder, Jillian Krivanek, Nadia Baker. Front row: Peyton Hall, Rease Johnston, Megan Steele, Zoe Abramo. (Photo courtesy Studio 123)
CREW
Head Stage Manager: Zoe Abramo
Assistant Stage Manager: Holly Cejka
Head of Lighting: Megan Steele
Spotlight: Elijah Polacek, Burk Armstrong
Lighting: Austin Clemon, Riley Beck, Daniel Oehm
Lighting Apprentice: Jonus Juranek
Soundboard Crew: Patrik Adamec, Hailey Pfligler
Head of Costumes/Makeup: Audrie Lepore
Costumes/Makeup: Jillian Krivanek, Kavy McCroy
Head of Stage Crew: Katie Elder
Stage Crew: Olivia Schneider, Rease Johnston, Gracie Johnston, Karissa Forbes, Nadia Baker, Emma Lowther, Jack Jones