'Beauty and the Beast' wows audiences!
WHS fine arts dept. gives community a memorable experience
The Wahoo High School music and drama department invited everyone to "BE OUR GUESTS" April 3-6, and over 1,400 people accepted the invitation!
Audiences were wowed as the Disney characters of "Beauty and the Beast" came alive onstage.
Little girls showed up in their Belle dresses and posed for pictures afterwards. Others bought glowing roses to light up as the spell was broken and the beast turned back into the prince. Special effects laser lights filled the theatre as the magic came to life.
Another highlight was enjoying root beer floats in Gaston's tavern after the show.
This is a show that will not be forgotten any time soon, especially by the directors, cast and crew. They all agree that it was quite a challenging journey, but the hard work paid off and was well worth it. Thanks to everyone who came to "BE OUR GUESTS" for a very special show that will always live in our hearts and be a fond memory for years to come.
Please click HERE and HERE to view more photos from the performance.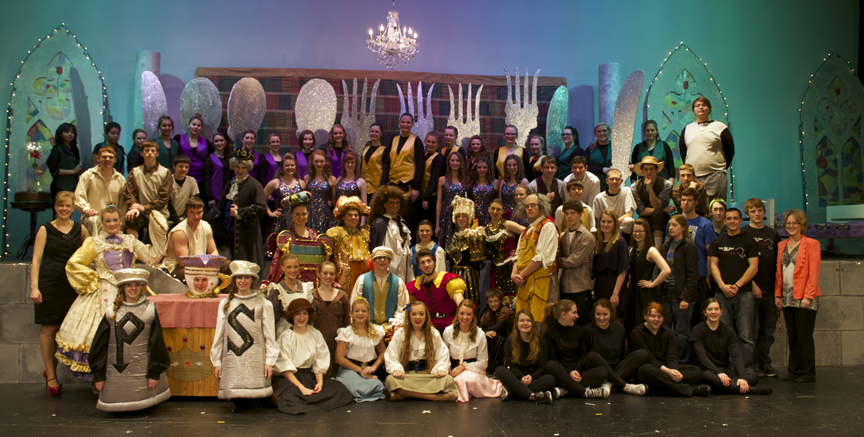 Preview Article:
Warrior vocal music department prepares for 2014 spring musical
'Beauty and the Beast' hits the stage April 3-6
The cast list is set, rehearsals have begun and plans are underway for another exciting musical at Wahoo High School this spring!
Disney's BEAUTY AND THE BEAST will open on the theatre stage at the Wahoo Performance-Learning Center on Thursday, April 3.
Due to the popularity of this classic beloved musical, there will be an additional show this year with four performances all together.
Show dates and times:
Thursday April 3 (7:00 p.m.)
Friday April 4 (7:00 p.m.)
Saturday April 5 (7:00 p.m.)
Sunday April 6 (2:00 p.m. matinée)
Tickets are $6 for students and $8 for adults. Advance tickets are highly recommended and will be available starting March 3. Tickets may be purchased at the Wahoo High School office or at Cookies and Cream.
Please come and enjoy the show! Thank you for supporting the arts at WHS!
--------------------
Synopsis:

Step into the enchanted world of Broadway's modern classic, Disney's BEAUTY AND THE BEAST! Based on the Academy-Award winning animated feature, the stage version includes all of the wonderful songs written by Alan Menken and the late Howard Ashman along with new songs by Mr. Menken and Tim Rice.
Your audiences will be transported to the heart of provincial life in a lovely French town. When Maurice becomes lost in the woods on the way to the fair, he seeks shelter in an old castle, but the master of the castle is a horrible beast that takes him captive. Maruice's daughter, Belle, must then give up her freedom to save his life. Belle's taming of the unfortunate Beast and his ultimate transformation back into a handsome prince enthralled Broadway audiences for over 13 years.
This "tale as old as time" is filled with spectacular costume and set opportunities, or even more simply staged, Disney's BEAUTY AND THE BEAST offers a great opportunity to bring your entire community together for family theatre at its best.
Cast:
ATTENTION CAST: Please click HERE to view the rehearsal schedule for BEAUTY AND THE BEAST. Thanks to everyone who auditioned!
BEAST..........................................................MATTHEW SPICKA
BELLE..........................................................TYLIE TINGELHOFF
GASTON..........................................................JACOB WIRKA
LEFOU...........................................................NATHAN REDDING
MAURICE.............................................................PATRICK WOLFE
MRS. POTTS.............................................................GABBY SIEBENALER
NARRATORS.........................................BAILEE SCHUBAUER/JOSH GREENWALT
SILLY GIRLS.................................................CARLEIGH OLSON, RONNIE BRUST,
HALEY JONES, CHALEIGH MATTSON
(SPEAKING PARTS WILL BE DIVIDED)
CHIP..........................................................KODY POPE
LUMIERE..............................................................JUSTIN SABATKA
COGSWORTH..............................................................CLAY REDDING
WARDROBE................................................................MADDIE MANN
BABETTE...................................................ELIZABETH HILL/LEILANI PERKINS
D'™ARQUE...............................................................ALEX ABBOTT
BOOK SELLER/CRONY #1...........................................SHANE NIXON
CRONY #2..............................................NOAH KOLTERMAN