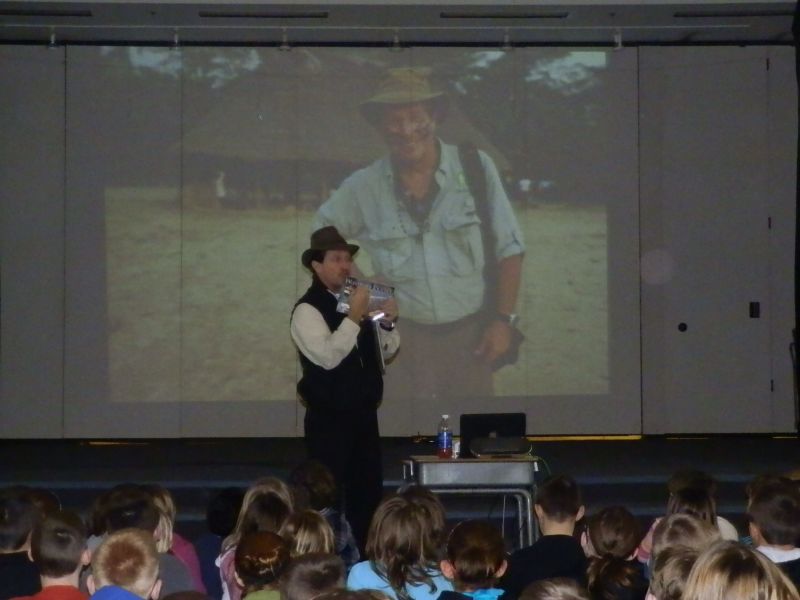 Wahoo native Dean Jacobs visited with Wahoo Elementary students on Feb. 19 to share his world travels and encourage them to follow their dreams.
Wahoo Native Dean Jacobs Shares World Travels with Elementary Students
PTO-Sponsored Visit Encourages Students to Follow Their Dreams
"Never give up on your dreams!"
This was the message from globetrotting photographer Dean Jacobs to students gathered to hear his tales of adventure and exploration.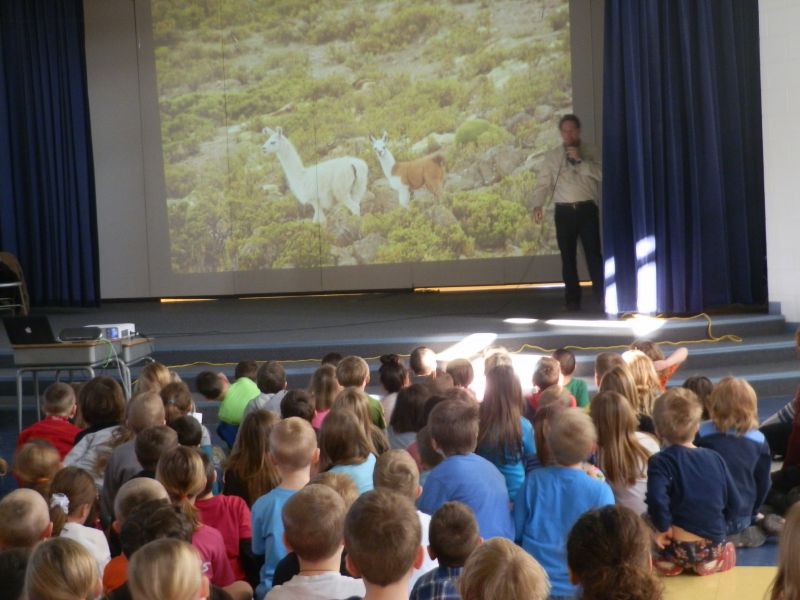 On Tuesday, Feb. 19, Wahoo Elementary was fortunate enough to welcome Jacobs, a Wahoo native, who has spent the past several years traveling the globe. Dressed as if ready for a safari at any moment, Jacobs spent the day at the elementary school, giving talks about his adventures to large groups of students, and then making visits to each classroom to answer questions from the students.
His visit was sponsored by the PTO.
Dean Jacobs' story starts in Nebraska. Born in Wahoo, raised in Fremont, Jacobs attended college at Wayne State where he received a degree in Biology. He had always wanted to travel, and after leaving a job in pharmaceutical sales, decided it was time to follow his dreams.
Leaving a secure job to travel the globe wasn't easy. Following a dream rarely is. Traveling meant giving up many things he took for granted. It meant selling his house, his car, giving up luxuries like TV, and living on a strict budget. It meant eating the food the locals ate, even if it was grubs and roasted guinea pig. He had to live as the locals lived, whether in huts or on the ground under the stars. He had always thought that people had to be rich to travel, but as he began his journey he realized that to really know a place, the less money you brought with you, the better you could understand what it really meant to live there.
Over the course of his travels, Jacobs has visited over 50 countries and counting, including a field assignment in Rwanda, Africa and a journey down the Amazon River. He has taken interest in special causes in the remote villages he has encountered, and has, in return for their hospitality, provided resources for health, education and natural resource conservation. He has authored two books about his adventures and has given talks to students and adults in several countries about his travels.
His message was clear to the students: Even a small town kid from Wahoo, Nebraska can do ANYTHING they put their minds to as long as they never give up on their dreams!
Wahoo Native Dean Jacobs Shares World Travels with Elementary Students
Judy Stukenholtz

Wahoo Elementary

teacher

Mar 04, 2013

Thank you to the Wahoo Elementary PTO for a great speaker!! The students and teachers were totally enthralled by his presentation and his books were great resources for our classrooms! We really appreciate everything that our PTO does for us!!