Warrior FBLA members volunteer time/labor at People's City Mission in Lincoln
Students encouraged to always take advantage of opportunities to serve community
WHS FBLA members, from left: Brianna Brabec, Kinsley Tingelhoff, Will Shanahan, Jaclyn Schnakenberg, Abi Klein, Taryn Scheef, Dylan Caples, Hannah Subbert, Brendan Lacey, Morgan Oden, Kaitlyn Herndon, Zane Bennett, Gabi Girmus, Alyson Bartels, Cade Belitz, Billy Hancock, Cameron Quick, Dylan Egr, Trevor Wood, Jack Maass, Ty Syverson, Corby Brigham, Spencer Clark, Colin Grandgenett, Austin Scott, Thomas Waido, Not pictured: Seth Syverson.
An important part of high school is educating our students on how to be a productive and positive part of their community. We want students to experience community service as much as possible, as we believe caring for others is an important part of becoming an adult and being a good citizen.
Following this philosophy, Wahoo High School Future Business Leaders of America (FBLA) members volunteered at the People's City Mission in Lincoln last week.
The students were divided into two groups. The first group sorted and bagged stuffed animals to be sent to South Africa. The Mission receives $.15 per pound for the toys. This money is used to purchase items needed at the Mission.
Other students sorted through donations and stocked the shelves in the store.
Students were surprised at the number of people lining the street waiting to get into the store. Each family is allowed ten minutes twice a week to gather 25 pieces of clothing and 25 household items. People were running to gather their necessities. Imagine completing your shopping in ten minutes!
It was an eye-opening experience for our students. One can't help but feel empathy for these people. When it was time to go, the students felt as if there was still more work to be done and asked if we could come back again.
Mission accomplished! :)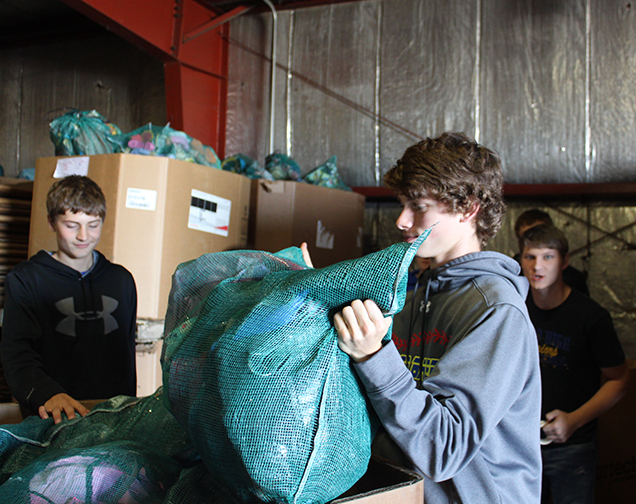 Thomas Waido, Colin Grandgenett, and Spencer Clark bag stuffed toys to be sold to South Africa.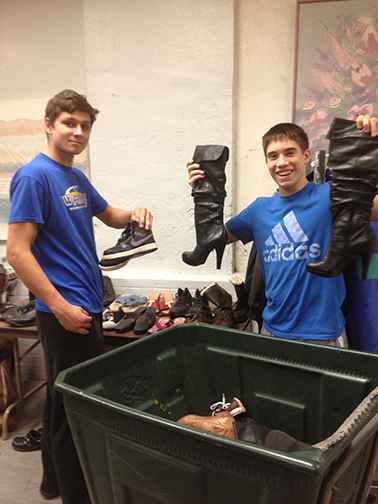 Cade Belitz and Austin Scott sort through the shoe tote.
Warrior FBLA members volunteer time/labor at People's City Mission in Lincoln
Sam Winchell

sambo1955@hotmail.com

Wahoo Nebr

Disabled and retired

Dec 04, 2016

So proud of our a Wahoo kids to go out and help out at the Mission. What an experience for them to see how people live these days. And to ask when they were done with their day of work, if they could come back and help again.