19 WHS students attend 2016 FBLA NE State Leadership Conference
Members participate in election of officers, business competitions and seminars
Nineteen WHS students attending the 2016 FBLA Nebraska State Leadership Conference on April 7-9 in Omaha.
Members of Wahoo High School's Future Business Leaders of America (FBLA) recently attended the Nebraska State Leadership Conference in Omaha on April 7-9, 2016.
On the way to the conference, the students took time to tour Werner Enterprises in Omaha. Students were able to explore a semi-truck cab and use a simulator to test their driving skills behind the wheel of a big rig.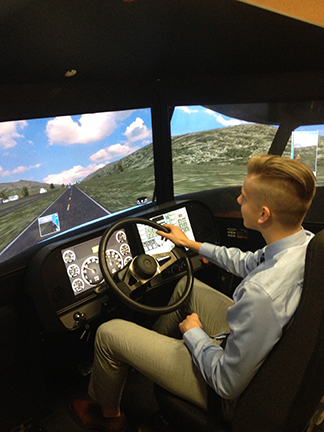 WHS sophomore Michael Bratkowski takes a turn at the big-rig simulator.
At the FBLA conference, members participated in the election of state officers, business competitions and seminars.
There were 2,446 students and advisers representing 143 chapters from across the state. Membership in the Nebraska FBLA reached an all-time high this year of 5,790 members.
Winning recognition at the conference were: Who's Who in FBLA--Corby Brigham, and Honorable Mention in Business Law--Jack Maass.