Wahoo FBLA Chapter competes in Midland U's annual Business Competition Day
6 bring home awards from March 8 event
Eighteen WHS FBLA Members competed in the 2016 Business Competition Day. Six brought home awards from the March 8 event.
Eighteen members of the Wahoo Future Business Leaders of America (FBLA) Chapter competed at Midland University's annual Business Competition Day on Tuesday, March 8.
There were a series of tests taken on various business topics such as Accounting, Personal Finance, Economics, etc.
All students took three tests. Once the tests were over, students had free time to tour the campus.
Lunch was followed by a quiz bowl competition with Corby Brigham, Tate Peterson, Sam Brabec, and Jack Maass representing WHS. The day ended with an awards ceremony at the Midland Event Center.
Congratulations to those who received awards:
Taryn Scheef: Business Communication - 2nd place
Ryan Volin: Global Business - 2nd place, Banking and Financial Systems - 3rd place
Cole Krecklow: Accounting II - 3rd place
Sam Brabec: Economics - 4th place, Business Communication - 5th place, and Business Calculations - 6th place
Jack Maass: Economics - 5th place
Colin Grandgenett: Global Business - 6th place.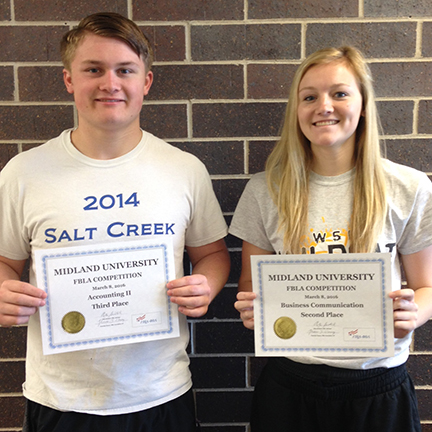 From left: Cole Krecklow (3rd in Accounting II) and Taryn Scheef (2nd in Business Communication).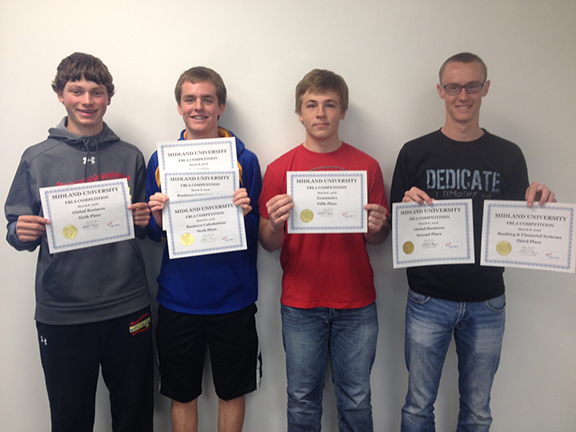 From left: Collin Grandgenett (6th in Global Business ), Sam Brabec (4th in Economics, 5th in Business Communication, 6th in Business Calculations),
Jack Maass (5th in Economics), and Ryan Volin (2nd in Global Business, 3rd in Banking and Financial Systems).