Fairbury Ends Warriors' 2012 Season in 4th Round of State Tourney
Warriors Enjoy 5th Straight Trip to State; Finish with 30-8 Record
2012 Warrior Softball Team
2012 State Tournament Scores:
Wahoo vs. Centennial - WIN (13-12)
Wahoo vs. Guardian Angels Central Catholic - LOSS (7-8) [PHOTOS]
Wahoo vs. Milford - WIN (9-6) [PHOTOS]
Wahoo vs. Fairbury - LOSS (5-6) [PHOTOS]
(photos courtesy of Renee Hancock)
Final 2012 Record: 30-8
---------------
Warrior Softball: 2012 C-2 District Champions!
28-6 Wahoo Shoots for Third Consecutive State Title
Congratulations Warrior Softball: 2012 C-2 District Champions!
After losing to Ashland 7-9 in their debut yesterday, Wahoo made a clean sweep to capture the title: 12-4 over Conestoga, 3-2 over Yutan-Mead, 7-1 over Ashland-Greenwood, and two wins over Bishop Neumann for the championship (12-4 and a nail-biting 10-7 [game ended with bases loaded for Neumann!]). 
Wahoo will make its fifth straight appearance at the State Tournament, and will be going for its third straight Championship! 
The 2012 State Softball Tournament will be played Wednesday, Thursday, and Friday, October 10-12 at the Bill Smith Softball Complex in Hastings (3900 Osborne Drive East). The #3-seeded Wahoo Warriors (28-6) will debut in Game 3 against the #6-seeded Centennial (19-12) on Wednesday, October 10 1t 3:00 p.m. (Field #3).
Tickets may now be purchased online through the NSAA website. Adult day passes are available for $9.00, and K-12 student day passes are $7.00. Please click HERE to purchase your passes.
Please click HERE to view the full Class C State Tournament bracket.
Way to go Warriors, and good luck at State!
Wahoo to Host Oct. 4-5 District Tournament
20-4 Wahoo Earns #1 Seed
2012 District C-2 Tournament:
Wahoo will host this year's district tournament on Thursday and Friday, October 4-5, at Hackberry Park. The #1-seeded Wahoo Warriors will debut in Game 3 on October 4 at 1:00 p.m. They will take on the winner of the Ashland-Greenwood and Yutan-Mead game.
Please click HERE to view the complete tournament bracket.
GOOD LUCK WARRIORS!
Congratulations Warrior Softball: 2012 Capitol Conference Champions!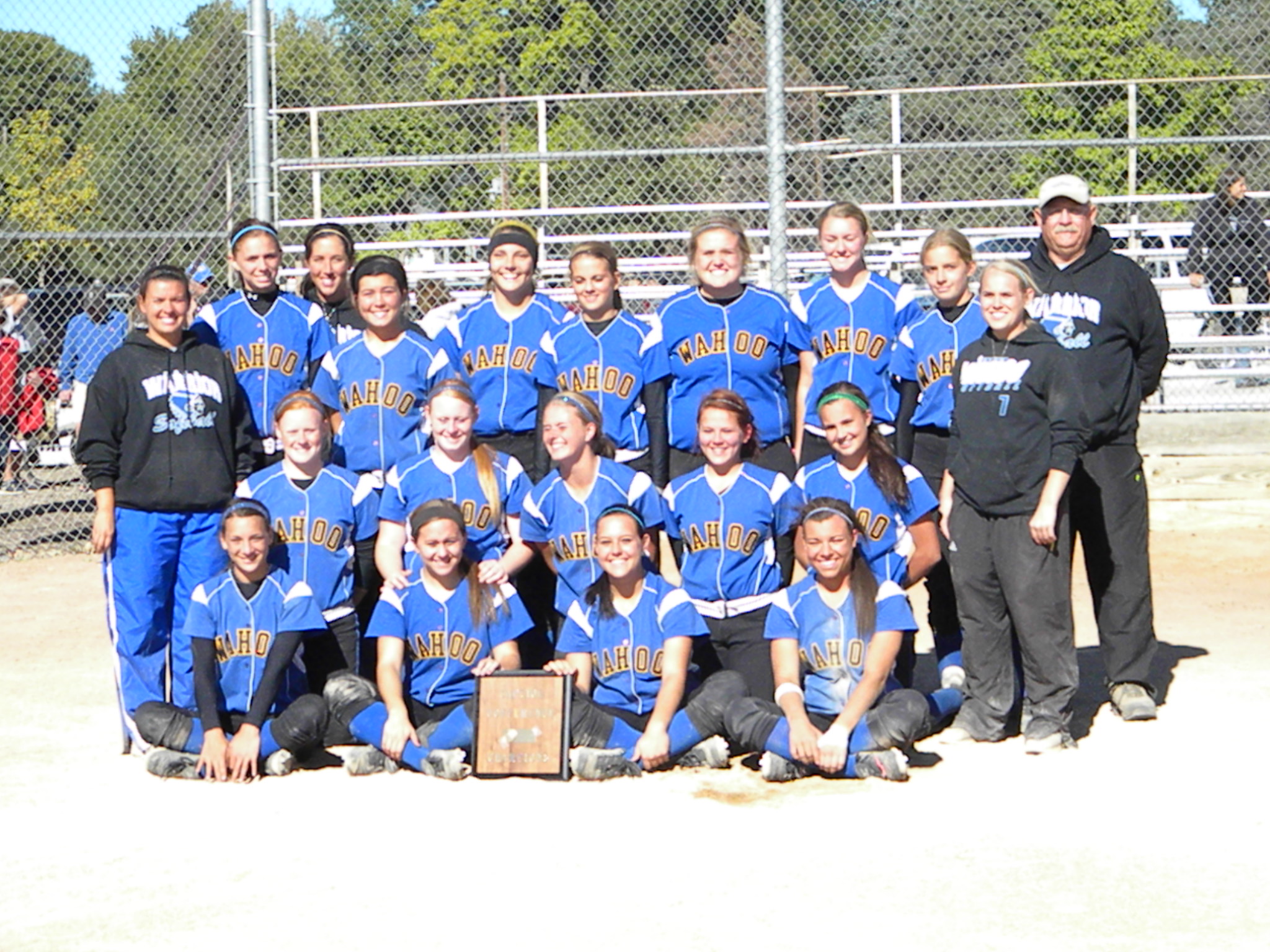 Game #1:
Wahoo    11
D.C. West    1   (4 innings)
Game #2:
Wahoo    9
Ashland-Greenwood    1   (5 innings)
Game #3 (Championship):
Wahoo    10
Fort Calhoun    3
From Head Coach Katrina Christen:
The Wahoo Warrior Softball Team is off to a great start!
They are sitting at a record of 15-4 heading into conference tournament this weekend. The conference tournament is in Wahoo and the Warriors are set to play D.C. West at 10:45 a.m. in first round action.
Offensively the Warriors are led by junior shortstop Taylor Otte. Otte has an average of .458 and has 15 stolen bases. Michaela Miller, Emily Harrell, and Morgan Talbert are also hitting in the 400's, which is very impressive.
Miller leads the Warriors on the mound with an ERA of 3.14. Maddy Partridge is 3-0 on the mound for Wahoo as well. Rachel Stratman is very strong behind the plate and has only given up three stolen bases all season.
Alicia Iversen has proven to be the team's leader on and off the field. Her bat is really coming around as well. She has had to step in and play many different positions since there have been so many injuries.
Sophomore Kelsey Tomjack stepped into the starting spot of 2nd base when Shauna Tweedy went down with a shoulder injury and she has been solid. Juniors Katie Harrell and Kelsi Anderson round out the Wahoo starting nine. Both of them are strong offensively and defensively.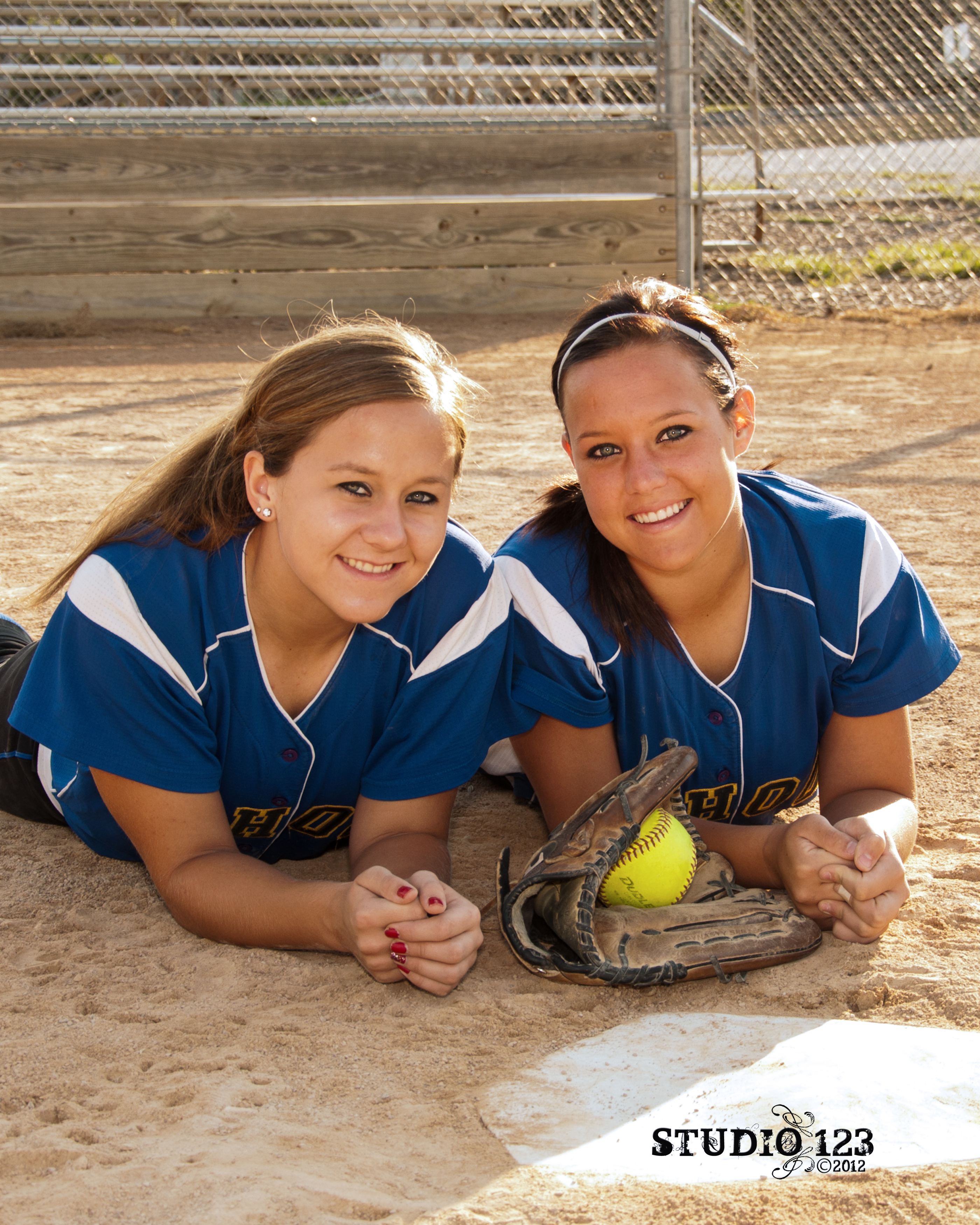 2012 Softball Seniors Morgan Talbert and Alicia Iversen.