2011 CLASS C STATE SOFTBALL CHAMPIONS!
For 2nd Straight Year, Wahoo Defeats Ashland-Greenwood for Title; All-State Honors Posted
2011 Class C State Champions!
Congratulations to the following Warrior softball players, named to the 2011 All-State Teams by the Omaha World-Herald (OWH) and/or the Lincoln Journal-Star (LJS):
Sydney Hancock
Class C 1st Team All-State - OWH and LJS (Honorary Captain in both papers!)
1st Team Super State - LJS
2nd Team All-Nebraska - OWH
Aubrey Voboril
Class C 1st Team All-State - OWH and LJS
1st Team Super State - LJS
2nd Team All-Nebraska - OWH
Taylor Otte
Class C 2nd Team All-State - OWH
Michaela Miller
Class C Honorable Mention All-State - OWH and LJS
Morgan Talbert
Class C Honorable Mention All-State - OWH
-------------------------
CONGRATULATIONS #6-seeded Warrior Softball on defeating Ashland-Greenwood 10-3 in the 2011 Class C State Championship Game at the Bill Smith Softball Complex in Hastings!
This is Wahoo's second straight title at State!
Wahoo was flawless in the double-elimination tournament!
Please click HERE to read Lincoln Journal-Star game coverage.
Please click HERE to read Fremont Tribune game coverage.
Previous Tournament Scores:
Round 1: 9-4 win over #3 Guardian Angels Central (West Point)
Round 2: 11-4 win over #2 Gothenburg
Round 3: 10-2 win over #8 Ashland-Greenwood
Please click HERE to view to entire updated State bracket (all classes--final).
WAY TO GO WARRIORS! Congratulations on another fantastic season!
From Head Coach Trina Christen:
The Warrior Softball team finished the season with a record of 28-7 and a State Championship!
Those 7 losses came at the hands of 4 other state qualifying teams: Class B Bennington and Ralston, and Class C Raymond Central and Arlington.
During the regular season, the Warriors took 2nd place in the Ashland-Greenwood Invite, 1st place in the Plattsmouth Tournament, 2nd place in the Conference Tournament, 1st place in the Bishop Neumann Quadrangular, and 2nd place in Districts.
During the State Tournament in Hastings, the girls opened up play with Guardian Angels CC from West Point. The Warriors' offense was lead by Taylor Otte, Michaela Miller, Rachel Stratman, Sydney Hancock, and Aubrey Voboril. Voboril hit a 2-run homerun in this first round game and was the winning pitcher.
In game 2 the Warriors faced the Gothenburg Swedes. They won this game with a score of 11-4. The bats were hot once again and the offense compiled a total of 18 hits! Aubrey Voboril, Shauna Tweedy, and Kelsi Anderson all went 3-4 to lead the offense. Taylor Otte, Alicia Iversen, Sydney Hancock, and Morgan Talbert all went an impressive 2-4 as well.
In the 3rd round game, the Warriors faced Ashland-Greenwood and won 10-2 in 5 innings. The Warrior bats stayed hot in this game as well. They were lead by Taylor Otte, Sydney Hancock, Aubrey Voboril, and Kelsi Anderson. Both Hancock and Voboril hit out-of-the-park homeruns. Voboril took the win on the mound striking out 6 and only allowing 6 hits.
In the championship game the bats started a little quiet for Wahoo; however, in the 6th inning they came alive to score 7 runs. Taylor Otte, Aubrey Voboril, Rachel Stratman, and Morgan Talbert all had key offensive performances for the Warriors. Otte led the game off with a solo homerun! Once again Voboril got the best of the Jays on the mound. Defensively the girls played solid throughout the tournament. It took hard base hits from the opponents to get runners in scoring position.
The girls never stopped believing and came to Hastings with one goal in mind. By late Friday they had accomplished that goal. Our senior leaders set the pace and everyone followed them right onto a State Championship. After a few roller coaster rides throughout the season, this was the perfect ending!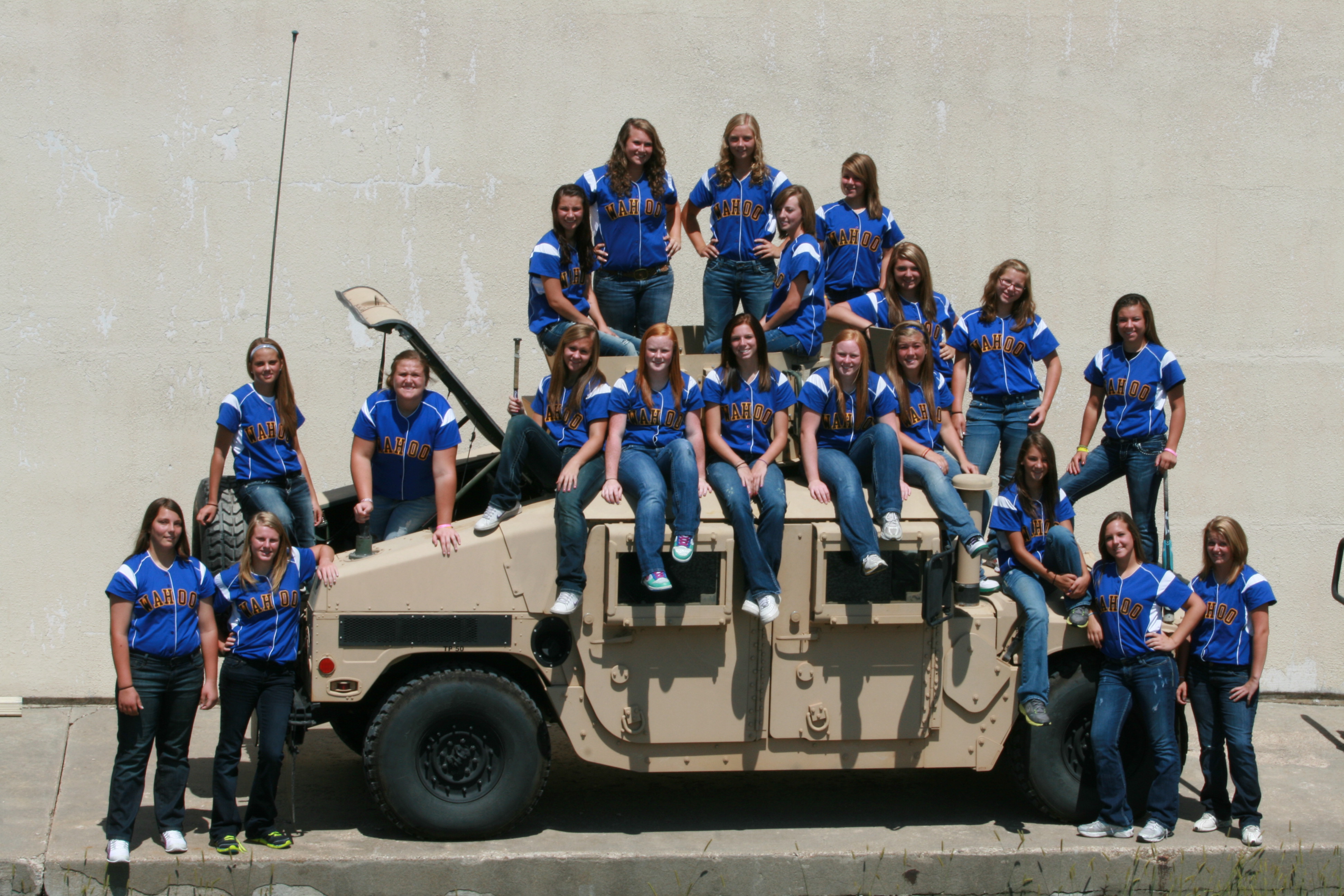 Video Highlights from Channel 10-11 in Lincoln: