'16 WHS grad Alexis Vrana published in new University of Nebraska Press book
"Voices of Nebraska" anthology celebrates the Press's 75th anniversary
To celebrate its 75th anniversary of publishing prestigious and award-winning literature, the University of Nebraska Press collected an anthology of fiction, nonfiction, and poetry written by Nebraska undergraduate college students and high school seniors in the theme of "Voices of Nebraska: Diverse Landscapes, Diverse Peoples."
The University of Nebraska Press released the following statement about the authors published in the book: "Drawing from their experiences with nature, family traditions, and history, the budding writers selected for this volume are officially joining the ranks of the Press's countless published writers, every one of whom has helped shape both the Press and the state of Nebraska."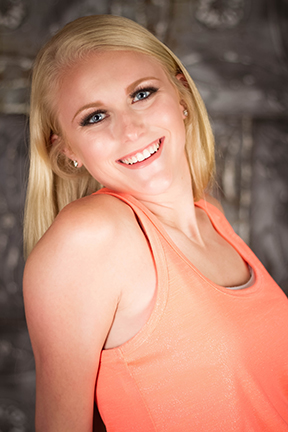 Alexis Vrana, WHS Class of 2016
---------------
Alexis Vrana, a 2016 graduate of Wahoo High School, had her essay, "Rusty Cars," selected to be published in Voices of Nebraska: Diverse Landscapes, Diverse Peoples. Vrana, currently a freshman at the University of Nebraska at Lincoln, wrote the essay for an assignment in her Composition I class at Wahoo High School, taught by Larry Fangman.
Fangman had read about the publishing opportunity and had suggested that Vrana and another student send their essays to the University of Nebraska Press for consideration. Vrana was informed over the summer that her essay would be included in the book that was published on November 1. The book was displayed prominently at the Press's 75th anniversary celebration on November 17.
"I had known Harold my entire life. Out of all my Dad's friends, Harold was my family's favorite one. He owned a car repair shop full of old cars, trucks, and tractors. The shop was in such a peaceful place—that is until a train flew by blaring its horn. The smell of old rusty cars always filled my nostrils as I hopped out of my dad's pickup truck and ran toward the shop to greet Harold and his dog," begins Vrana's essay.
"It was quite an honor for Alexis to have her essay published. She was one of only four high school students to have their writing included in the book. She did a great job of writing about a special person and showing how diverse people like Harold are what makes Nebraska unique," Fangman said.
The book is available from Amazon.com or can be purchased from area bookstores (ISBN number 978-1-4962-0067-9) for $9.95. It is also in Wahoo High School's library collection.