Congratulations WHS Academic Decathlon members (from left) Dalton Rademaker, Alex Talbott, Parker Nicholls, Ashley Benson and Paris Mood for earning medals at the Dec. 8 Pius X High School scrimmage in Lincoln!
WHS AcaDeca Brings Home 7 Medals from Pius X Scrimmage!
Team Prepares for Jan. 19 Regional; Strives for Return to State Finals
The WHS Academic Decathlon Class competed in this year's second scrimmage on Saturday, December 8 at Pius X High School in Lincoln. Wahoo students competed against schools from around Eastern Nebraska in three academic areas: Economics, Music, and Science/Social Studies. When all was said and done, the Wahoo team walked away with seven medals!
Fifteen WHS Academic Decathlon students attended a practice scrimmage on Saturday, Nov. 8, hosted by Pius X High School in Lincoln. Five members brought home seven medals in the Economics, Music and Science/Social Studies competitions!
Congratulations to the five students who medaled at this competition: Alex Talbott (Honors Division): 2nd place in Science/Social Studies, 3rd place in Music, WHS Top Scorer; Dalton Rademaker (Varsity Division): 1st place in Music; Paris Mood (Scholastic Division): 3rd place in Science/Social Studies; Parker Nicholls (Varsity Division): 2nd place in Music, 3rd place in Economics; and Ashley Benson (Varsity Division): 3rd place in Music
.
On the heel's of Talbott's top score, Wahoo's 2nd and 3rd overall top scorers were Rachael Meyer (Honors) and Tyler Ruzicka (Honors). Both performed very well, and missed medaling by a small number of points.
"All the members of our team did very well. We were excited about having seven medalists, and several of our students had very competitive scores," commented WHS Academic Decathlon Co-Sponsor Andrea Mann.
Warrior AcaDeca now prepares for its regional competition, which will be held Saturday, January 19, 2013 at Midland University in Fremont. In this competition students will compete in all academic areas (Art, Economics, Language & Literature, Mathematics, Music, Science, and Social Studies).
In addition to competing to qualify for the State Finals, students also compete for scholarships, which are awarded to all first, second, and third place teams at each regional site.
WHS will send a team of six students (two from each division), and an alternate team to compete at regionals.
Wahoo's main team will consist of the following students:
    Honors: Alex Talbott, Tyler Ruzicka
    Scholastic: Paris Mood, Sydney Kudritzki
    Varsity: Dalton Rademaker, Parker Nicholls
Wahoo's alternative team will consist of the following students:
    Honors: Rachael Meyer, Ronnie Brust
    Scholastic: Wyatt Hundstad
    Varsity: Jacob Wirka, Ashley Benson
Winners of the regional competitions across the state will advance to the State Finals, scheduled for February 15-16 at Creighton University in Omaha. The State Champion will then compete in the April 25-27 National Finals in Minneapolis, MN. 
WHS qualified for the State Finals last year, its first year with an AcaDeca team.
Good luck at regionals Warrior AcaDeca!
PAST SEASON ARTICLES:
WHS Incorporates AcaDeca into 2012-2013 Curriculum
Ruzicka/Rademaker/Wirka Bring Home Medals from Lincoln NE Scrimmage
November 4, 2012
Возможность для интенсивного изучения России, прошлое и настоящее, это мечта в этом году на 16 Wahoo студентов высших учебных заведений!
The United States Academic Decathlon (USAD) is a national scholastic competition dedicated to promoting and rewarding the academic achievement of students. For 2012-2013, Wahoo High School has added an Academic Decathlon class to its curriculum as an elective offering. The course is taught by WHS Language Arts Teacher Andrea Mann and WPS Media Director David Privett. Sixteen brave WHS students have signed on for the challenge!
2012-2013 WHS Academic Decathlon team attended a practice scrimmage on Saturday, Nov. 3, hosted by Northeast High School in Lincoln. Three members medaled individually, and many others improved their scores last year and scored in the top third!
Each year the USAD announces a broad topic of study. That topic of study is then spread over 10 academic areas (hence the name decathlon). Topics of study include Art, Economics, Language, Literature (including a novel study), Math, Music, Science and Social Studies. There are also essay, speech and interview events at the state and national competitions. The students study this curriculum throughout the year, in preparation for competition in the spring.
This year's topic of study is "Russia" (that justifies the goofy first sentence of this article!). Students are studying all aspects of Russia, from its founding around 800 BC, to Imperial Russia and the Russian Revolution, to the world's introduction to communism with the formation of the U.S.S.R., to modern-day post-soviet Russia. The annual Academic Decathlon curriculum also includes a novel study. This year's assigned novel is Doctor Zhivago by Boris Pasternak.
For competition, students are placed into one of three categories (Honor, Scholastic, and Varsity) based on their grades over the past two academic years. Teams of nine are required for competition, and each team must consist of three students from each of the three categories.
In preparation for our big regional competition in January, held at Midland University, students have an opportunity to compete in two practice scrimmages each fall.
Our first scrimmage was held on Saturday, Nov. 3 at Northeast High School in Lincoln. This competition focused entirely on the Art, Language and Literature, and Mathematics sections of the curriculum.
Congratulations to Tyler Ruzicka, who was Wahoo's top scorer for the Lincoln Northeast scrimmage. Ruzicka also took home the 3rd place medal in Language and Literature for the Honors Division!
Congratulations also to Wahoo's other two medalists: Dalton Rademaker and Jacob Wirka. Both students received medals in Art in the Varsity Division (Rademaker 2nd place, Wirka 3rd place).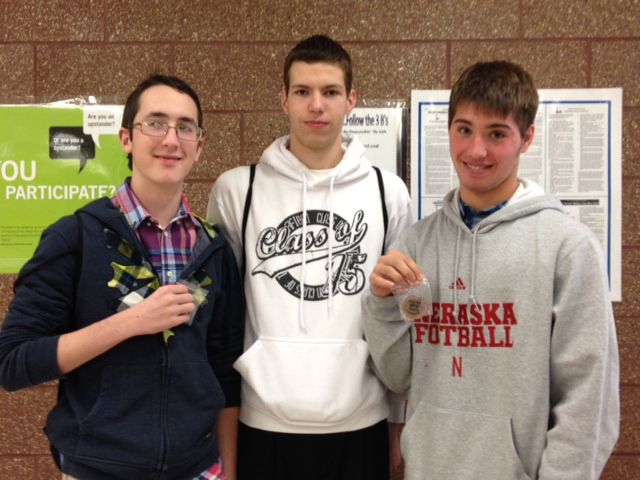 Congratulations WHS Academic Decathlon members Dalton Rademaker, Tyler Ruzicka and Jacob Wirka for earning medals at the Nov. 3 Northeast High School scrimmage in Lincoln!
"Overall I was pleased with our performance on Saturday," commented Privett. "Most students have improved their scores over last year, and many were very close to bringing home medals. We had a lot of scores in the upper third of all competitors, and that's a success for a new team competing against a lot of schools with very well-established programs."
The WHS AcaDeca class will spend the next month focusing on the areas of Economics, Music, Science and Social Science sections. These will be the areas of focus at the next scrimmage, scheduled for Saturday, Dec. 8 at Pius X High School in Lincoln.