Five Warrior Wrestlers State-Bound!
WHS to be Well-Represented at Feb. 17-18 State Tournament
Joel Gensler, District Champion, 140 lbs. (please click on photo to see other State qualifiers)
Results from Day 1 of State Tournament:
Randy Else was defeated by Ethan Fletcher of Bennington.
Joel Gensler was defeated by Alejandro Vegara of O'neill by a score of 4-1.
Schyler Shanahan was defeated by Skyler Kalinski of McCook by a score of 9-0
Cameron Golter was defeated by Tre Richardson of Boystown by pin fall.
Seth Stuart was defeated by Bryce Lewis of Minden by pin fall.
All Wrestlers will wrestle this afternoon (Friday) at 12:30 p.m.
Congratulations to the 5 Warrior Wrestlers who have qualified for the 2011 State Tournament: Joel Gensler (District Champion), Seth Stewart, Randy Else, Schyler Shanahan and Cameron Golter!
The 2011 NSAA State Wrestling Tournament is scheduled for Thursday & Friday, February 17-18 at the Qwest Center in Omaha.
Please click HERE to view the State Wrestling schedule.
Please click HERE to view the State Tournament brackets.
Warrior Grapplers Head to Qwest with All Pistons Rolling!
On Friday, February 4 the Wahoo wrestling team battled cross-town rival Bishop Neumann in a dual. Although the team score was 48-28 in favor of the Cavaliers, the majority of the wins were in favor of the Warriors.
The night began with a trio of wins by Wahoo JV wrestlers Nate Redding, John Hollman, and Zach Jansa. The varsity team continued the success by winning six of eight matches. Kyle Wobker, Seth Stewart, and Kory Divis all picked up falls against their opponents. Also adding wins for the Warriors were Randy Else, Joel Gensler, and Cameron Golter. Colton Spangler and Alex Talbott also competed in the varsity dual.
After a week of preparation the Warriors headed to Norris High School to compete in the B-1 District Tournament. The Warriors began the tournament with an undefeated first round with wins from Joel Gensler, Schyler Shanahan, Cameron Golter, Seth Stewart, and Kory Divis.
The Warriors then came out of the quarterfinals with a 4-3 record, with Gensler, Shanahan, Golter, and Stewart picking up their second victories of the night. In the last round of the Friday night session, Divis pinned Jared Anderson of Norris to keep all 7 Warrior wrestlers competing on Saturday.
Saturday began with the semifinals and consolation quarterfinals. In the semifinals, two Warriors, Gensler and Golter, came through victorious to guarantee their ticket to the state tournament. Stewart and Shanahan dropped to the consolation semifinals with their defeat. In the consolation quarterfinals Randy Else picked up the lone win while Kory Divis and Colton Spangler both suffered losses in very close matches.
Going into the consolation semifinals, also known as the heartbreak round, the Warriors needed wins to earn a trip to state. Randy Else received a major decision over Robert Georges of Auburn, Schyler Shanahan pinned Garrit Fischer of Auburn, and Seth Stewart defeated Christopher Christiansen of Ashland-Greenwood 9-2 to set the number of state-bound Warriors at five.
In the consolation finals, Randy Else suffered a 7-4 loss to Jesse Barton of Nebraska City. Schyler Shanahan was pinned by Logan Auffert of Falls City and Seth Stewart was beat 9-1 by Kyle Burkhardt of Milford. The three wrestlers ended the weekend with 4th place finishes.
In the championship finals Cameron Golter received second place after losing a close match with DJ Marco of Nebraska City 4-2. Joel Gensler became Wahoo's second district champion in the last two years after a 2-1 win over Justin Kelch of Beatrice.
The Warriors look to continue the success this weekend as they head to the Qwest Center in Omaha to compete against the top wrestlers in the state. Wrestling begins at 4:30 p.m. on Thursday, 12:30 p.m. on Friday, and 9:30 a.m. on Saturday morning.
Warrior Wrestlers Prepare for B-1 District Tournament (Feb. 11-12)
Tournament Hosted at Norris High School; Schedule Posted
Norris High School will be hosting the B-1 District Wrestling Tourney February 11-12, 2011.
The following is the time table for the action:
Friday, February 11, 2011:
2:00 pm Scales open—East locker room
2:30 pm weigh in and seeding meeting
4:30 p.m. First Round
Followed by Quarterfinals
Followed by Wrestle back—second round
Saturday, February 12, 2011:
8:30 a.m. Scales open—East locker room
9:00 a.m. Weigh‐ins
10:30 a.m. Semi‐finals and third round wrestle backs
Break
Semi‐final wrestle backs—also known as heartbreak round
Championship and consolation finals—Approximate time 3:30 pm.
The following teams are entered:
Ashland‐Greenwood, Auburn, Falls City, Crete, Lincoln Christian/Lincoln Lutheran, Seward, Nebraska City, Norris, Milford, Wahoo, Beatrice, Waverly
Five of Five Medal at Capitol Conference Wrestling Tournament
Warrior Grapplers Prepare for Tuesday Triangular at Bennington
On Saturday, January 22 the Wahoo wrestling team competed in the Capitol Conference tournament hosted by Wahoo.
Wahoo was able to medal all five wrestlers that competed in the tournament, finishing with three 2nd place finishes and two 4th place finishers. Placing second for the Warriors were senior Randy Else, senior Joel Gensler, and junior Seth Stewart. Earning fourth place medals for Wahoo were juniors Schyler Shanahan and Cameron Golter.
Else started his tournament in the 130 lbs. weight class with a win over Zach Graham of Syracuse by decision 5-4. In the Semifinals Else was able to beat Jay Dolzer of Bennington by decision 6-5. Else went on to face Brody Welchert of Fort Calhoun and was defeated by decision 12-5, earning him the silver medal.
Gensler wrestled at the 140 lbs. weight class for the Warriors. Gensler's first round match was against Colby Burke of Douglas County West, in which he won by major decision 13-2. Gensler won his semifinal match against Cameron Menard of Arlington by decision 5-3. Gensler then went on to wrestle Meade Laaker of Bennington in the finals and lost by decision 3-4, earning 2nd place.
Shanahan placed 4th at weight class 145. Shanahan's first loss came to Zane Brauckmuller from Ashland-Greenwood by decision 11-8. Shanahan won his consolation quarter-final match against Fort Calhoun's Jeffery Hofer by pin fall in a time of 0:20. In his consolation semifinal match Shanahan beat Tyler Curtis of Douglas County West by technical fall 15-0. Shanahan faced Ashland-Greenwood's Brauckmuller again in the consolation finals, but this time was defeated by major decision 10-2, finishing in 4th place.
Golter wrestled at the 152 lbs. weight class for the Warriors. Golter won his first match of the day against Douglas County West's Evan Brichacek by pin fall in a time of 0:53. Golter then went on to lose his semifinal match against Taylor Mues of Arlington by major decision 16-3. In his consolation semifinals match, Golter defeated Niko Johnson of Ashland-Greenwood by major decision 9-0. In his consolation finals match, Golter was defeated by Raymond Central's Ben Lodema by decision, 8-3, to earn him the 4th place medal.
Stewart finished the conference tournament with a 2nd place finish at 160 lbs. Stewart won his first match of the day against Syracuse's Christian Eads by decision 15-9. Stewart then went on to win his semifinals match 11-3 over Ashland Greenwood's Chris Christiansen. In his finals match Stewart was defeated by Connor Hovey of Bennington by pin fall in a time of 2:33.
The Warriors travel to Bennington on Tuesday, January 25, for a triangular with the Bennington Badgers and the Blair Bears.
Five of Six Wrestlers Leave Syracuse Tournament with Medals
Warriors Prepare for January 22 Capitol Conference Tournament (at WHS)
Friday, January 14, 2011
The Wahoo Warrior Wrestling team attended the Syracuse Pin Tournament on Friday, January 14.
The only way to score team points at the tournament is by pinning your opponent. Although the Warriors were scored 10th of 13 teams, they had five of their six wrestlers earn medals.
Senior Joel Gensler won the 140-pound bracket by going 3-0 on the night. He began the tournament with an Injury Default over Brenden Debrie of Louisville after leading 8-4 in the first period. In the semi-finals, Gensler defeated Randy Null of Plattsmouth with a 5-4 decision. In the finals Gensler took down Oakland-Craig's Sean Pille for the second time this season by a score of 3-2.
Junior Schyler Shanahan placed second in the 145-pound bracket after a 2-1 night. Shanahan started out with a 4-3 victory over Kenneth McNeill of Oakland-Craig. In his semi-final match, Shanahan pinned Lucas Lias of Plattsmouth in the second period. Shanahan received his only loss of the night in the finals when Austin Ruskamp of Freeman was able to get the 7-2 decision over him.
Fellow junior Seth Stewart received third place in the 160-pound bracket. Stewart started his night by falling to Landon Dwinell of Norris in the first round by pin fall. Stewart bounced back quickly with four straight wins. He defeated Austin Jorgensen of Oakland-Craig with a 3rd period pin, Levi Haynes of Auburn with a 2nd period pin, Steihl Reeves of Louisville in a 12-5 decision, and achieved redemption from his first round loss by pinning Dwinell of Norris in the 3rd period for a third place finish.
Senior Randy Else placed fourth in the 130-pound bracket with a 1-2 record for the night. Else was defeated twice by Zach Graham of Syracuse, in the first round and in the third and fourth place match. Else scored a 10-5 victory over Frank Manning of Conestoga between the matches against Graham.
Senior Kory Divis began his night with back-to-back wins with a 12-0 major decision over Skylar Kellison of Plattsmouth and a 9-8 decision over Tyler Shumaker of Louisville. Divis suffered his first loss in the semifinals when Taylor Hoffman of Oakland-Craig scored a fall in the first period. Divis came back with a 2nd period fall over Blaine Price of Norris. In the consolation finals, Divis lost to Alex Gonsalves of Auburn, 17-8, to earn a fourth place medal.
Junior Cameron Golter competed in the 152-pound bracket but was eliminated after going 1-2 on the night.
The Warrior Wrestling team will next compete at the Capitol Conference Tournament at Wahoo High School on Saturday, January 22.
Warrior Grapplers Compete at High Plains Invite
January 7-8, 2011
On January 7 and 8 the Wahoo Wrestling team ventured out to Clarkes, Nebraska to wrestle in the High Plains Invite. Wahoo wrestled four of their Varsity wrestlers and placed 14th out of 18 teams.
Senior Randy Else placed eighth in the 130lbs. weight bracket. Else went 2-3 on Friday, earning the 8th seed into Saturday's tournament. Else was then defeated on Saturday by fall to Ricky Avila from Madison in a time of 1:10, and then lost 11-4 to Marti Phillips of David City to earn eighth place.
Junior Schyler Shanahan placed 5th in the 145lbs. weight class. Shanahan started Friday going 4-1, earning him the 4th seed for the tournament on Saturday. Shanahan's first round match against Trae Deeder of Madison ended in a loss by fall in a time of 2:15. Shanahan then went on to beat Centennial's Andrew Beder by pinfall in a time of 0:37. High Plains Community's Tanner Fate then beat Shanahan 8-4. In his final match, Shanahan won against Madison's Trae Deeder by injury default earning him the 5th place medal.
Junior Cameron Goulter wrestled at the 152lbs. weight class for the Warriors. Golter went 1-2 in his pool on Friday and did not make it into the tournament Saturday.
Junior Seth Stuart placed wrestling in the 160lbs. weight class. Stuart went 3-0 on Friday to earn the 4th seed going into Saturday's tournament. Stuart won his first match on Saturday against Palmer's Zach Dammann by fall in a time of 3:14. Stuart then went on to face Schuyler's Easton Nelson and was pinned in a time of 2:40. In the consolation semifinals Stuart was beat by Thomas Connely of Norfolk Catholic in a time of 4:28. Stuart then went on to injury default his last match due to a prior injury he had sustained during the day and ended up 6th.
"This is one of the toughest meets we go to," said Head Coach Darold Foster. "I thought for the most part our guys wrestled tough. It would have been nice to have everyone get into Saturday's tournament, but sometimes it just doesn't work out. We have a lot to work on, but the guys that we have are hard working and I think we will continue to improve."
The Warriors travel to Syracuse on the January 14 to wrestle in the Syracuse Pins Tournament.
6 of 7 Varsity Wrestlers Make Finals at Wahoo Invitational
Gensler Takes 1st Place
December 18, 2010
CONGRATULATIONS Warrior Wrestlers: 6 out of 7 varsity wrestlers made it into finals at Saturday's Wahoo Invitational (3 out of 4 JVers)! Joel Genser-1ST PLACE, Schyler Shanahan-2nd place, Randy Else-2nd place, Seth Stewart-3rd place, Cameron Golter-4th place, Colter Mattson-4th place. Please click HERE to read the Lincoln Journal Star's coverage of the Invitational.
Warrior Grapplers Start Season Off with Ashland Triangular
Wahoo Hosts Yutan Tuesday Night
December 2, 2010
The Warrior wrestling team started their season off on Thursday, December 2, traveling to Ashland for the Ashland-Greenwood/Raymond Central Triangular.
The Warriors started the night off against the Raymond Central Mustangs. Scoring wins for the Warriors were Senior Joel Gensler with a 15-8 decision over Alex Hageman at the 145 lb weight class, and Colter Mattson with a 7-4 decision over Eric Draper at the 285 lbs. weight class. Wahoo's lone loss came from a 4-9 decision in the 140 lbs. bout between Senior Randy Else and Nate Grimes of Raymond Central.
Receiving open wins for the Warriors included Freshman Chris Meyers at 103 lbs., Junior Schyler Shanahan at 152 lbs., Junior Cameron Golter at 160 lbs., and 171 lbs. Senior Kory Divis.
In the end, open weight classes swayed the final score and left the Warriors with their first dual loss of the season 33-30.
"Overall I think the team wrestled well. We have a lot of improvement to make, but the guys are working hard and getting better every day," said Head Coach Darold Foster.
Wahoo's second dual paired the Warriors against the Ashland-Greenwood Bluejays. The Warriors started off strong receiving opens in the 103 lbs. and 130 lbs. weight classes. Tacking up wins for the warriors included Senior Joel Gensler pinning Zane Braukmuller in 2:54, Junior Schyler Shanahan with a decision over Niko Johnson 6-1, and Junior Cameron Golter over Mike Hansen with a 6-0 decision. Wahoo Senior Kory Divis was the only loss in the dual losing by decision in a close bout to Bluejay's Shane Myers.
Once again Wahoo was troubled with open weight classes giving up 36 team points in 6 different weight classes, totaling the final score 45-24 in the Ashland's favor.
"The matches we wrestled in we wrestled tough. Unfortunately with opens we couldn't come away with a victory," said Foster.
The Warriors travel to Cozad on Saturday, December 4 to compete in the Cozad Invitational.
Raymond Central:
Dual Score 33-30
103 - Chris Meyers - Open
140 - Randy Else - Nate Grimes L 4-9
145 - Joel Gensler - Alex Hageman W 15-8
152 - Schyler Shanahan - Open
160 - Cameron Golter - Open
171 - Kory Divis - Open
285 - Colter Mattson - Eric Draper W 7-4
Ashland-Greenwood:
Dual Score 45-24
103 - Chris Meyers - Open
130 - Randy Else - Open
145 - Joel Gensler - Zane Brauckmuller W Pin 2:54
152 - Schyler Shanahan - Niko Johnson W 6-1
160 - Cameron Golter - Mike Hansen W 6-0
171 - Kory Divis - Shane Myers L 6-12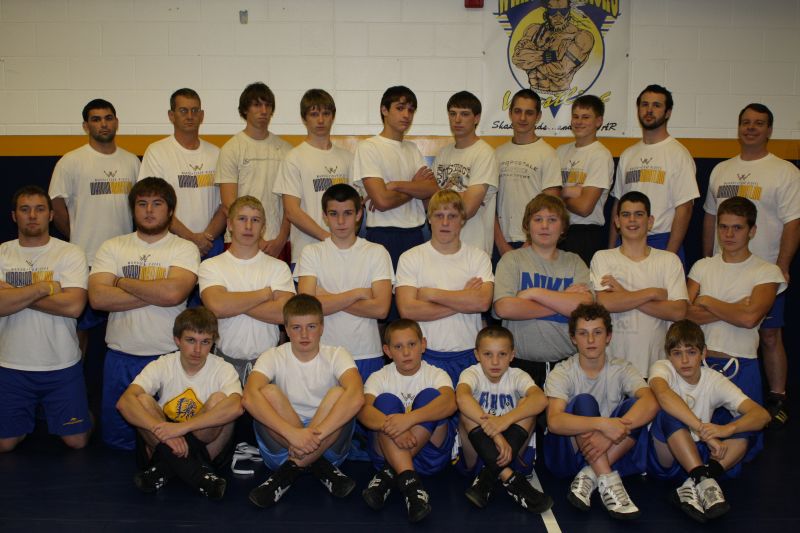 2010-2011 Warrior Wrestling Team
Five Warrior Wrestlers State-Bound!
Jody Stoddard Gensler

omaha

teacher

Feb 15, 2011

Great job to all of you! It has been fun watching you this season and it is great to see that your hard work has paid off with 5 of you qualifying for State. A special thanks to the coaches for all of the work that they put in too. Good luck and we will be at the Qwest to cheer you on!