Congratulations Connor Herndon, Logan Scott, and Grace Darling on earning "Outstanding Performance" Awards at the Nov. 5 One Act Festival at Schuyler Central High School!
Logan Scott, Grace Darling, and Connor Herndon earn "Outstanding Performance" honors at Nov. 5 One Act Festival @ Schuyler
Scott captures one of three festival-wide awards; team takes 4th of 8 schools; Wahoo offers public performance on Nov. 12 at 1:00 p.m.
The Warrior One Act Team attended the Schuyler Central High School One Act Festival on Saturday. This was their first performance in front of an audience or judges.
Wahoo placed fourth out of eight schools.
Congratulations Logan Scott, Grace Darling, and Connor Herndon for receiving an "Outstanding Performance" award within the ensemble cast! Logan Scott also received an "Outstanding Performance" award for the entire festival! Only three of those were awarded.
The play this year is All in the Timing by David Ives. There are six plays within the script and the one act cast is performing two of them.
Words, Words, Words is a one act play which is about Kafka, Milton, and Swift, three intelligent chimpanzees who are put in a cage together under the experimenting eye of a never seen doctor, and are supposed to write Hamlet on typewriters. Sure Thing is a short comic play featuring a chance meeting of two characters, Betty and Bill, whose conversation is continually reset by the use of a ringing bell, starting over when one of them responds negatively to the other.
"This is a very hard script to perform even for professional actors, so this has been a challenge for Connor, Grace, and Logan. Watching them work so hard and take ownership of this year's one act is a joy and a proud moment for me," commented WHS One Act Coach Kate DeCoste. "The crew is not only making sure the set, lights and sound are perfect. They are also supporting the cast, even helping them with lines on the bus to Schuyler. We are a very small cast and crew this year, but as one of the judges said on Saturday, 'you do not need a large cast to make a huge impact on the stage.'"
Warrior One Act will host an open public performance of their play on Saturday, Nov. 12 at 1:00 p.m. in the WHS Performance-Learning Center (Bishop Neumann will perform their one act at 2:00 p.m.). All community members are invited.
The 2022 One Act season then continues on Monday, Nov. 14 with the Trailblazer Conference One Act Competition at Platteview High School, followed by Districts at Schuyler Central on Tuesday, Nov. 29. Good luck Warrior One Act on the rest of your season!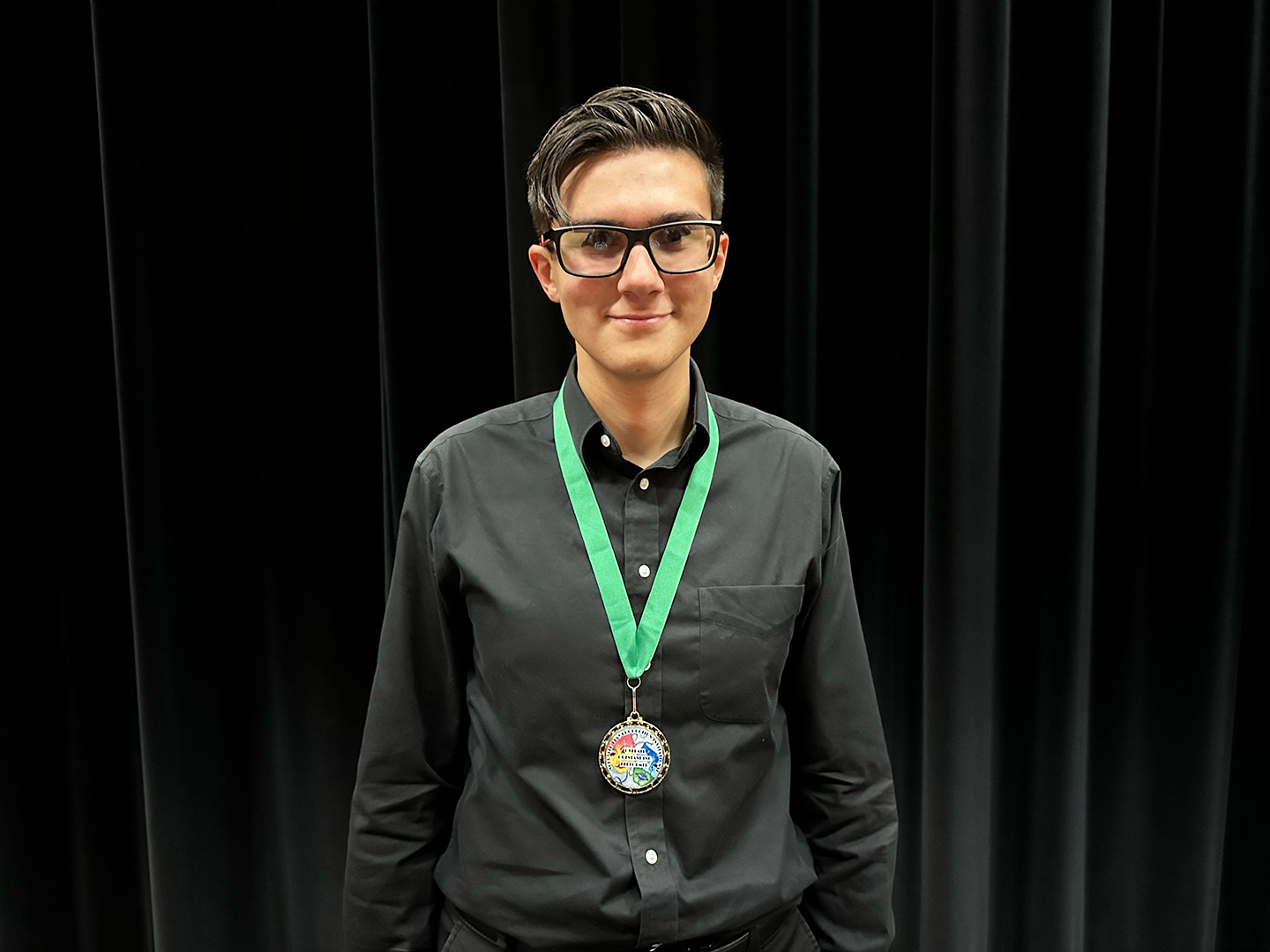 Warrior senior Logan Scott received one of three festival-wide "Outstanding Performance" awards at Schuyler Central on Nov. 5.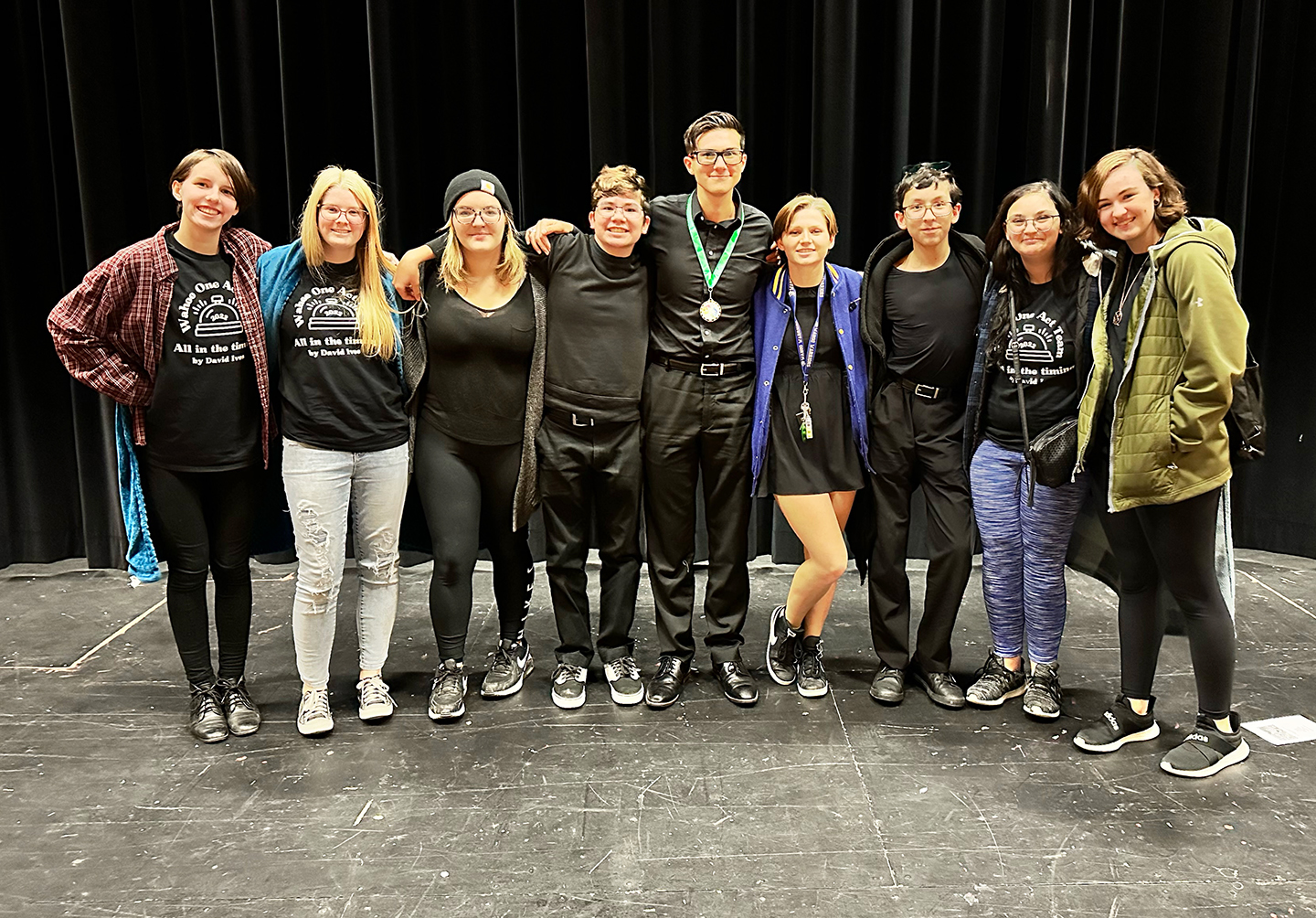 2022 Warrior One Act Cast (from left): Anica Gannon, Megan Steele, Allison DuBois, Connor Herndon, Logan Scott, Grace Darling, Michael Carranza, Zoe Abramo, and Hailey Pfligler.