2018 One Act enjoys successful season with 'Anonymous'
Cast & crew bring home Capitol Conference Championship & 3rd place finish at Districts!
photo courtesy Sue DuBois
2018 WHS One Act Cast and Crew, back row (from left): Co-Director Kate DeCoste, Sam DuBois, Avery Spicka, Caleb Obert, Mathew Wolf, Megan Marrs, Cody Bailey, Co-Director Allie Munch. Second row: Madison Bittleston, Kylee Edmonds, Lara Celesky, Noah Polacek, Grace Wirka, Rachel Steele, Zoe Ferguson. Front: Emma Bruce
Play: Anonymous by Allison Green
Directed by: Kate DeCoste & Allie Munch
CAST
Me – Emma Bruce
You – Sam DuBois
Her – Madison Bittleston
She – Grace Wirka
Counselor/Dad 2 – Lara Celesky
Teacher – Aby Lowther
Dad 1 – Noah Polacek
Dad 3 – Rachel Steele
Mom 1 – Kylee Edmonds
Them – Lara Celesky, Kylee Edmonds, Zoe Ferguson,
Aby Lowther, Caleb Obert, Noah Polacek, Rachel Steele
CREW
Light Board Operator: Avery Spicka
Sound Board Operator: Mathew Wolf
Spotlight Operator: Cody Bailey
Backstage Crew: Cody Bailey, Megan Marrs, Zach Sanderson
The 2018 One Act team performed the play Anonymous by Allison Green at three competitions this season.
We all have our stories, "new and old, complete and untold." Anonymous is a story of every teenager: the new kid trying to fit in, the best friends, the love interests, the kid in the corner with his/her secrets, the group of individuals each trying to belong.
With 15 rehearsals under the team's belt, they performed at the Elkhorn South Play Festival on November 10 and received a 'Superior' rating. Emma Bruce and Sam DuBois were recognized as outstanding actor and actress.
On November 19, they competed against 6 other schools at the Nebraska Capitol Conference One Act Play Competition and were named 2018 NCC Champions! Emma Bruce, Sam DuBois, Madison Bittleston, Aby Lowther, and Grace Wirka received outstanding performances.
With only two rehearsals between conference and districts, the cast and crew traveled to Fremont to compete against seven other schools at Midland University. They were awarded third place, and Emma Bruce, Sam DuBois, Madison Bittleston, and Grace Wirka received outstanding performances as well. The cast, crew, and coaches felt this was a great way to end the season.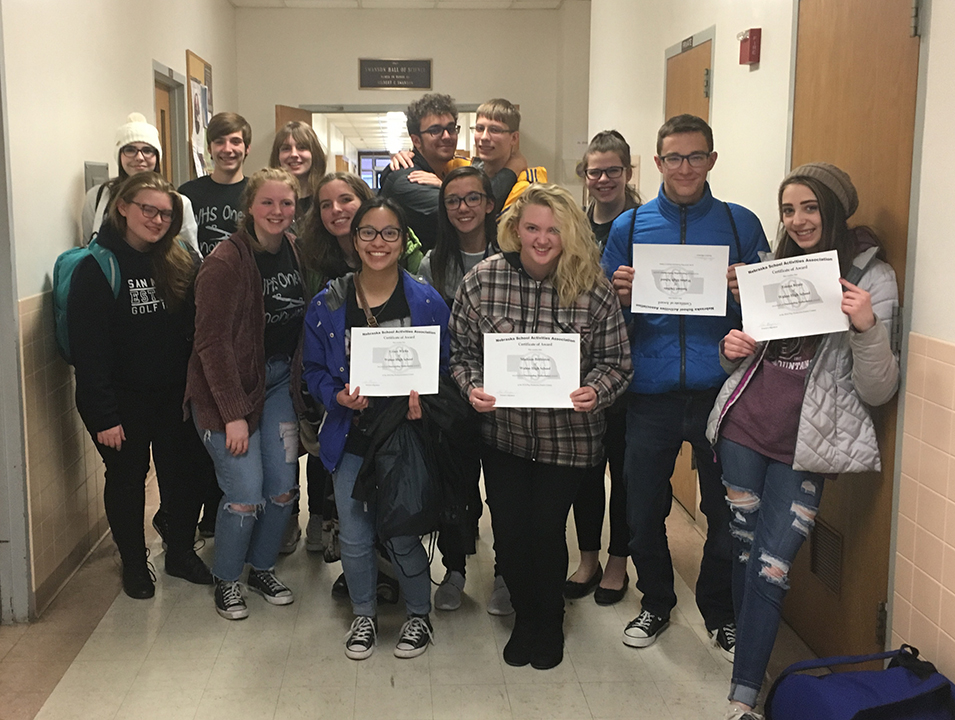 2018 WHS One Act Cast following their third place performance at Districts.
Congratulations to 'Outstanding Performance' award winners, with certificates (from left): Grace Wirka, Madison Bittleston, Sam DeBois, and Emma Bruce!
Coaches Kate DeCoste and Allie Munch never had the full cast at any rehearsal - only at competitions. This was a challenge for everyone involved as the staging was stylized and the actors in the chorus role of "Them" had lines that were broken up between them. One of the highlights of this production was how movement and music were present through out. A square dance scene was written in the script and Coach Munch choreographed the dance with Coach DeCoste deciding to use a modern song instead of the traditional square dancing music to accompany it. After reading the script a few times prior to the first rehearsal, Coach DeCoste decided to cut the dialogue of a scene and replace it with a dance that told the story without words. Again, Coach Munch choreographed the dance, which made for a powerful ending to the play.
Having so little and very sporadic rehearsals, both coaches were happy with how the season went and the success of the team at each competition.