Congratulations Warrior One Act: 2021 Trailblazer Conference Champions! Back row (from left): Director Kate DeCoste, Zoe Abramo, Logan Scott, Anthony Rowe, Caleb Malousek, Dawson Rafteseth, Cody Bailey. Middle row: Madison Hajek, Sydney Barnes, Allison DuBois, Cadence Bailar, Megan Steele, Michael Carranza. Front row: Anica Gannon, Hailey Pfligler, Marisol Marquez, Grace Darling, Gabrielle Raney, Connor Herndon.
Warrior One Act: 2021 Trailblazer Conference Champions!
Cast takes the conference tropy with their production of "The Woman in the Window"; Bailey/Barnes/Malousek/Marquez earn "Outstanding Performance" awards
The cast and crew of the 2021 Wahoo One Act team enjoyed a successful season, highlighted by the Trailblazer Conference Championship on November 23 with their impressive performance of "The Woman in the Window!"
Warrior senior Sydney Barnes was crowned with the "Overall Conference Best Actress" Award, and Barnes joined Cody Bailey, Caleb Malousek, and Marisol Marquez, who all received "Outstanding Performance" awards!
Districts were held at Platteview on Monday, November 29. The Wahoo One Act Team placed 4th out of eight schools. Wahoo cast members Cody Bailey, Sydney Barnes, Caleb Malousek, Marisol Marquez, and Dawson Rafteseth were all recognized as "Outstanding Performers."
Congratulations Warrior One Act on a successful season!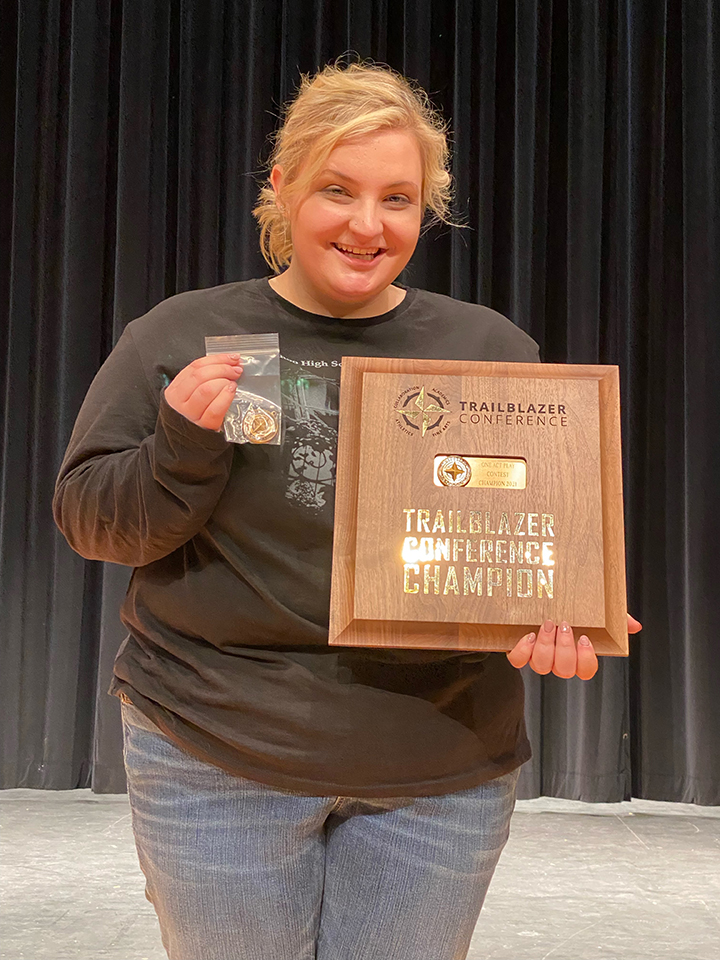 Congratulations Sydney Barnes: 2021 Trailblazer Conference One Act "Overall Best Actress!"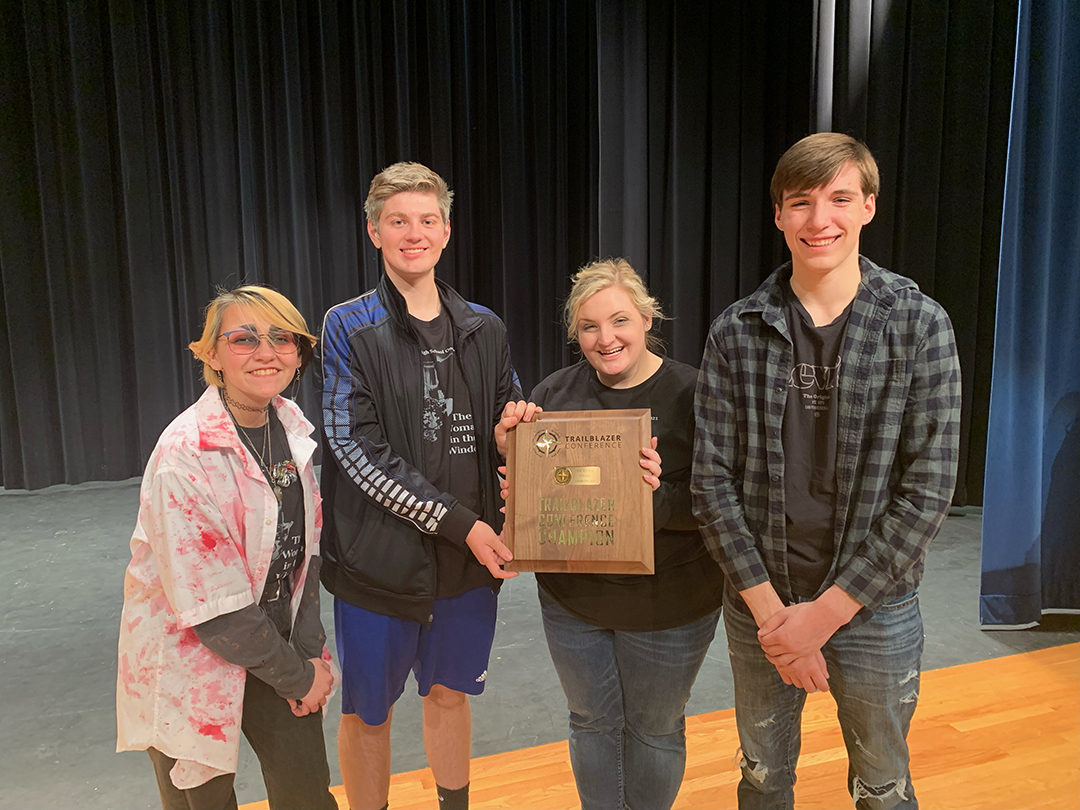 Congratulations (from left) Marisol Marquez, Caleb Malousek, Sydney Barnes, and Cody Bailey for receiving "Outstanding Performance" awards at the 2021 Conference One Act Competition on November 23!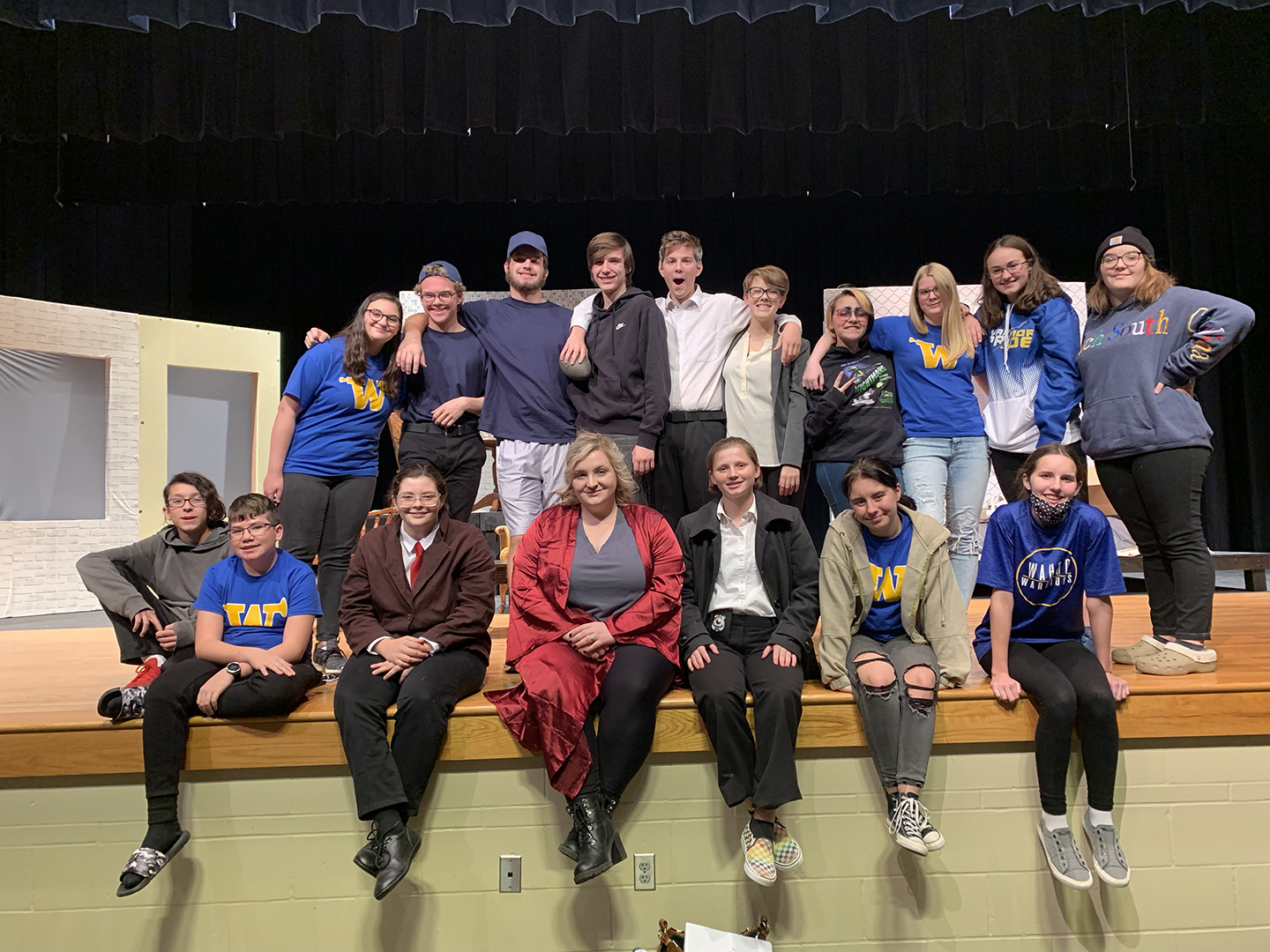 2021 Wahoo High School One Act Cast & Crew
Wahoo High School
One Act 2021
The Woman
in the
Window
Novel by AJ Finn • Screenplay by Tracy Letts
Stage Adaptation by Dr. Angela Kramer & Kate Decoste
PUBLIC PERFORMANCE
Tuesday, November 16
7:30 p.m.
WPS Performance-Learning Center
COMPETITIONS
Trailblazer Conference Competition (Tuesday, November 23) - CHAMPIONS!
NSAA District Competition (Monday, November 29) - 4th place
Synopsis: Anna Fox lives alone, a recluse in her New York City brownstone, unable to venture outside. She spends her day watching old movies, recalling happier times . . . and spying on her neighbors. Then the Russells move into the house across the way: a father, a mother and their teenage son. The perfect family. But when Anna, gazing out her window one night, sees something she shouldn't, her world begins to crumble and its shocking secrets are laid bare.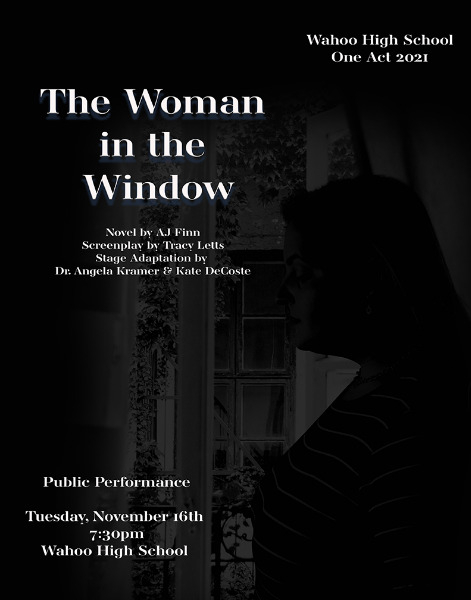 The Woman in the Window
ANNA - SYDNEY BARNES
DOCTOR - LOGAN SCOTT
ETHAN - CODY BAILEY
JANE - MARISOL MARQUEZ
DETECTIVE LITTLE - GRACE DARLING
DETECTIVE NORELLI - MADISON HAJEK
MR. RUSSELL - CALEB MALOUSEK
JANE 2 - CADENCE BAILAR
VOICE OF ED - DAWSON RAFTESETH
VOICE OF OLIVIA - CADENCE BAILAR
MOVER 1 - ANTHONY ROWE
MOVER 2 - DAWSON RAFTESETH
Stage Manger/Light Board Operator: Gabbie Raney
Sound Board Operator: Megan Steele
Projection Operator: Zoe Abramo
Stage Crew: Allison DuBois, Michael Carranza, Anica Gannon, Connor Herndon, Hailey Pfligler, Kristen Mika
Head Coach/Director: Kate DeCoste
Assistant Coaches: Scott Carlson, Stacey Barnes
UNDERSTUDIES
ANNA - MADISON HAJEK
ETHAN - ANTHONY ROWE
DETECTIVE NORELLI - GRACE DARLING
MR. RUSSELL - DAWSON RAFTESETH
DETECTIVE LITTLE - DAWSON RAFTESETH
DOCTOR - ANTHONY ROWE
JANE - CADENCE BAILAR
JANE 2 - MARISOL MARQUEZ