photos courtesy John Minnick
Warrior Golf Seniors Braedenn Olson (left) and Chase Aldrich have been Wahoo's top performers so far this season, each earning medals at three competitions.
2019 Warrior Boys Golf
Aldrich & Olson lead Wahoo's medal count
Early Season Update
The Warrior Golf season has gotten off to a rough start. While the Warriors have made improvements from last year, the early season weather has made it difficult to show just how far we've come.
Despite the rough weather, several Warrior Golfers are off to a quality start. Returning letter winner and senior co-captain Chase Aldrich has played well to date, but is looking for continued improvement as we move towards the middle of the season. Senior co-captain Braedenn Olson has had a great start to the year and has shown a lot of improvement since last spring. Both he and Aldrich have battled back and forth as Wahoo's top scorers at this season's early events.
Other players who have contributed so far are seniors Jordan Thorson and Brett Greenfield, and sophomore Hayden Griego. All three players have PR'd this year, with Griego and Greenfield showing a great deal of improvement from last year.
The Warriors continue competitive play next week with four events, featuring both the varsity and junior varsity teams.
2019 Medalists
Chase Aldrich 13th @ Gretna Invite (85)
Braedenn Olson 1st @ Plattsmouth Invite (85)
Chase Aldrich 1st @ Ft. Calhoun Triangular
Braedenn Olson 1st @ Waverly Dual (40)
Chase Aldrich 6th @ Ashland Invite (81)
Braedenn Olson 11th @ Ashland Invite (83)
Chase Aldrich 11th@ Bennington Invite (81)
Chase Aldrich 1st @ Wahoo DC West Dual (43)
Braden Harris 1st @ Wahoo JV Invite (89)
Hayden Griego 2nd @ Wahoo JV Invite (94)
Joe Scanlon 8th @ Wahoo JV Invite (102)
Trey Johnston 5th @ Wahoo JV Invite (97)
Chase Aldrich 2nd @ Arlington Invite (81)
Braedenn Olson 9th @ Arlington Invite (90)
2019 Dual and Invite Finishes
Gretna Invite – 12th (394)
Plattsmouth Invite – 3rd (417)
Ft. Calhoun Triangular – 1st (182)
D.C. West Invite –8th (382)
Waverly Dual – Match Play Won 24-19
Ashland Invite – 7th (362)
Mount Michael Dual – Loss (24-19)
Ashland JV Invite – 4th (460)
Bennington Invite – 7th (381)
D.C. West Dual- Loss (183-187)
Wahoo/BN JV Invite – 1st (382)
Arlington Invite – 3rd (376)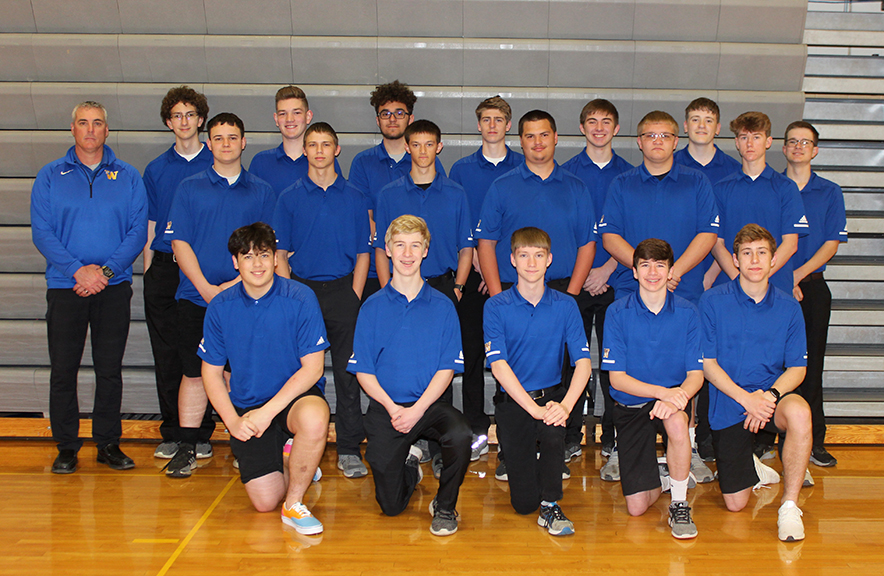 2019 Warrior Boys Golf Team, back row (from left): Coach Jayson Iversen, Alex Tomjack, Jackson Taylor, Caleb Obert, Brett Greenfield, Braden Harris, Hayden Griego, Joe Scanlon. Middle row: Payton Ricks, Jordan Thorson, Braedenn Olson, Chase Aldrich, Vanis Davidson, Micah Sears. Front row: Gage Sherman, Isaac Privett, Luke Polacek, Brody Jacobsen, Trey Johnston. (photo courtesy John Minnick)