The 2017 WHS Unified Bowling Team enjoyed a successful season, finishing as the District 4 Runners-Up! This is the second year Wahoo has participated in this NSAA-sanctioned athletic event.
Warrior Unified Bowling finishes 2017 season as District 4 Runners-up
Wahoo closes its second season of newly sanctioned NSAA sport
For the second year, Wahoo High School has participated in Unified Bowling, a program that aims to join people with and without intellectual disabilities on the same team.
Its parent arm, Special Olympics, was created and developed to give individuals with intellectual disabilities the opportunity to train and compete in sports activities. This year, Wahoo High School had 23 student participants. Each team was comprised of five students, one of which was identified as a student with an intellectual disability.
Wahoo competed in two tourneys this season: the Elkhorn South Tournament and the Fremont Tournament. Two teams were entered into each tournament.
At the Elkhorn South Tournament, Team 1 placed 4th with a total pin fall of 508 after 6 games, and Team 2 placed 5th with a total pin fall of 507, behind Fremont Public Schools.
At the Fremont Tournament, Team 1 was seeded into the tournament as the 7th seed after pool play. They lost to Cambridge in the first round after two close games.
On November 27, the Warrior Unified Bowling team competed in a tough District 4 tournament, which included the 2016 State Runner-up North Bend. Wahoo finished out the season as District Runner-up with a Total Pin Fall of 750 after six games!
District 4 team results: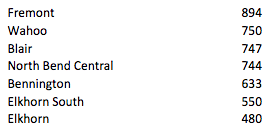 Students on the team include: Brianna Brabec, Paige Fritz, Tessa Gatewood, Tayler Henderson, Frances Hoffman, Macy Homes, Josie Johnson, Zac Lamprecht, Alyssa Luedtke, Josh Luedtke, Leah Maass, Morgan Marotz, LJ Morley, Nick Oden, Paige Peterson, Noah Polacek, Zach Sanderson, Taryn Scheef, Jaci Schnakenberg, Hannah Subbert, Erin Sutton, Kinsley Tingelhoff, Jacob Weichman
The Warrior Unified Bowling team's head coach was Kelsey Sestak, and she was assisted by Kristal Brabec.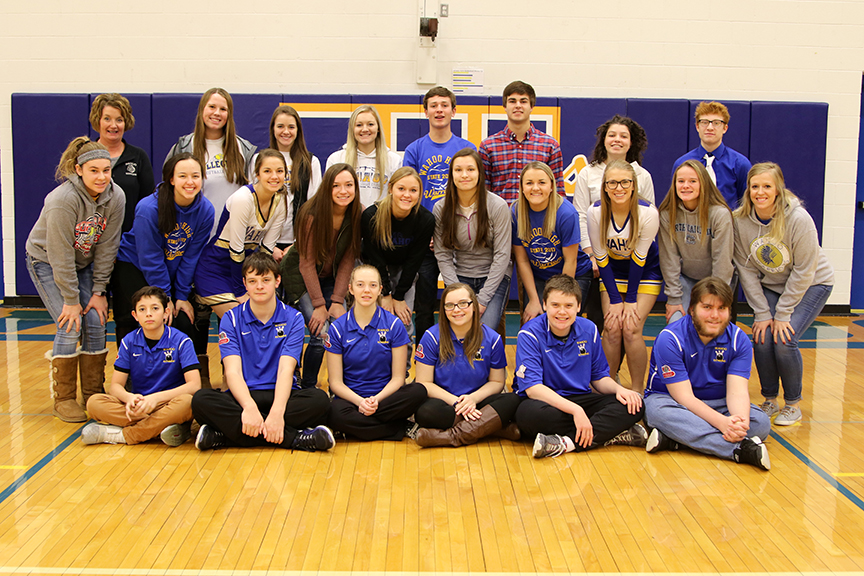 2017 WHS Warrior Unified Bowling Team, back row (from left): Coach Kristal Brabec, Tessa Gatewood, Jaci Schnakenberg, Taryn Scheef, Josh Luedtke, Nick Oden, Julianne van t'Hull, Zac Lamprecht. Middle row: Macy Homes, Kinsley Tingelhoff, Paige Peterson, Leah Maass, Erin Sutton, Brianna Brabec, Morgan Marotz, Hannah Subbert, Alyssa Luedtke, Coach Kelsey Sestak. Front row: L.J. Morley, Tayler Henderson, Paige Fritz, Frances Hoffman, Zach Sanderson, Jacob Weichman. (photo courtesy Nicole Burg)
More information about Unified Sports (Source: www.nsaahome.org):
Why Special Olympics Unified Sports?
• Provides meaningful and real sport experience. Not all students in the building will make a varsity team. Unified Sports makes it possible for more students to have an opportunity to participate in this meaningful activity.
• Provides social inclusion, which impacts the entire school climate in a positive way, promoting respect, acceptance and diversity. Students are valued for their unique talents and skills.
• Helps reduce bullying through empowerment, awareness and engagement.
• Improves health and fitness, especially for students with disabilities facing higher risks.
According to research, Unified Sports . . .
• Has a positive impact on all participants (79% of Unified Partners reported talking to a student with intellectual disabilities during free time at school and 41% reported eating lunch with a student with intellectual disabilities.)
• Improves understanding of people with intellectual disabilities.
• Complements social inclusion within the school community.
"I like how they developed a friendship. And I noticed it after we came back from our first event and I saw kids interacting in the hallways either just saying hi or giving a high five. Normally, those kids wouldn't even talk to each other prior to participating with this unified team." --Florida Coach