Close Up 2016
Mr. Mueller chronicles students' daily activities in Washington, D.C.
2016 WHS Close Up students pose outside of the main entrance to the White House.
Thursday, March 24
Today was our final full day in D.C. and it was beautiful and sunny with a high of 75!
We began our morning at Arlington National Cemetery where we witnessed the changing of the guard at the Tomb of the Unknown Soldier. This is always a powerful moment on the trip for the kids. We then walked over to the eternal flame, which marks where President John F. Kennedy is buried.
After Arlington students had independent study time to explore parts of D.C. on their own. Many groups chose to go to Georgetown, while others checked out other parts of the Smithsonian museums.
This evening students said goodbye to their new friends and celebrated the week with a final banquet and dance. Our flight leaves D.C. tomorrow at 2:30 p.m., and we should be back in Nebraska by 4:30 p.m.
It's been an unforgettable week with an unbelievably great group of students! Memories and lessons for a lifetime!
Wednesday, March 23
Today was Capitol Hill Day and it was an awesome one!
We began the day with a White House tour. The President wasn't in town, but we still got a great walk through his house. After starting the morning at 1600 Pennsylvania Avenue, we took the Metro up to Capitol Hill. We spent the day meeting with U.S. Congressman Jeff Fortenberry (R-NE) and also with staffers from the offices of U.S. Senator Deb Fischer (R-NE) and U.S. Senator Ben Sasse (R-NE). Additionally, we toured the Library of Congress, the U.S. Capitol and got to go inside the House of Representatives. The House was just finishing up their session before Easter break.
After some dinner we headed to the Kennedy Center to see the hilarious play "Shear Madness," which was definitely a highlight of the trip for many of the kids! Today was gorgeous outside and tomorrow looks even better!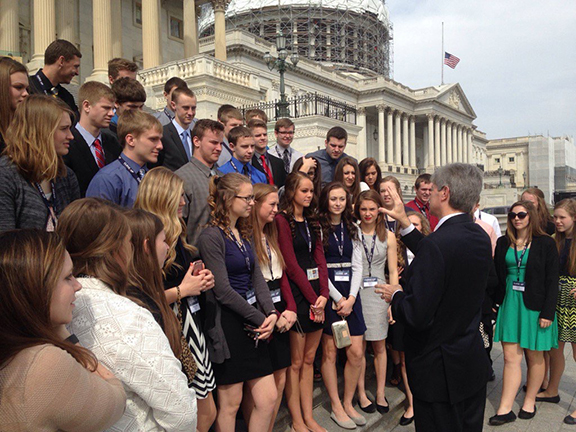 2016 WHS Close Up students stand on the steps of the U.S. Capitol as they listen to U.S. Representative Jeff Fortenberry (R-NE).
Tuesday, March 22
Today was the second day students were on program and it was another busy one!
Students started the day visiting the "War Memorials" on the mall: the WWII, Korean, Vietnam, and Lincoln Memorials.
This afternoon they got familiar with Capitol Hill on a walking workshop, and then transferred over for a brief stop at the Iwo Jima Marine Corps Memorial.
This evening students broke into their workshops to prepare for Capitol Hill Day tomorrow, and also participated in a congressional simulation. Tomorrow looks to be beautiful for our visit to Capitol Hill and the White House!
Monday, March 21
Today was the first full day for students on program. They began their morning visiting the Jefferson, FDR, and MLK Memorials.
After lunch at the Smithsonian, students spent the afternoon at an Embassy. Based on their workshop they visited one of the following embassies: Saudi Arabia, European Union, Croatia, Finland, or Taipei.
They then traveled from their embassy to the Pentagon to view the 9/11 Memorial.
This evening students participated in current issues workshops focusing on College Affordability, Gun Violence, Testing and Accountability, the Pledge of Allegiance, and Youth Voting.
A busy day, but an educational one! Tomorrow looks to be another great day too! The weather is finally starting to warm up!
Sunday, March 20
Day 3 in D.C. and it was a cold one - but an awesome one!
We began the morning at the United States Holocaust Memorial Museum. Students spent well over two hours walking through this powerful museum. For some, this has been the highlight of the trip so far.
We then walked over to the Smithsonian Natural History Museum, grabbed some lunch and checked out the many exhibits. After some time there, we stopped next door to the Smithsonian American History Museum. A lot of amazing exhibits here, including the original Star Spangled Banner from the War of 1812, the hat Abraham Lincoln wore the night he was shot, a collection of First Lady dresses, Dorothy's ruby red slippers, and many others!
After a ride back to the hotel on the Metro, students got checked into the Close Up program. Tonight, students participated in a domestic issues debate where a prominent liberal and conservative debated important issues in our country today.
We're off to a great start and a busy, fun, and educational week lies ahead!
Saturday, March 19
We started off the morning with a trip to George Washington's home at Mount Vernon, and luckily the rain held off!
It ended up being a pleasant morning. Students had the opportunity to tour through the mansion and see how Washington lived in the 18th Century, as well as see where he and his family are buried on the grounds. We also got to see some spectacular views of the Potomac River.
After walking through Mount Vernon's world class education center and grabbing some lunch, we headed north to Annapolis. Sadly, the rain arrived once we got to the U.S. Naval Academy, but that didn't dampen our spirits or our experience! We got a fantastic tour of the campus and learned all about life as a Midshipman.
This evening we settled back into our hotel and finished off the day with a pizza party. Cold and possibly snow tomorrow, but another exciting day ahead!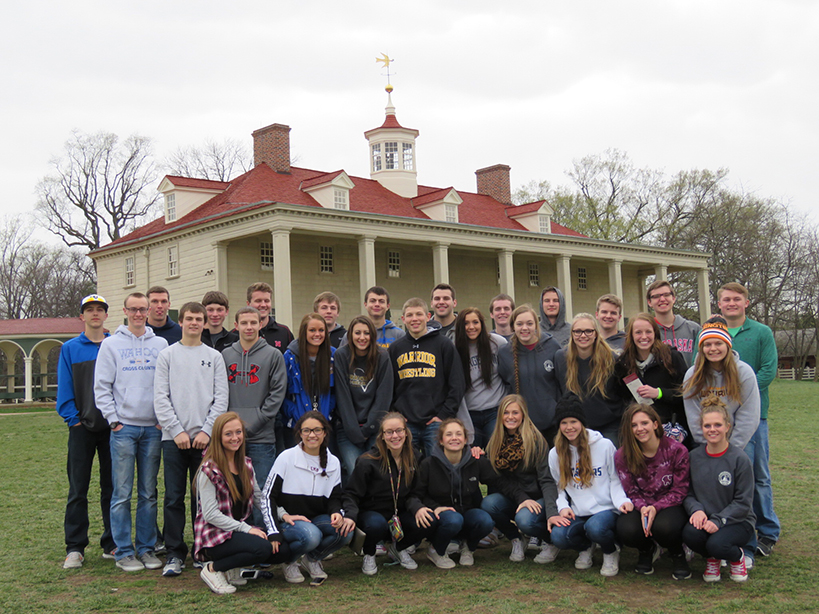 2016 Close Up students pose in front of President George Washington's home on the grounds of Mount Vernon.
Friday, March 18
Day one and we're off on Close Up 2016!
After a bumpy direct flight into Reagan National Airport, our first stop was at the National Archives, where students got to see the original copies of the Declaration of Independence, the Constitution, and the Bill of Rights. What a great way to begin the trip!
We then got settled into our hotel, and finished the evening having dinner at the Pentagon City's Fashion Centre.
Today was beautiful in D.C. and spring is definitely in full bloom. We're hoping the cherry blossoms will be out by the end of the week. We've got a busy day on tap tomorrow, but unfortunately it appears the weather may turn chilly! Check back daily for updates!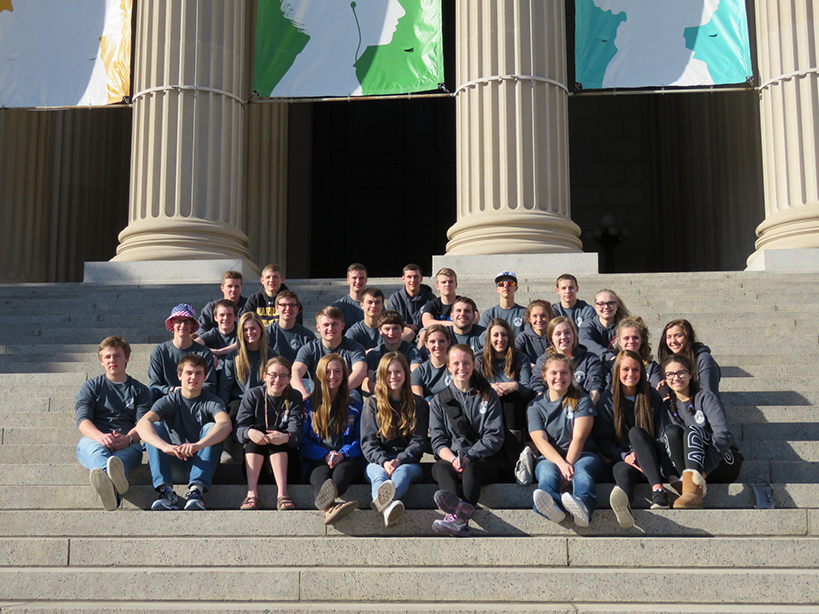 2016 Close Up students pose in front of the National Archives.