photo courtesy John Minnick
WHS Class of 2020
Congratulations WHS Class of 2020!
Graduation ceremony scheduled for Sunday, July 26 at 1:30 p.m.; protocols posted for COVID-19 safety
Dear Graduates and Parents,
We are gearing up to celebrate the Class of 2020 as best we can. The ceremony will be held in the Wahoo High School gym at 1:30 p.m. on Sunday, July 26. I am listing some of the protocols that will be in place, in accordance with guidance from Three Rivers Health Department, to make sure we can have the event safely. In alignment with health department recommendations, masks should be worn whenever social distancing from households cannot be achieved.
1. Each graduate will get nine tickets to allot to members of their family to attend the ceremony. No one will be allowed into the building without a ticket. Tickets will be distributed at practice, which will be on Thursday, July 23 at 1:00 p.m.
2. Graduates need to report to the school by 12:45 p.m. with their gown, cap, stoll, any honor chords/medals they will be wearing, and the diploma that was handed out in May.
3. Families will sit together in the bleachers, with spaces marked out, honoring distances between other families in attendance. Programs will be waiting for attendees in their section.
4. The students will be seated on the floor, appropriate social distancing measures in place, during the ceremony.
5. The high school band and choir will not be performing this year.
6. Students will stand and be recognized for academic honors when announced by the principal. They will not have them placed around their neck by the administration this year.
7. When called, each student will cross the stage, picking their diploma up from the table, pause for a picture, then exit the stage on the other side.
8. We will not have the class song played or flowers distributed, as that was done during the virtual graduation.
9. At the completion of the ceremony, students and families will be expected to exit the building for any pictures and continue practicing social distancing as much as possible.
10. Finally, if you are NOT planning on participating in the graduation exercises and have not informed Mrs. Krecklow, please contact her at 402.443.4332 ext 3001 or via email at mkrecklow@wahoowarriors.org as soon as possible.
This is the outline of the day and what it will look like as we move through the graduation exercise. While it still isn't a "normal" ceremony, this certainly gives families the opportunity to attend graduation and watch each student cross the stage as culmination of 13 years of hard work. We look forward to seeing you on July 26 and hope everyone stays safe.
Sincerely,



Brandon Lavaley, Superintendent
Wahoo Public Schools
-----------------------------------
Seniors persevere coronavirus pandemic and are ready to take on the world; Graduation ceremony video premieres May 18 @ 5:00 p.m.
Congratulations to the Wahoo High School Class of 2020!
This year's class has proven to be tougher than most! Due to the coronavirus pandemic that swept through the nation, a virtual graduation was held on Thursday, May 7 throughout the day. Students arrived one by one in their caps and gowns and were allowed to pick up their diplomas and other academic honors that they individually earned. A compilation of the individual "walks across the stage" will be shared with each student and their family. A live graduation has been planned for Sunday, July 26, should it be approved by local and state health officials.
Fifty-three percent of this year's graduates plan to attend a four-year college or university, twenty-seven percent plan to attend a two-year college or trade school, five percent plan to enlist into a branch of the military and fifteen percent plan to enter the workforce or are undecided about their future plans.
Seniors will attend 17 different post-secondary learning institutions, the largest numbers attending the University of Nebraska-Lincoln (15) and Southeast Community College (15).
This senior class also realized success on the ACT: eight seniors scored 30 or better and nine scored between 25-29.
Seventy-eight percent of the seniors who applied for local scholarships, as a class, have been awarded more than $80,000.
Graduation Celebration
J.K. Rowling reminds us that, "we do not need magic to transform our world. We carry all the power we need inside ourselves already. We have the power to imagine better." With great pride, we present the Wahoo High School Class of 2020 Virtual Graduation ceremony, recorded on Thursday, May 7. A special thank you to Tammie Tonniges, Bob Maass, and Landon Mattison of JEO for making this video possible!
Valedictorian & Salutatorian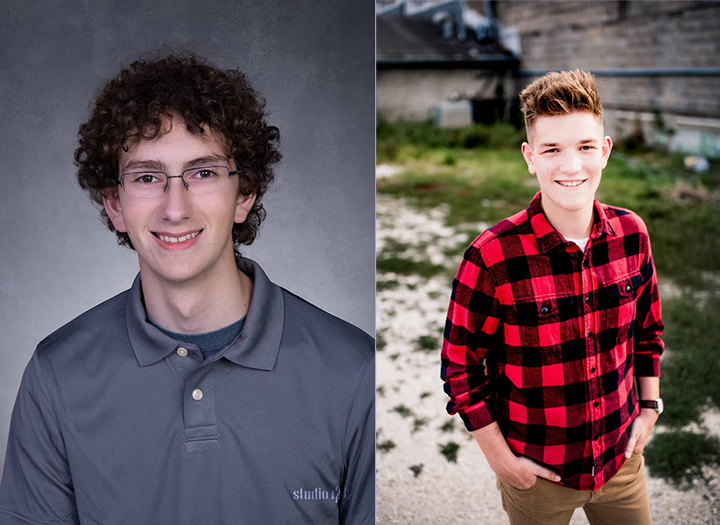 Congratulations WHS Class of 2020 Valedictorian Alex Tomjack and Salutatorian Jackson Taylor!
Senior Class Video
This is the class video created by your Senior Class Sponsors, Mrs. Smaus and Miss Munch. Congrats, Class of 2020! You are . . . tougher than most!
Senior Awards Ceremony
The 2020 Senior Awards Ceremony was held virtually on Wednesday, May 6.
Class Song
"I Lived" by OneRepublic
Class Color
Black
Class Flower
Yellow Rose
Class Motto
"I wish there was a way to know you're in the good 'ole days before you actually left them." --Andy Bernard
Members of the Class of 2020:
(* = National Honor Society, § = Academic Honor Graduate)
Ethan John Abolins

Joseph Michael Lindscomb

* §

Jade Elizabeth Andresen

Abygayle Josephine Lowther

* §

Rachel Margaret Ballentine Myers

Trevin Kyle Luben

Madison Lee Bittleston

Lillian Jo Mann

Kole Robert Bordovsky

Samuel Dean Maly

Logan Charles Brabec

Jackson Zachary Markvicka

Elijah Michael Brabec

Jenna Elizabeth Masek

* §

Kendal Nicole Brigham

Nathan Hunter Mather

Jaynie Lynn Bustad

Melina Gabriella McClain

*

Elise McKenna Cejka

Jaden Gabriel Nota

Gerardo Chavez Madrid

Morgan Kay Oden

*

Zoe Mei Christenson

Luke Theodore Partridge

Bryce Raymon Claussen

Jaquelyn Rose Perkins

*

Kalon Phillip Cooper

* §

Paige Maurene Peterson

* §

Grant Glenn Crockett

Callan Charles Phillips

Vanis Lee Davidson

Isaac David Privett

Evan Thomas Divis

Logan Charles Rouse

Alyssa Michele Dunkle

Eli Turner Sanchez

Marshall Owen Elder

Joseph Paul Scanlon

Sara Jo Else

* §

Trey John Scheef

Trenton Maurice Erdmann-Hughes

Trey Robert Shanahan

Dylan James Fittro

Calin Douglas Smith

Ashley Denise Flight

Rolando Sotelo

*

Nathaniel Kenneth Fox

Hannah Marie Stuart

§

Nicholas Evan Fuller

Hannah Raye Subbert

*

Alec Castleman Gettert

Brandon Craig Charles Swahn

Connor Michael Grandgenett

Robert Gene Swain

Dyllan Edward Gunderson

* §

Jackson Steven Taylor

Braden Michael Harris

Colby Ryan Thompson-Schleiger

§

Adam Michael Hayworth

§

Alex Michael Tomjack

Ryker Wayne Henderson

* §

Gunnar Ryan Vanek

Tayler Anthony Henderson

*

Thomas David Waido

*

Kaitlyn Marie Herndon

*

Alyssa Ann Walla

Sophie Maxine Holst

Peyten Keith Walling

Joseph Charles Janda

*

Grace Hoa Ann Wirka

Tucker John Janecek

Jesus Conrique Zaragoze

Kyle James Jelinek

Jerstan Thomas Robert Zeleny

* §

Trey William Johnston

Quinn LeRoy Zeleny

Senior Highlights