Nineteen WHS students attended the 2016 State SkillsUSA Leadership & Skills Conference on April 20-22 at the CenturyLink in Omaha.
19 WHS students attend 2016 State SkillsUSA Conference
Caitlyn Moore, Jacob Nuckolls & Mason States medal in their events!
Wahoo High School had 19 students compete at the 2016 State SkillsUSA Leadership and Skills Conference at the Century Link Center in Omaha.
The conference showcased 1,600 of the best career and technical education students across all classes of Nebraska's high schools and colleges. Wahoo students competed in 13 different competitions:
Prepared Speech: Emily Colgan
Job Interview: Mary Privett
Related Technical Math: Brittany Vech, Cheyenne Moore
Welding-GMAW: Jacob Nuckolls
Criminal Justice: Caitlyn Moore
Welding-SMAW: Mason States
Technical Team Problem Solving: Reuben Sanchez, Justin Sabatka, Mason Russell, Emily Colgan, Caitlyn Moore
Welding Fabrication: Reuben Sanchez, Justin Sabatka, Mason Russell
Web Design: Bobby Spicka, Cole Talbert
Television (Video) Production: Dani Groff, Kallynn Zeleny
Job Interview: Lexis Stuchlik
Restaurant Service: Lydia Privett
First Aid/CPR: Ana Boesiger
Cabinetmaking: Joe Pestal, Spencer Clark
Wahoo had three medalists:
Caitlyn Moore: 2nd in Criminal Justice
Jacob Nuckolls: 2nd in Welding – GMAW
Mason States: 3rd in Welding – SMAW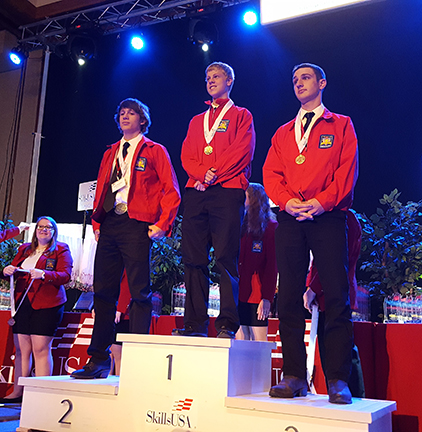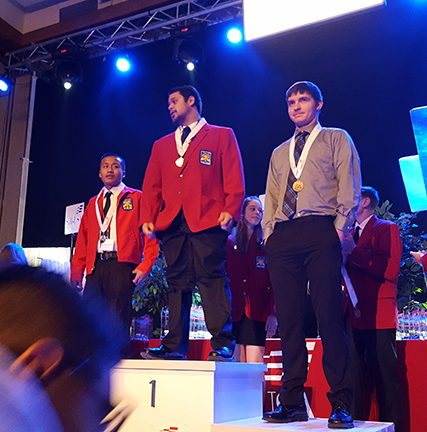 From left: WHS senior Jacob Nuckolls receives his 2nd place award in Welding (GMAW), and WHS senior Mason States receives 3rd place in Welding (SMAW).
Of the 19 students that competed, 13 of them finished in the top 5. Nine Students finished 4th in their competitions, just outside the medal stand.
All contests are run with the help of industry, trade associations and labor organizations, and test competencies are set by industry. In addition, leadership contestants demonstrate their skills, including extemporaneous speaking and job interview skills.
Top students earn prizes and scholarships from community colleges, businesses and industry. First-place winners advanced to the June National Championships in Louisville, Kentucky.
It was a great three days for Wahoo High School, and the students had a great time meeting other students and interacting with business and industry leaders.
Tim Lawrence, the national SkillsUSA Director, was in attendance at this year's conference, and during the advisor luncheon he, along with State Director Greg Stahr, presented Mr. Herrera with an award for 10 years of service.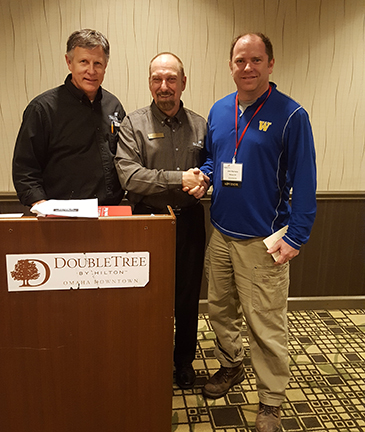 From left: Nebraska SkillsUSA Director Greg Stahr and National Director Tim Lawrence
recognize WHS adviser Jon Herrera for 10 years of service.
"It's been a great honor and privilege for me to work with students for the past 10 years," Herrera commented. "It's a lot of fun to see these students compete and grow as young people. Helping young people is the main reason I got into teaching."
SkillsUSA is a partnership of students, teachers and industry working together to ensure America has a skilled workforce.
SkillsUSA has a membership of more than 300,000 students and instructors nationwide in 13,000 school chapters, in all 50 states and in four American territories. More than 14,500 instructors and administrators are professional members of SkillsUSA. Since its inception in 1965, SkillsUSA has served more than 11.9 million teachers and students!